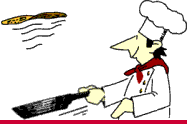 Teresa's Unusual Recipes


Hi there! Teresa here. Over the years I've collected loads of recipes for all sorts of dishes—some familiar, others not so familiar. Here I present a small collection for you to try. We like them, but your mileage may vary.

I'll be adding new ones regularly, so please come back often. Bon appetit, and don't forget to let me know how you get on!







STARTERS
Dips



SOUPS
Chilled melon
Lentil (1)
Lentil (2)
Parsnip, lemon & ginger
Pea & lettuce
Pear & parsnip
Red gazpacho
Spinach & yoghurt


Sweet potato & tomato

MAINS
Dahl
Lentil loaf
Lentil & walnut loaf
Lentil patties
Lentil savoury roast
Meat loaf

Orange chicken

Potato pancakes (latkes)

Roast potatoes & red capsicum
Salmon cake


Spicy beef
Teresa'a quiches
White fish dish

DESSERTS & CAKES
Bananas Supreme
Biscuits

Honey cake (2 versions)

Honey spice cake
Hungarian apple pie
Low-fat chocolate cake

Pear tea cake
Sara's apple pie
Sponge cake (4 versions)

Wheatless sponge cake

home about email watch reviews recipes guestbook




Graphics ©Australian Broadcasting Corporation