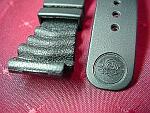 The original strap — well finished but stiff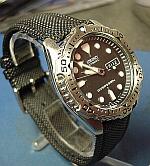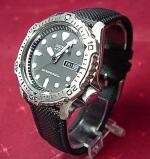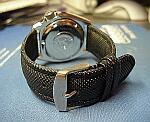 Three views on kevlar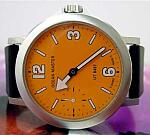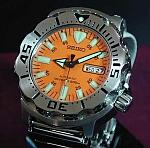 Two orange-faced diver watches with arrow hour hands

Photo credits:
Upper — Aurelio Ugueto
Lower — Jerry Tollinson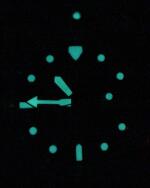 No time exposure needed for this shot!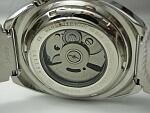 7S26 movt. in an S-wave
Photo — Jim Soloway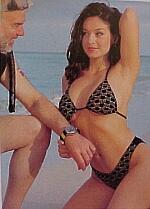 "With a Seiko Diver's you're ready for any occasion...
...or opportunity, eh, Miss Moneypenny?"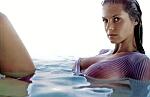 "Can I stop checking the water resistance now? The water's gone cold!"
No.3 in an occasional series—continued Best viewed at 800 x 600
Review of three Seiko watches - Pt 2
by Les Zetlein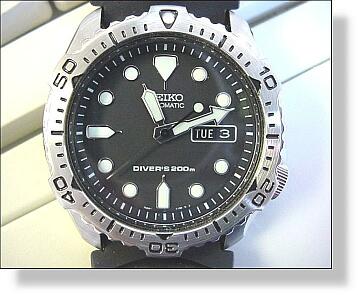 The Scuba Diver's 200 metre
JUST AS there seems to be thousands of different styles of the Seiko 5, so there seems to be hundreds of different Diver's 200 metre models. And indeed, the Seiko Diver's range goes back many years, with 150m, 200m, 300m, 600m and even 1000m models all winning an enviable reputation for ruggedness and longevity, if not sophistication.

This particular incarnation is known in Australia as model SKX-171. The movement was made in Singapore and the watch was cased in China, according to two small stickers on the caseback. (I removed these quicksmart. The blue protective film took a lot longer to remove, until someone advised me to use a small quantity of meths on a Q-tip or cottonwool bud. Magic!) It shares many components with other similar models, noticeably the case, hardlex crystal, rubber strap, hands and movement. What sets it apart is the bezel, the "white gold" Rolex lookalike borders to the hour markers, and the white-on-black day/date display to match the black dial.

My initial impresssion was that here was a solid, well-crafted piece of equipment. Note I didn't say jewellery. No-one could mistake this for a piece of jewellery. It's built for a purpose, and that purpose is keeping time underwater. Which means being readable underwater, hence the thick hands and markers.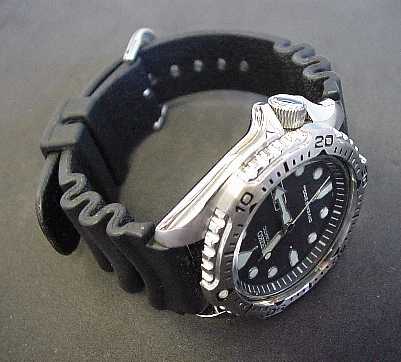 It felt heavy, but surprisingly it weighs the same as the Seiko 5 at 95 grams. However all that weight is concentrated in the case, as the rubber strap is very light. And talking of the strap, I thought it gave the watch a sporty look. The strap is long and very well made, even down to the Seiko wave motif embossed on one end, and it feels strong enough to be used for towing the Queen Mary. But its very strength is its downfall, for alas dear reader, in being strong it is also stiff, and thus uncomfortable. Whether it 'breaks in' over time and becomes more comfortable I don't know, but I was surprised at the discomfort, as the last rubber strap I tried (on a Felicia chronograph) was extremely comfortable in all weathers. Seiko have probably found themselves between the proverbial rock and hard place in designing this strap, as it has to be tough enough to withstand the rigours of working in a salt water environment (with plenty of UV exposure) without breaking or cracking, and yet supple enough to conform to the shape of different sized wrists. I think tough won out over supple.

The final straw regarding the strap came when my wife saw me buckling it on one morning and said, "Oh, wearing your kiddy's watch today, then?"
"Whaddya mean, kiddy's watch?" I spluttered.
"Well, it looks like one with that great big knobbly plastic strap," she said as she returned to her coffee and newspaper.
I thought about carefully explaining to her the finer points of the strap, and how it was pressure vented, but then I realised I didn't know what pressure vented meant. And in my heart of hearts, I knew she was right. The strap would have to go. I decided to replace it with one of Howard Marx's padded kevlar numbers with black stitching. It was my first experience with kevlar, and the difference in comfort was both immediate and astounding. As a bonus I think it looks much better for office wear too. A word of caution though: the kevlar strap is 21mm (13/16") shorter than the Seiko one. Whilst it fits my 19cm (7½") wrist perfectly, it might be a bit tight for those with larger wrists who want to wear the watch over a wetsuit. When I asked Howard about this he informed me that he doesn't carry any very long kevlar straps, but he can supply suitable and comfortable rubber ones.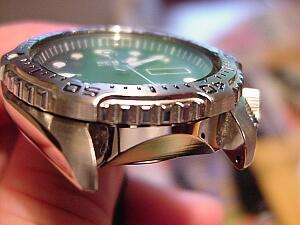 The large 42mm diameter case (45mm including crown) is polished all over except for the tops of the lugs, which have a circular brushed finish. The distance between lugs is 22mm, endwise lugtip-to-lugtip measurement is 46mm, and the overall thickness is 13.5mm. There are angled cutaways at each end of the case to provide clearance for the strap. Even the area between the lugs is reasonably finished (again, unlike a certain very well known Swiss manufacturer!).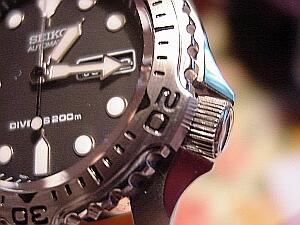 The 7mm diameter screwdown crown is well protected by two guards; in fact, rather too well protected because what with the guards and the projection at the 20-minute mark on the bezel covering the top of the crown, I find it somewhat difficult to undo. I normally rotate the bezel a bit first so that the projection is clear. Even then it's not that easy. Screwing the crown back down is OK, just. There's plenty of thread but it's not particularly smooth.

Apart from obscuring the crown in its normal 'resting' position the bezel functions well, turning unidirectionally anticlockwise in a very smooth and positive manner. I believe it rotates on a large, lubricated rubber O-ring. It is easy to grasp and ratchets at ½-minute intervals; from the feel of it, two spring-loaded ball bearings are involved, one at the top of the dial and one at the bottom, and they click alternately.

The fairly comprehensive instruction manual sets out all the details of adjusting the quickset day and date (pull the crown out one 'click' and turn), and time (two 'clicks'), and also spells out the 'forbidden zones' for these actions (between 9pm and 4am for the day, and 9pm and 1am for the date). Unfortunately this warning comes on page 14 of the manual, long after the detailed setting instructions on pages 8 and 9. Yes I know the fine print on page 2 says read all the instructions carefully before using the watch, but who's got the patience for that? To my mind, any warnings or cautions should be right UP FRONT on page 1, where everybody can see 'em. Especially warnings regarding actions that can stuff things up in a big way. English and Spanish are used for the day in this particular model, by the way.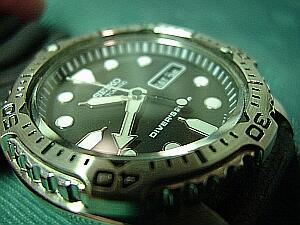 The hardlex crystal is flat and sits about 1mm below the bezel. [Seiko use a variety of materials for their crystals; in ascending order of hardness (and thus scratch resistance) they are acrylic, mineral glass, hardlex, sapphlex and sapphire. Hardlex is constructed of silicon and barium and heated to create hardness; sapphlex is mineral glass protected with a sapphire coating to make it scratch resistant.] There is no anti-reflective coating, and I don't think it's necessary on this watch. The edge of the crystal is sharply bevelled—whether or not this has something to do with keeping out the water I'm not sure. It does however make for some very attractive and colourful refractions when the light catches it.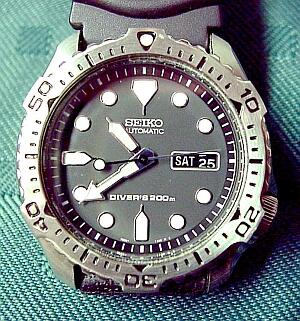 The dial and hands are similar to those used on many other Seiko Diver's, with the exception of the day and date indicators which have white lettering on a black background (with Sunday in red lettering). This is the reverse of most other models which have black on white, and although it might be a little harder to read the day and date at a glance, I prefer it as they go better with the black dial, imho. The dial is legible under all circumstances though still not as legible as my Revue Thommen Airspeed, which is my record holder in this regard. The dial lettering is neatly executed in the Seiko tradition, with the minute markers being spot-on accurate. The day and date indicators line up perfectly after each leisurely change. Being somewhat of the old school, I'd rather have the arrow on the end of the hour hand than the minute hand. I notice some new models have this configuration. However, for maximum visibility in murky waters it may be preferable to have the arrow on the minute hand, as this is the more important of the two when diving. I suspect though that like me, 99% of Scuba Diver's owners have never been on a scuba dive in their life and have no intention of doing so—at least, not in the immediate future—and so the question of which hand has the arrow is largely academic.

Talking of visibility, I have to mention the outstanding night-time visibility afforded by Seiko's luminous coating, the exact nature of which is somewhat of a mystery. The manual which came with the watch says the luminous material is Promethium-147 but it isn't—it's much too bright to be that. I initially thought it was Lumibrite, but a chance examination of the full Seiko catalogue revealed my watch to have "luminous material", as distinct from other models which are described as having "LumiBrite", "partial LumiBrite" or "Promethium-147". Whatever it is, after a little exposure to light the hands and hour markers really do glow like beacons. I sometimes still get startled when coming into a dark room from bright sunshine to catch sight of what appears to be a mini power station on my wrist. The glow lasts for most of the night and is certainly much brighter than the above-mentioned tritium powered Airspeed—at least to begin with; however, it's the Airspeed which is brighter at the end of the night, because its brightness is constant and does not depend on exposure to light.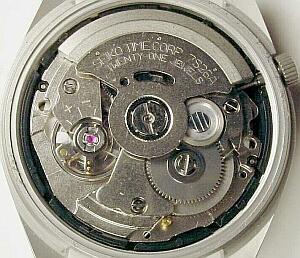 The 21-jewel 7S26 movement looks very similar to the other two mentioned above, with perhaps an even plainer finish, if that's possible. Of course the ratcheting noise is still there if you listen closely, but in normal use the watch goes about its business quietly and smoothly. Possibly because of the thickness of the case, you have to put it right up to your ear to hear it ticking away at 21,600 vph.

The bi-directional winding, ball-bearing mounted rotor seems efficient at keeping the watch wound when on the wrist. As evidence of this, consider the power reserve. Measuring power reserve is easy with a manually-wound watch. You just wind it up until the mainspring is fully wound, put it on the bedside table, and time how long it takes to stop. But what is the power reserve of an automatic? Do you measure it from when you take the watch off after wearing it all day, or do you make sure it's fully wound first and then let it run down? And how do you know when the spring is fully wound on a movement you can't wind manually, like the 7S26?

I had heard of power reserve figures of 36 hours or so for the 7S26, but no-one seemed to know for sure, so I decided to experiment. I swung the watch to and fro in the approved Seiko manner for about 30 minutes, then let it run down. It finally stopped after 47 hours and 5 minutes! Even more incredible is that this experiment was repeated by another Seiko Diver's 200m owner by the name of Jim Fetters (who alas is no longer with us), and he achieved a shade under 54 hours (53 hours, 54 minutes to be exact). So much for 36 hours! But ahh—I hear you say—that was on full wind. How long does it run for after a normal day's wear? Well, I did that test too, and got the result of 44 hours. To me this indicates that in normal wear, the 7S26 runs near to full wind, which might also help to explain the next phenomenon.

I remember reading in several write-ups of the Seiko Diver's that it was surprisingly accurate, and indeed, mine was a pleasing +3 seconds/day or so right out of the box. A couple of months later I ran a four day check, and got the following results with the watch being worn during the day and left face up at night:


Seiko Diver's Test #1

| | | |
| --- | --- | --- |
| Day | Difference from true time (secs) | Variance (secs) |
| Tuesday | -10 | n/a |
| Wednesday | -10 | 0 |
| Thursday | -11 | -1 |
| Friday | -11 | 0 |
| Saturday | -11 | 0 |
| | Total Variance | -1 |


In other words, the watch lost one second over four days. Now, you may not believe this. I certainly didn't, so a couple of weeks later I repeated it but over six days this time. Here's the results:


Seiko Diver's test #2

| | | |
| --- | --- | --- |
| Day | Difference from true time (secs) | Variance (secs) |
| Monday | +28 | n/a |
| Tuesday | +28 | 0 |
| Wednesday | +28 | 0 |
| Thursday | +28 | 0 |
| Friday | +28 | 0 |
| Sat. morning | +28 | 0 |
| Sat. afternoon | +33 | +5 |
| Sunday | +31 | -2 |
| | Total Variance | +3 |


OK, so what happened on Saturday afternoon to cause a 5 second gain after five straight days of zero variance? The answer is simple—and not what you're probably thinking. I varied my home-office-home routine and went for an hour's brisk walk on one of our nearby golden beaches (living in Adelaide has its advantages). I can only surmise that the extra activity wound the mainspring to its fullest, causing it to run fast for some reason (overbanking?). I have come across previous reports of automatic movements running fast after being worn during exercise. Interestingly, the watch ran two seconds slow between Saturday afternoon and Sunday, possibly because the mainspring had a chance to wind down a bit.

What's really amazing is that I'm discussing these miniscule variations as if it's perfectly normal for a cheap, mass-produced movement without a Geneva stripe in sight to give such accurate results. Of course it isn't. Maybe I've been lucky and got a good one. It's a testimony to Seiko however that such experiences are not uncommon with their mechanical movements.

One thing I've not mentioned so far, and have probably taken for granted, is how the watch performs in water. I did have the thought that for the sake of this review, and the enlightenment of my readers, I should plunge myself into the Southern Ocean (complete with digital camera) to see what happens. Luckily I managed to resist until the thought passed. But do not despair! If you gently run your cursor over the picture below, you will gain an appreciation of what the Seiko Diver's looks like underwater. Honest! (Your browser must be Java enabled.)





Talking of water resistance, I turned to the Seiko website to determine once and for all what the different depth ratings allowed you to do with your watch. As it's a large matrix, click here to see it. Close inspection of the matrix raises the age-old question: why is it that only the scuba diver's watches and no other 200m rated watches are suitable for scuba diving? It can't have anything to do with water resistance, as a) both types are rated for 200m or more, and b) no scuba diver would get anywhere near that depth. The answer can only be that the scuba diver's are designed with large hands and markers for easy visibility underwater, they incorporate a unidirectional bezel so that air time remaining can be gauged safely, they have water resistant straps or bracelets big enough to fit over a wet suit, and they are built extra tough to withstand knocks and scrapes. In fact, my particular model is built to meet International Standard ISO-6425, which I believe lays down criteria for such matters.


Summary
I MUST SAY, my experiences with these three Seiko mechanicals have increased my respect for the brand. Seiko seem to follow the same philosophy with their basic mechanicals as Toyota do with the Corolla—simple and conventional, but well-designed, affordable, efficient, longlasting and easily-repairable. And like the Corolla, and possibly for the same reasons, there's millions of them around.

The family resemblance between the three models is clear, even though the styling is different and they were made up to 40 years apart. They have the same feel and sound, thanks to similar movements that seem to have changed little apart from number of jewels and beat frequency. At least I think they've changed little, as information on Seiko movements, other than the most basic details, is difficult to get. There's very little published data and even authorised repair centres don't seem to know very much—at least, not the ones I contacted. But be that as it may, judging by the results I achieved and also anecdotal evidence, Seiko have a good product with the 7S26 and its variants. Seiko's motto seems to be "when you're on a good thing, stick to it", and it's hard to argue with that.

The Seiko 5 in this review is remarkable for its crisp styling—it's certainly different—and its outstanding original condition. It's let down a bit by its flimsy-looking folded link bracelet, but on the credit side the bracelet is comfortable to wear and feels secure. And I like the idea of pushing the crown in to change the date after a short month.
I've heard a rumour that with the arrival of the S-Wave, Seiko will stop making the Seiko 5 and Superior 5. It will be a sad day when (and if) this happens.

It's easy to see why the Diver's Auto is so popular with sports watch aficionados all over the world. It's good-looking, dependable, apparently bullet-proof (especially on a kevlar strap!), and amazingly accurate. It's a big and hefty watch but comfortable to wear once you get the strap sorted out. (There's models available with solid-link stainless steel bracelets, but I haven't tried one of those so I can't say what they feel like. Reports I've read suggest they're fine.)
I find I'm wearing mine more and more, and it's fast becoming a favourite. And at considerably under US$200 on the 'net, it's a bargain.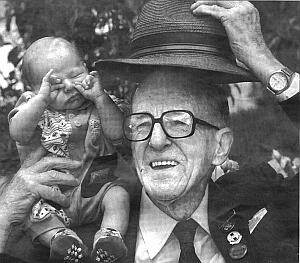 From humble beginnings, Seiko have steadily progressed to make highly desirable technologically advanced quartz watches such as the Kinetic series and also high-end mechanicals, such as the Grand Seiko and Credor, which are rarely seen outside Japan. It might seem to the uninitiated that only grandpas would want to buy the lower-end mechanicals these days. But those grandpas have been around a long time and know a thing or two. Long after those Kinetics have spun themselves out of existence the 7S26s will still be ticking away, ready to be handed down to delight another generation.






I nearly got it wet!

Back to Pt 1