COME FLY WITH ME — I'M WEARING AN AIRSPEED
A Review of the Revue Thommen Airspeed Automatic by Les Zetlein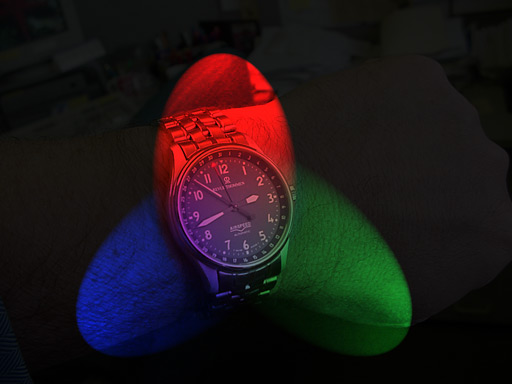 ---
Introduction
WHAT IS IT about the words "Pilot's Watch", "Flieger" or "Aéronavale" that so arouses such passionate stirrings within the watch fancier's bosom? I suppose there's a hope that by purchasing and strapping on one of these so-called 'instrument' watches, the owner will somehow become magically imbued with all the qualities of those pioneering aviators: rakish good looks, lantern-jawed, eagle-eyed, devil-may-care charm, steel-trap calculating brain, gung-ho bravery, and hugely attractive to women. (I'm talking about the likes of Admiral Byrd, Charles Lindbergh, Charles Kingsford-Smith and so forth here, not Amy Johnson and Amelia Earhart—although I did hear a rumour that.....yes, well, never mind.)
And so we poor pathetic wannabes purchase these aviation curios in our thousands—the myriad of Breitlings, the plethora of Omega Speedmasters, the IWC, Sinn and Tutima Fliegers, the Longines Lindbergh Hour Angle (does anybody really know how to work one of those?), the Citizen Navihawks, even the Russians are in on it with their Poljots—all so we earthbound desk jockeys can at least look as though a weekend jaunt to Tangiers, Nassau or even Oshkosh is not entirely out of the question. Not to mention the mile-high club. And I have to admit, there is an aura of glamour, of precision, of technological excellence associated with flying (for those who don't know what goes on behind the scenes, that is). Just look at all those dials in a cockpit. Every one a masterpiece of state of the art design, of precision engineering. Eminently readable to deliver crucial information under any lighting conditions. Rugged, to withstand the shock of landing on a dirt strip beneath the shadow of the Hindu Kush. Weather resistant to overcome the forces of......well, you get the picture. I remember visiting the cockpit of a Boeing 707 in flight many years ago. Looking at all the dials, I noticed one of the four fuel gauges was giving a read-out vastly different to the others. I mentioned it to the pilot.
"Bloody thing hasn't worked since we got this crate" he said, giving the gauge a hefty tap or two. "But don't worry—we've never run out of fuel yet!" For some reason this didn't reassure me.


| | |
| --- | --- |
| The funny thing is, I reckon that most pilots today wear a cheap and cheerful quartz number, mainly to make sure they get to the airport on time. Maybe military pilots are the exception. On a recent holiday in Tasmania (the island State dangling off the south east coast of mainland Australia), my wife and I decided we'd be adventurous and have a joy-flight in a light plane. The first one we tried was to have been piloted by a pleasant young man wearing the sort of el-cheapo quartz you get free when you purchase certain items of designer clothing. I say was to have been, because bad weather suddenly rolled in (it happens a lot in Tasmania), and the flight had to be called off. Our second attempt, whilst visiting the old penal settlement of Port Arthur, was more successful. And it was in a seaplane. Straightaway I noticed Michael, our pilot, was wearing a vintage Omega Flightmaster (with lots of 'character'). He was surprised I recognised it (although it's hard to miss, it's so huge) and seemed reluctant to talk about it, other than "it's been with me through thick and thin." I hoped our flight would be one of the thick ones. | |
| | |
| --- | --- |
| | Teresa looking a bit doubtful about how small the seaplane is when stacked against a 747. Mike the pilot instilled confidence though. If you look very closely you can just see his Flightmaster on his left wrist. The yellow thing tied in front of him is a life jacket, and nothing to do with weak bladders......or so he said. |


I needn't have worried. We had a wonderful flight, I shot some great camcorder footage (the photos are stills from the tape), and I got interested in 'pilot stuff' all over again.


Mike's not tuning into a country music station here (thank goodness)—he's getting the cold start settings right for firing up the single engine. The Flightmaster is more visible here. Love that cockpit instrument design (but note reflections off the dial glass).
At far right is an early model Flightmaster—very big, very heavy and more hands than a Chinese laundry.


My interest was further nudged by Marc Levesque's review of his newly-acquired RT Airspeed Automatic, and Ian Ramsey's excellent photographs in his photo-essay of the same watch. However, I did nothing about it until I saw one advertised for private sale LNIB (like new in box) at a very attractive price on the 'net. I decided to take the plunge, contacted the vendor, and sent off an international money order. Two weeks later my Airspeed arrived.


First Impressions

MY FIRST IMPRESSION was that the watch was beautifully finished for the price. The case is particularly attractive, and uses a combination of well-executed brushed and polished surfaces. The second impression was yes, this dial had been designed by the same people who designed aircraft instruments—the legibility was outstanding and the similarity with a cockpit dial uncanny, particularly an altimeter. The third impression was that the heft of the stainless steel case and bracelet was just right—heavy enough to indicate solidity, but not too heavy to be uncomfortable. And the attractive, very flexible five link bracelet (all solid) was itself extremely comfortable, with no pinching or pulling. Later, with more familiarity with the Airspeed, I came to appreciate all the subtleties of this particular bit of watch design.
Living With the Airspeed

THE AIRSPEED COMES in three sizes—38mm diameter case, 36mm and 33mm. Mine is the 38mm size—model number 6110005. Unless you have a very small wrist I would recommend getting this size, as the very thin, highly-polished bezel (which is literally no more than a glass-holder) makes the watch appear smaller than it really is.


By way of illustration, the above photo shows a head to head comparison with (from left) a Citizen Navihawk, a Breitling Navitimer, the Airspeed, and an Omega Speedsonic. The case diameters (excluding crown) are respectively 41mm, 40mm, 38mm and 43mm. However, if we measure the diameter across the minute chapter of each dial, we get 26.5mm, 24.5mm, 28mm and 28mm. In other words, the Airspeed and the Speedsonic are equal largest, followed by the Navihawk and then the Navitimer. This large dial size coupled with the lack of clutter and large hand size is what makes the Airspeed so legible.


The Case

The non-screw down crown is somewhat small at 5.5mm diameter and is signed with the 'back to back Rs' Revue Thommen logo. However, it is easy to grasp and winding the mainspring is smooth, although some resistance from the water-resisting seals can be felt. This is reassuring as the claimed WR rating is 100m. The photos (right) also show the highly-polished bezel and screw-in back, together with the brushed case side.

The lower photo also shows a precise thin line of polishing that runs right along the top edge of the lugs and case (immediately under the bezel). A little detail perhaps, but one that indicates the extra care taken in designing and finishing the case. All the more annoying then is the fact that one of the pressed metal endpieces does not fit flush with the lug tops, but sits up a little on one side. It actually looks worse in the photo than it really is, and can probably be adjusted out, but I know it's there. Other than that the endpieces are fine, with no rattles. As can be seen, the flat sapphire crystal sits up about 0.5mm above the bezel. So far this hasn't been a problem.
The Bracelet

I mentioned the bracelet earlier. It really is the most comfortable I've tried, no doubt due to its great flexibility. Like the rest of the watch it seems very well engineered. The deployant part of the clasp is made from solid steel, and the fliplock closes securely over the ends of a springbar (arrowed), sitting alongside the bar which attaches the deployant bit to the pressed metal clasp (if you follow me). I must confess I initially thought this springbar was a spare!
A close-up view of the neatly-executed clasp reveals the only other niggle I have with the Airspeed—the stamping of the name on the clasp and the black paint infill is not evenly deep. I've seen this on a few Airspeeds, so I can only surmise it must have something to do with the difficulty of stamping on a curved surface. Bracelet adjustment is by simple push pins. I had to have several links removed for the bracelet to fit my 7½" wrist, so those with larger wrists will be well catered for.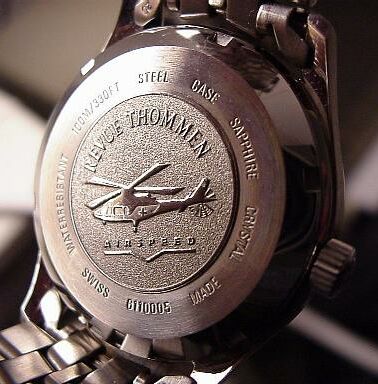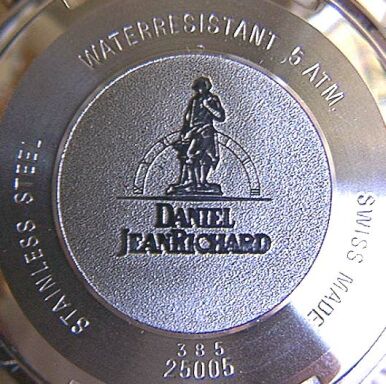 I always thought the attractive caseback design on the Airspeed with its shotblasted centre portion was unique to Revue Thommen. However, comparison with the Daniel Jean Richard chrono caseback (above right) shows remarkable similarities. Same case-making company, perhaps.

The Movement

The heart of the Airspeed is a 25 jewel base calibre ETA 2836-2, modified with a date hand, and beating at 28,800 vibrations per hour. This is my first watch with such a high beat rate, and I am continually astonished at the machine gun-like tacka-tacka-tacka-tacka sound I hear when I put it up to my ear. How the balance can swing to its proper amplitude in that short time I have no idea. I can't even imagine what the 36,000 vph Zenith El Primero movement must sound like! The high beat (4 Hz or 8 'ticks'/sec) results in a relatively smooth sweep second hand, though nowhere near as smooth as that powered by a tuning fork movement.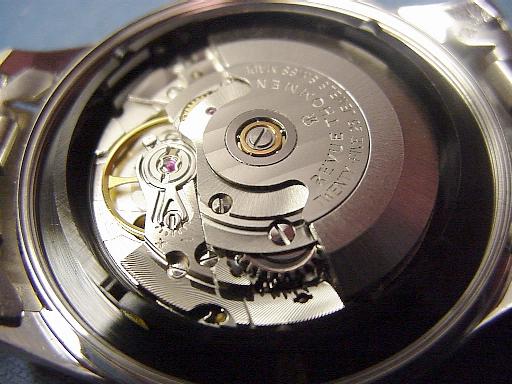 I was quite surprised on removing the caseback to see how nicely finished the movement is. It sits in a thick black plastic spacer, and is resplendent with côtes de Genève (Geneva stripes) and colimaconnage on the rotor, and other decoration on the plates.
In normal wear the movement can neither be heard nor the 5 ball bearing-mounted rotor felt as it goes about its business of keeping the mainspring wound. And it seems to do this well: in the one month I've had the Airspeed the only reason I've had to touch the crown is to advance the red-tipped quick-set date pointer at the end of a short month. The pointer normally advances instantaneously at 11.54pm, and it's so quick I missed it the first two nights even though I was watching for it. By lightly holding the case one can feel the change however.

ETA's slogan for the 2836-2 is "tradition with chronometric performance". In my case that's been true so far. After one month, and right now, it's reading 2 seconds fast, which represents an average gain of 0.067 seconds/day. Pretty good, huh? But as Benjamin Disraeli once said, there are lies, damn lies and statistics. The clue lies in the word "average". In actual fact my Airspeed loses at the rate of 4 seconds/day on the wrist, but gains approximately 4-5 seconds overnight if left crown down. Thus by occasionally wearing the watch overnight I can easily keep within a couple of seconds of true time without having to touch the crown. No doubt I could improve the daily rate with a judicious bit of regulation (using the etachron regulator fine-timing device, which is a fancy name for an eccentric screw), but by doing that I might change the positional characteristics and lose my easy adjustment method. So I remain undecided about that. (I used to be indecisive, but now I'm not so sure....)


The Crystal

Much has been said about the Airpeed's double-coated anti-reflective sapphire crystal, and it's all true. At times it really does look as if the crystal has fallen out, it's that transparent. At other times you can see a bluish cast reflected from it, similar to looking at a camera lens. I don't mind this, in fact I think it's rather cool. Keeping it clean is a simple matter of occasionally breathing on it and lightly polishing with a soft cotton cloth (not tissues, as the wood fibres tend to scratch the coating).

The Hands

The leaf-style hour and minute hands aren't just painted white; they are outlined in black and have white tritium inserts. As the minute hand passes over a minute marker the black tip of the hand "eclipses" the marker for 10 seconds or so, making it vanish and thus easy to synchronise the minute hand with the second hand. Once synchronised, they stay that way all around the dial. I know we're getting a bit anal here, but it's just another example of the care taken to get things precise. In keeping with this theme, the arrow-tipped date hand points exactly to the centre of each numeral on the date chapter, which sits on the banked outer periphery of the dial. Even when the minute hand covers the date hand, the red arrow can still be seen.
The bluish cast is evident in this shot


On the subject of hands, one minor niggle I've heard is that on its never-ending journey around the dial, the large black counterbalance of the second hand partially obscures the hour hand every time they cross (i.e. once a minute). Personally, this has never worried me.

The tritium is applied to the hour, minute and second hand, and also the numerals. It's "true" tritium, in that it doesn't rely on exposure to light to glow. When the lights first go out the glow seems faint, but once your eyes have adjusted to the dark it's easy to see the time, including the passage of the second hand. And it stays that way all night, without fading. This watch would be ideal if you were captured by Lebanese terrorists say, and kept in an unlit cave for weeks or months. You would always know the time! Assuming, of course, that they let you keep the watch, and that your hands weren't tied behind you, and you could keep it wound.....hmmm. Perhaps not.


| | |
| --- | --- |
| | Crystal? What crystal? |
| | |
| --- | --- |
| | Ah! There it is! |


Summary

REVUE THOMMEN started making pocket watches in 1853, and in the 1930s began to specialise in making clocks and dashboard instruments for the aviation industry. So they've had many years to hone their designs and establish what works and what doesn't, and this is reflected in their present range of horological offerings (including a watch with built-in altimeter).

So what makes a good pilot's watch? Obviously reliability, accuracy, legibility and utility would figure prominently. The last (utility) could include functions such as day and date, second time zone, an elapsed time bezel, and a chronograph function. Whilst the Airspeed Automatic has little in the way of these latter bells and whistles (its more expensive brother, the Airspeed Chrono with the Lemania 5100 movement does though), it fits the bill nicely with respect to the first three qualities. Legibility in particular is outstanding, and this is a quality which is becoming more and more important to me as my long-sightedness increases and I need my reading glasses more and more. (To all you youngsters reading this don't snigger—the odds are it will happen to you too one day!) With the Airspeed I can easily read the time under any lighting conditions without my glasses, and this is very convenient. And with its elegant styling and medium size, it is equally at home peeping out from under a uniform sleeve with a couple of gold rings embroidered on it, as a dinner suit or a checked shirt. The price of the Airspeed is reasonable too—and good discounts can be had on the web. (*See footnote)

The high beat of the movement should theoretically be beneficial in minimising perturbations to the balance, and thus help to maintain a steady rate. The downside to this is the need for more frequent servicing—say every 3-4 years as opposed to 5-7 years for a slower beat movement. On the positive side, the ubiquity of ETA movements and parts should assist in keeping the Airspeed running economically for many years to come.

This is a watch that appeals to me on many fronts—I like the thoughtful design, the quality of materials and finish, it looks good, it's comfortable to wear for extended periods and it performs well. The 100m water resistance is a useful bonus, allowing you to keep a check on the time to your next take-off, whilst floating on an airbed in the hotel pool, sipping a pina colada. If you're into instrument-style mechanical watches then you'd be hard-pressed to beat it for value. Ask the two pilots in the photo below—they look happy with theirs!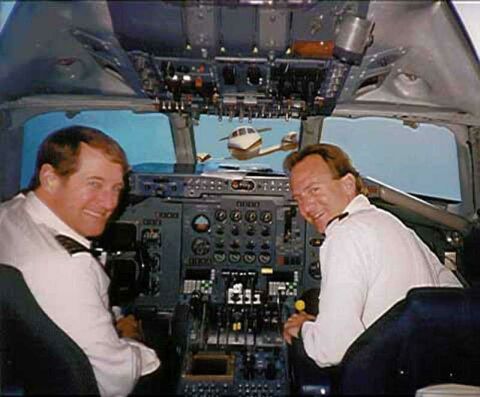 Bob and Gary show how delighted they are with their new Revue Thommens. "We like to put them through their paces" grinned Captain Bob. Looks like they'll be testing the impact strength and water resistance real soon now.
Specifications
Model: Revue Thommen Airspeed Automatic model no. 6110005B (B suffix denotes s/s bracelet).

Movement: 25.6mm dia., 5.05mm high base calibre ETA 2836-2 (derived from 2824-2) modified with date hand, 25 jewels, bi-directional ball-bearing mounted rotor, 28,800 vph, Incabloc shock protection, 38 hour power reserve, Etachron fine-timing device.

Case: Stainless steel (brushed and polished), diameter 38mm, height 11mm, screw-in back, sapphire crystal anti-reflective on both sides, water resistant to 10 atm (100m or 330ft). Non-screwed crown allows quick setting of date when pulled out to first detent, and hacks the movement and allows time setting in second detent. 20mm between lugs, 45mm across lugs. Weight (including bracelet) 100 grams.

Bracelet: Brushed and polished stainless steel, solid links, deployant clasp with flip lock.

Dial: Available in matt black, white or blue, leaf hands with tritium coating, luminous Arabic numerals, luminous sweep second hand, sweep date hand with red arrow tip.

Price: US$850 on s/s bracelet, US$750 on leather strap. Discounts available at various web sites. Available in three case sizes: small (33mm Ø model 6110003), medium (36mm Ø model 611004), and large (38mm Ø model 6110005).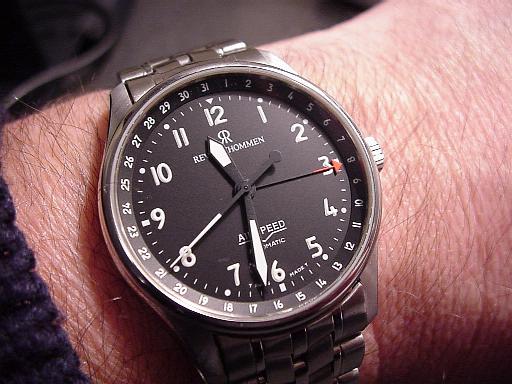 *Footnote: About the time this review was originally written, the watchmaking part of Revue Thommen was going through hard times. After unsuccessfully trying to sell the business, in January 2001 RT's parent company (MSR) licenced the family-run, Swiss watchmaking firm of Grovana to produce and sell RT watches. Grovana sells about 250,000 watches a year, mainly quartz and mainly to Eastern Europe. Grovana has expanded the original RT Airspeed line, but the classic Automatic version reviewed here is still available. You can check it out by clicking on the relevant page on the Revue Thommen website .
---
© Copyright Les Zetlein July 2000. Pictures and text may be used for NON-COMMERCIAL purposes provided source is quoted. I use a Sony Mavica FD-83 digital camera. Picture of Daniel Jean Richard caseback by kind permission of Brandon Sparks.
Any corrections or comments? Then please...

send me an email!
If you would like to see a list of other reviews I've done, please click here.
Last update 29 October 2010
home | email | about us | watch reviews | recipes | guestbook