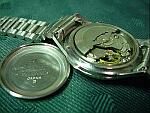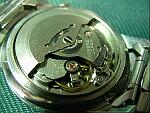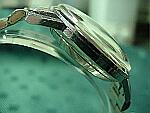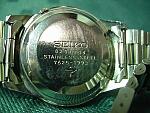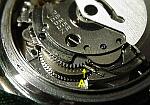 The culprit is found! "A" indicates the small 'click' which makes the famous Seiko ratcheting noise.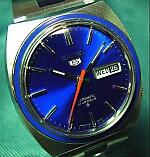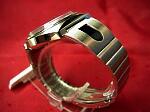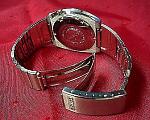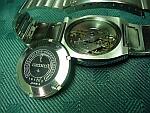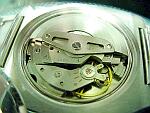 No.3 in an occasional series Best viewed at 800 x 600
Review of three Seiko watches
by Les Zetlein
Introduction
LIFE'S WEIRD, isn't it? Until relatively recently I did not own, and had never owned, a Seiko watch. This put me in an elite group of only 326 people on the planet in a similar situation (the other 325 live on a remote Arctic island just to the north of Novaja Zemla). However, that all changed when I inherited a Seiko from my father (sorry, comrades, been good to know you) -- a 1950s/60s stainless steel automatic with cal. 7625E movement and date window. Nothing outstanding or unusual (once I realised you can't wind it manually) -- give it a bit of a shake, set the time, strap it on and away you go. I put a cheap steel bracelet on it, as the fancy replacement Dad had used was too small for me.
Then, I had the opportunity to purchase a brand new Seiko Diver's 200m auto at a very good price, and I succumbed to the recent enthusiast hype about this watch, justifying its purchase as (yet another) ideal weekend beater. This one has the ubiquitous cal. 7S26 movement, also non-manual winding.
To cap off the trilogy, while visiting my friendly neighbourhood watchmaker, I noticed something new in his "pre-owned, pre-loved" display case. A Seiko 5 with -- you guessed it -- a non-manual wind auto movement (cal. 6119).
"That'll be a good one for you to write up," he said. "A guy brought it in the other day. Had it from new -- even got the original box. He couldn't have worn it very much -- hasn't got a mark on it." And indeed, it could truly be described as being that much-abused term, "minty". And so, dear reader, I present for your delectation not one, not two, but three (count 'em, three) Seikos -- two vintage, and one new but with vintage antecedents.



Seiko
SEIKO HAVE BEEN in the watchmaking business for a surprisingly long time -- since 1892 in fact. That was when the first watch factory in Japan opened at Seikosha near Tokyo, initially producing wall clocks but then progressing to pocket watches and wristwatches. In 1924 the brand name Seiko was introduced. By contrast Citizen started life as the Shokosha Watch Research Laboratory in 1918, adopting the Citizen name in 1930. The entire watch production of these two horological giants was mechanical until the 1960s, when work was begun on an electronic watch (Seiko marketed the world's first analogue quartz watch, the Seiko Astron, in 1969). As we now know, the Japanese invested heavily in electronic watch development and production, with the result that the world and his wife (and children) each had a quartz watch or two, and exports of Swiss mechanical watches were literally decimated -- from 40 million in 1973 to 3 million in 1983.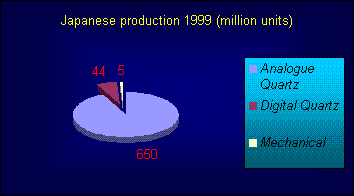 The current Japanese production figures reflect the huge dominance of electronic movements. In 1999 total Japanese production (all brands) comprised 699 million complete watches and movements classified as follows:

analogue quartz - 650 million (or 93% of the total)

digital quartz - 44 million (6%)

mechanical - 5 million (1%)
.
Interestingly, although mechanicals were only 1% of the total production, they represented 5% of the total value.
Overall, 1999 production was down by 6% in volume and by 22% in value compared to 1998, reversing an otherwise healthy upward trend since 1995. [Figures from Japan Clock & Watch Association]



The Watches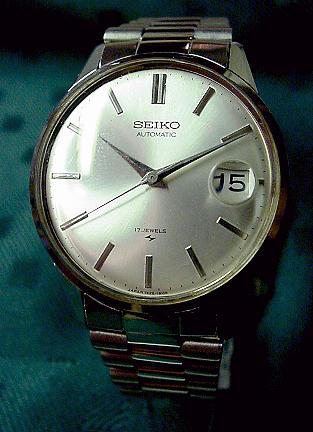 LET'S START with the oldest first -- the one my father gave me. The case serial number indicates it was made in February 1958 or 1968, and I'd plump for '58 as being closer to the mark. It's typical of much of the Seiko product of that era - sturdy stainless steel case (all polished), 17-jewel automatic movement (cal. 7625E) with date at 3 o'clock, and centre seconds. The movement beats at a relaxed 18,000 vph, and has diashock shock protection and bi-directional rotor winding complete with the normal loud Seiko death-rattle as the winding wheels do their stuff. There's no money been wasted in decorating the movement -- just a matte grey nickel finish.

The dial is typically Japanese too -- after 40 years it shows no signs of ageing whatsoever (unlike me). (For some reason the Swiss just don't seem able to achieve this sort of immaculate dial longevity -- at least, not with their cheaper models.) It's silver-satin finished with a sunburst pattern, with applied stick markers that perfectly match the (rhodium plated?) sword-shaped hands. There is no luminous material.

The dial is topped by a very vintage, very rounded acrylic crystal that incorporates an internal magnifier over the date window. I don't think that's original -- I think Dad had that done specially (apparently it can be done by burnishing a depression into the inside of the crystal. CAUTION: Kids, don't try this at home. Leave it to the professionals.)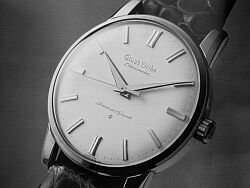 Interestingly, the dial design is not that dissimilar to an early Grand Seiko model, although I think the similarity stops there.

The circular 3-piece case has a snap-on back (with no sealing gasket), and is of modern appearance with a decent sized 36.5mm diameter. Most of this is taken up by the dial as the bezel is narrow. Lug width (or 'interhorn width' as Breitling so elegantly puts it) is 19mm, with the overall distance between the lug ends being 43.5mm. The watch is 13mm thick and has a pleasing heft, but is relatively light (at 90 grams on the kitchen scales) and comfortable to wear. No water-resistance is claimed.

The crown is recessed into the case at 4 o'clock to give a hidden effect. It freewheels in the recessed position, also does nothing at the first detent, and moves the hands when pulled out to the second detent. Wind the mainspring it does not, no matter how hard you try. The movement is non-hacking but can be made to stop with steady backwards pressure on the hands.

The date change takes place between 11pm and 11.55pm, and is 'semi-quickset' in that it can be changed by moving the hands backwards and forwards between 2am and 10pm.

On the wrist the watch looks good (imho) and performs well. I don't know when it was last serviced (probably never), but it's running consistently to within 15 seconds a day. As soon as you pick it up it starts, as if eager to start measuring off the hours. You only hear the winding noise when you swing the watch near your ear, and then it sounds like a soccer rattle, followed by that distinctive sound as the rotor settles jerkily and quickly into position. This isn't a fault -- most rotors seem to do this rather than (as I had once imagined) spinning freely for ages before gradually slowing down. I imagine it's caused by the load placed on the rotor by the winding mechanism.

The Seiko didn't get much airtime from my father after my mother bought him an Omega Seamaster as an anniversary present about 30 years ago. The fact that he kept it all those years bears testimony to the high regard in which he held it. I know the feeling.



The Seiko 5
I NEVER CEASE to be amazed at just how many different styles of Seiko 5 and Superior 5 there are. Often the differences are small—say a change in dial shading, or hands and hour markers. Some models however are completely different to the rest of the herd. I read somewhere that it is a matter of pride with Japanese watch manufacturers to offer their customers as much choice as possible, hence the countless minor variations—a philosophy which is about as far as you can get from that of a certain very-well known Swiss manufacturer (whose name begins with Ro...)!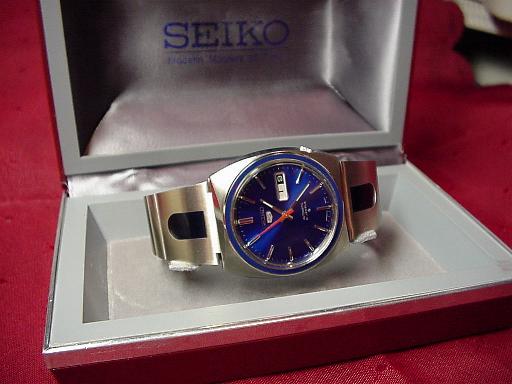 This particular pristine example is unlike any Seiko I've ever seen. The first thing that catches your eye is the satin-finished deep blue dial, its colour subtly changing as the light strikes it. The second is the unusual folded stainless steel bracelet, with its oversized endpieces incorporating blue panels to match the dial. Very early 80s. The bracelet is a rather thin, flimsy affair with sharp edges, which makes putting it on and taking it off an operation to be undertaken with caution. Once on the wrist however it is quite comfortable and feels secure.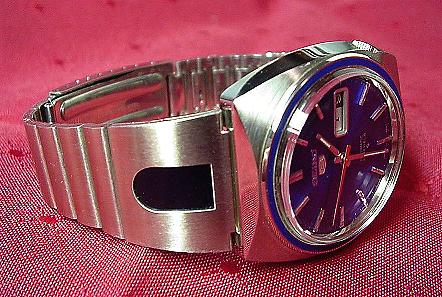 The cushion-shaped stainless steel case employs some interesting angles and has both brushed and polished surfaces. In particular, the brushed finish on the rear of the case proper contrasts with the polished screw-in caseback (complete with its original clear protective sticker!). The caseback proclaims the watch to be water resistant, but no indication of depth is given. Dimensions of the case are: diameter 38mm; lug width 17mm; lug-to-lug 39mm; and thickness 12mm. Being solid steel the case has a reasonable heft but is not overly heavy at 95 grams, including bracelet.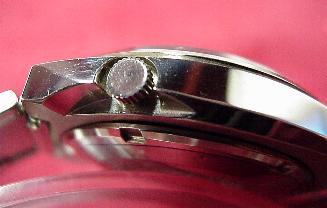 The crown is recessed at the 4 o'clock position in a similar fashion to the watch reviewed above, and has the handy feature of changing the date when pressed inwards. The day however has no quick-set facility (not even cycling back and forth between 10pm and 2am). Whilst most day-date Seikos I've seen have bilingual datewheels (usually English/Spanish or English/Arabic), this one has English/Roman numerals indicating days of the week, starting with I on Monday and ending up with VII on Sunday (in red). I suppose this configuration is handy for countries that don't speak English but know their Roman numerals. Or for those that just fancy a change.

The flat-topped acrylic crystal is surrounded by a thin bezel incorporating a blue plastic insert to match the dial. The overall effect is quite attractive. I'm less sure about the orangey-red central seconds hand, although it's certainly easy to see. The shiny steel hands and baton markers are reasonably easy to distinguish in most lighting conditions. There is some luminous material present on the hands and markers, but its glow is now as short-lived as a politician's promise. The movement is a cal. 6119 with the same lineage as the 7625E, but with 21 jewels instead of 17, and a vibration rate of 21,600 vph. Instead of being secured to the case with screws the movement is held in place by the caseback, which tightens down onto a large metal spacer spring. I found this out when I removed the caseback to photograph the movement and gently turned the watch over. I aged 10 years when the spacer came away and the whole movement tried to slide out of the case.

The winding gear rattle is present but is less pronounced than the 7625. The movement appears finished to a slightly higher standard than the 7625 (and, for that matter, the 7S26). It operates flawlessly to be within 10 seconds a day on the wrist.




continue to Part 2