REVIEW: Citizen "Navihawk"
or How I Learned To Tell the Time in 30 Cities Around the World
by LesZ
---
Note - click on (almost) any image to see it full size.
Either the printed medium is extremely powerful, or I'm a sucker for watch ads. I suspect the truth lies somewhere between the two, for this review is about a watch I discovered and eventually bought because of a magazine advertisement. Those of you who have read my Breitling Navitimer review (might as well do a little bit of advertising of my own) will know that I'm a bit prone to do this sort of thing. In this instance the timing was particularly apt, as it was November 1994 and I was aboard a Qantas 747 at 37,000 feet, halfway between Australia and the Old Dart (Britain).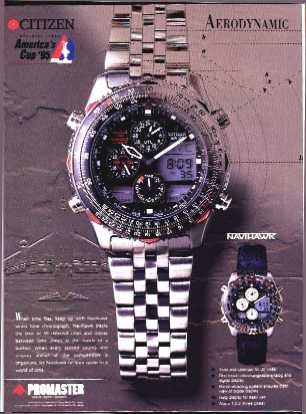 Towards the back of the in-flight magazine I came across the ad pictured right. Strangely enough, the inside front cover of the mag featured the then brand new Seiko Kinetic, but this watch had done nothing for me. However, the Navihawk interested me very much indeed with its pilot's cockpit-style subdials, including UTC (Coordinated Universal Time, or Greenwich Mean Time). At this point in my life I was doing a fair amount of international travelling, and what with residing in Australia and having folks in England, knowing what the UTC was would be useful. Furthermore it promised easy time zone changing 'at the touch of a button', plus it boasted a slide rule bezel, and you know how much I like those. And the fact that it didn't have a crown intrigued me. Great to help with keeping out the water (10 bar or 100 metres WR), but how did you set the hands? The stainless steel bracelet didn't exactly set my pulse racing—it looked a bit ordinary—but the 'Navihawk' (trying to cash in on the Navitimer name, I thought) was definitely worth investigating further. And so off to the nearest duty-free shop I hurried—and got my first shock. Sticker-shock. I couldn't believe they wanted AUS$795 (US$510) for a QUARTZ. A Citizen quartz at that. (Not that there's anything wrong with Citizen—I've got several and they perform flawlessly. It's just that, well, it's not like it's an IWC or a JLC or something. And remember, this was 1994.) In the flesh the watch was quite attractive with a nice heft to it, and it appeared well-finished with a combination of polished and brushed stainless steel surfaces. However, I certainly needed my reading glasses to make out all the detail. The slide rule, having silver numbers on a black background, was nowhere near as readable as the one on my Breitling Navitimer. But the one big plus was those 22 different time zones programmed into the watch's chip, and like the ad said, they were interchangeable at the touch of a button (well, two buttons, actually, pressed simultaneously). However, at that price it would have to wait.
And wait it did until one day in 1997, when, in a shopping mall, I came across a jeweller's shop having a closing down sale. And there, right at the front of the window, were two Navihawks going for the sale price of AUS$245 (US$157) each. This was too good an opportunity to miss (or so I told my wife, who happened to be with me). The only trouble was neither of them was the 'white hands and markings on all black face' as depicted in the ad, which was what I wanted for maximum legibility. I had a choice of either green luminous subdials plus gold pushers and gold bezel edge on a blue leather strap (as shown on the smaller of the two watches in the ad), or an all-luminous face (except for the digital displays) with orange hands on a rubber strap. I decided on the former as being the less garish of the two. As a bonus there was an additional one year guarantee (in Australia only) on top of the original 12 months international guarantee. I was pleased about this until I found out Citizen gives a 5-year guarantee in the US.
The box I was given was a quite ordinary rectangular plastic affair, nothing to write home about, and I suspect it was a generic Citizen box rather than the more swish Promaster truncated cylindrical affair I've seen elsewhere. The instruction manual was a comprehensive booklet in four languages (English, German, Italian and Japanese), with 30 pages devoted to each. The English was good and the instructions clear.

I diligently worked my way through the manual, finding out about all the functions. Believe me, this watch is one clever cookie. I then turned my hand towards setting it to my local time zone—Australian Central Time, which is GMT+9.5 hours. Shock number 2. This watch knew about practically every time zone in the world except—you've guessed it—Australian Central Time. I could set it to Sydney time, which is GMT+10, or Tokyo, which is GMT+9, or Perth, which is GMT+8, but not Adelaide. As you can see from the scan below, Citizen think Australia has only 2 time zones. If they can put New Delhi in at GMT+5.5, why not Adelaide?

I eventually had to compromise by using Sydney as the digital time zone but setting the analogue time to Adelaide time. (To read how I did this, click here.) This meant that the time in every other zone was half an hour slow. To say I was a bit peeved is putting it mildly. I should stress however that this sort of compromise will only apply if you live in remote places like Central Australia. At almost every other inhabited point on the planet you'd be OK (so long as your timezone differs from UTC by a whole number).

I wrote above that this watch is one clever cookie. Let me tell you why.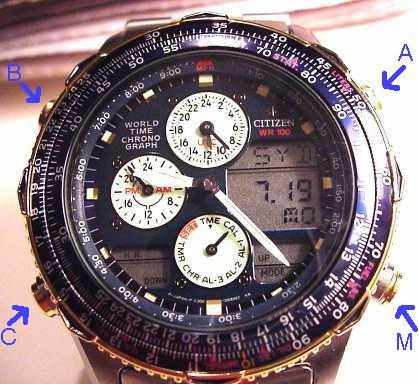 As you can see from the photo opposite, there are analogue displays for hour, minute, UTC and 24hr local time. Let's number the four pushers as follows: top right 'A', top left 'B', bottom left 'C', and bottom right 'M' (for 'mode'). (This is for Walt O., as he loves little arrows.) Pushing 'M' repeatedly cycles the digital display through time, calendar (day, date and month correct to 2099), alarm 1, alarm 2, alarm 3, chronograph (with split-time function), countdown timer, and city set mode (on or off, i.e. you can select which cities you want to display so you don't have to cycle through all 30 of them). The three alarms, if set to "on", remain with the time zone they were set in. I found this out the hard way after being woken up at some ungodly hour because I had forgotten that a 4pm appointment time in London is 1.30am in Adelaide. (Actually, relying on the alarms to wake you is a bit dicey if you are a heavy sleeper because they aren't very loud; a daytime appointment would be OK.) Setting is achieved by pulling out 'M' and using the 'A' and 'C' pushers. The time including daylight saving adjustment is set similarly. Now comes the clever part. As soon as the digital time is adjusted, the hands move to the correct time automatically, without losing or gaining a second. Adjusting for daylight saving is a snap, and is most easily achieved with the mode selector in the SET position.

[Another trap for young players which is related to setting the alarms was pointed out to me by Dr Ralf Fritzsch of Hamburg (whose sigfile says "Unix IS user friendly - it's just selective about who its friends are"). The Navihawk keeps track of the alarm times (when set) by noting the offset from UTC. When daylight saving is implemented, thus increasing the offset by 1 hour, the alarm time is similarly advanced by 1 hour. As an example, say you set the alarm to wake you at 7.30am (in your timezone, no daylight saving). When summer rolls around and you adjust for daylight saving, the alarm time will display 8.30am and go off at that time. In other words, if you make an adjustment for daylight saving (either on or off), double check that the alarm is displaying the time you want.]

You will notice that there are two little windows either side of the mode sub-dial. These are the 'help display' which give clues as to what's likely to happen if you push the buttons at any particular stage. The one at top left says 'HR', which stands for 'Hands Retract'. Say the hands are obscuring the digital display; press 'B' for 2 seconds and they retract to the 12 o'clock position, enabling you to see the display. To remind you you're in the HR position the minute hand of the UTC dial wags back and forth by 1 minute. For a demonstration of the hands retracting click here (careful—409kb download and you'll need an mpeg player such as Window Media Player installed). Seeing what the time is in other cities is achieved by simply pressing the 'up' or 'down' buttons, i.e. 'A' or 'C', till you come to the one you want. Changing your local time zone is easily accomplished by pressing 'A' and 'C' simultaneously to switch between the analogue and digital times—for demo click here (508kb download).


*** Setting instructions ***

If you don't have an instruction manual or would like to know more about how to set and use the functions on the Navihawk, you can see an abbreviated set of instructions in Acrobat Reader format by clicking on this link. More comprehensive instructions (and an interactive video!) can be found at the Citizen of America webpage Settings.


OK, so it can do all that clever stuff. What's it like to live with? Firstly, the Navihawk is part of the Promaster series, so it's built for an active life. Second, I knew the blue leather strap was not ideal for my taste, and certainly not if I wanted to go swimming or sailing. So soon after I bought the watch I ordered the two-tone (stainless steel and gold) bracelet to complement the two-tone finish on the watch. The bracelet is of average quality but is nicely made with solid outer and folded inner links, and has a positive clasp with flip-lock.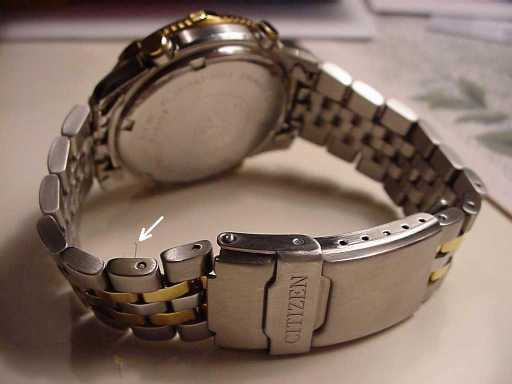 I had to have two links removed for it to fit my 7.5" wrist properly. It does have a tendency to pull the occasional hair though. In fact, it wasn't until I looked at this photo that I realised it still had one of my hairs caught in it (arrowed). Other than that it's quite comfortable. The watch itself is no lightweight, but on the wrist it fits snugly and the weight is not noticeable. In order to conserve battery power, the minute hand advances every 20 seconds. Accuracy is well up to the usual quartz standard—it gains less than 0.2 seconds per day, rain or shine. The crystal is mineral glass, ever so slightly convex, has no anti-reflective treatment, and is scratchable. How I came to scratch mine badly enough to warrant replacement is an unusual tale.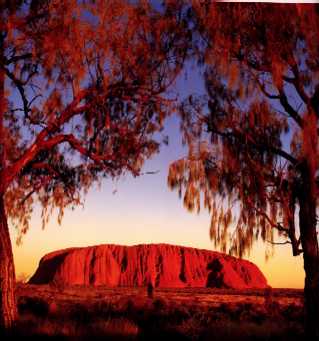 I was visiting Uluru, which is the Aboriginal name for Ayers Rock some 300km or 200 miles south-west of Alice Springs in the Northern Territory. At 867m (2844 ft) high the Rock is often touted as the biggest monolith in the world (it isn't, by the way), and it attracts visitors from all parts of the globe to view its spectacularly changing colours at sunrise and sunset, and, if they feel fit and daring enough, to climb it. (The local Aborigines would prefer people not to climb the Rock as it has deep cultural and spiritual significance for them, but they don't actively discourage those who want to.) Anyway, there is an Aboriginal interpretive centre nearby, and visitors are encouraged to wander through and gain some insight into what it all means for the locals. I was wandering through with the rest of the bus party when I came to a small room in which a film was showing. The room was absolutely pitch black in spite of the reflection off the screen, upon which were emblazoned 4 or 5 Aboriginal women who were engaged in a tribal dance. My attention was naturally drawn towards the screen while I made my way towards the back of the room. It was only when I made sudden and severe contact with a brick wall that I realised exactly how small the room was. And that's how I scratched my watch.

The 'pilot' theme of the watch (culminating in the 'Blue Angels' special edition) is evidenced by the stylised two 'fixing screws' on each subdial, supposedly reminiscent of dials on an instrument panel, the lettering on the subdials, and of course the slide rule bezel. As mentioned earlier this is not the easiest of slide rules to use because of the small numbers and lack of contrast, but it does work (I used it to do the currency conversions in this review). Calculations involving time are aided by the proper hours/minutes scale running around the outside of the dial. The bezel rotates smoothly in both directions but with enough friction to prevent it moving by itself or from a casual knock. Eight small triangular tabs are provided around the circumference of the bezel to assist in turning it. The main digital display is large enough to be readable, but the lettering in the 'helper' windows is miniscule. The pushers have a springy action rather than a click as in a mechanical system, but for me they work alright. I have seen reports from a couple of Navihawk owners who claim the pushers are too easily activated by mistake, probably by the back of their wrist, but I haven't had this experience. Similarly, I've seen a comment (by a pilot) that the watch reset itself under loading of several g-forces during a steep turn. Again, this hasn't been my experience, but then Boeing 747s don't loop the loop very often (thank goodness). The manual says the watch can safely be used for non-contact sports such as golf, so I'm surprised a steep turn in a plane would cause it to reset. The hour markers are a gold/luminous combination and are of unequal length, although symmetrically balanced left and right. At first this inequality disturbed me, but I don't give it a second thought now.

[Update 28 Feb 2000: I received a communication from Keith Surowiec, a pilot in the USAF. This is what he says:
"You brought up an interesting point about the g-forces resetting the watch that I can confirm for you. I fly F-16's in the USAF and I, like many of my fellow pilots fly with the Navihawk, because of its versatility and convenience. However under the strain of combat level G-forces 8-9 times the force of gravity the watch does come a little unglued. For example the last time I had a malfunction the UTC hand time and digital time refused to match. On another occasion the analog time refused to switch to the digital time upon pressing the A and C buttons. Both of these problems were solved by doing a master reset and reloading the current UTC time. I'm not sure if it is the actual G-forces or the pressing of the plungers simultaneously in some fashion or a combination of both that cause these problems. Nevertheless it is a great watch and has served me well since 1996."
Another correspondent (also a pilot) is of the opinion that the Navihawk's chip can become 'confused' after many button presses, requiring a reset to get it back on track again. Whilst this may be so, all I can say is that so far this hasn't happened to me (touch wood).]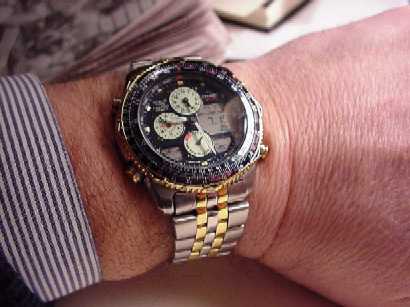 To sum up, in the 2½ years I've owned the Navihawk it's done its job extremely well. Nothing has fallen off or gone wrong, all the functions work well, and it's continued to run extremely accurately on its original battery. It has practically every function I could wish for, and has proved especially useful and convenient when travelling. I must confess I haven't got it wet yet, but judging by my other Citizen quartz 100m WR, I'm sure it would hold up OK. [Update 28 Feb 2000: I have taken a dip in a pool with it on, and am pleased to report everything is A-OK. I was more worried about scratching the face on the side of the pool than its water resistance.]

I believe it was overpriced at its original price point, but at the price I paid it's a bargain. (I found out later this was approximately cost price.) And in spite of my fond feelings for mechanical watches, I have to admit there are some things that only an electronic watch can do. Its reliance on a battery is obviously a disadvantage, but realistically only a minor inconvenience every three years or so. And to counter that inconvenience, there's the advantage that you can leave it in the drawer for months at a time whilst trying out new additions to the collection, then dig it out with it showing the correct date and time. An interesting thought is that had I set the time correctly when I got it, then put it away for 2½ years, it would now be only 3 minutes fast.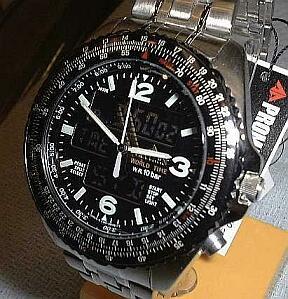 So, how could it be improved? Well, for starters it would be nice if it knew the time zone where I live. Secondly, a backlight of some description would be handy, because the luminous material isn't all that wonderful on the hands, and anyway they tend to get lost in the green of the subdials on my particular model. In an attempt to improve legibility I had the space in the hour hand filled in with luminous material also, but it hasn't made much difference. A later model which some call the 'Navihawk 3' (but I believe is really the 'Wingman VI'—see photo left) does have its LCD displays backlit, but it doesn't have the ability to automatically set the hands or switch analogue and digital times, which to me is the great attraction of the Navihawk. Oh yes, one other thing. How about a power reserve indicator or signal to let you know the battery will expire in one month? Now, that would be handy...........







Specifications (for the technically minded)
Make and model: Citizen ProMaster Navihawk World Time Chronograph #JN0005-32L 62-0013
Calibre: C300. 32,768 Hz. Antimagnetic to 60 gauss.
Case: Polished and brushed stainless steel; stainless steel screw back; no crown. 12.6mm thick. Slide rule bezel. Bezel diameter 41mm across tabs. Mineral glass crystal. Distance between lugs: 20mm.
Water Resistance: 10 bar or 100 metres.
Functions: Analogue: hours, minutes, mode, UTC, 24hr local time. Digital: time & calendar for 30 cities, 3 alarms, chronograph (records up to 24 hours in 1/100 sec.), 60 minute countdown timer (settable in increments of 1 min). Calendar programmed from 1994 to 2099.
Guaranteed accuracy: +/- 20 seconds/month under normal temperature conditions. Measured accuracy: +6 seconds/month.
Operational temperature range: 0°C to 55°C (32°F to 131°F).
Power cell: One silver oxide SR 927W; approx. life 3 years.
Special features:

Analogue hands set from digital display
Instant time zone change by pressing 2 buttons simultaneously
Hand retracting system to ensure clear view of digital display
Help display
Selectable zone setting to reduce number of displayed cities
Easy setting/removal of daylight saving adjustment
---
ADDENDUM


Since writing the above review, certain developments have occurred. Firstly, in March 2001 the battery finally gave out, after exactly 4 years of faithful service. This gave me the opportunity to photograph the inside of the watch, and also capture my trusty watchmaker, John Gaskin, at work at his bench.