Introduction
IT WAS WHILE I was idly flicking through the pages of a slightly dog-eared National Geographic in the doctor's surgery one day in 1966 that I came across what I wanted for my 21st birthday. There in front of my transfixed eyes was an advertisement for the coolest watch I had ever seen. It had a black face, adorned with subdials, numbers and symbols. It was a chronograph (stopwatch). It had a built-in slide rule. It had luminous hands and hour batons. It looked huge. I knew that I had to have this "Breitling Navitimer", even though I'd hardly heard of Breitling. After all, it was the first watch in space, or so the ad said. (OK, so a bit of advertiser's licence was being taken.) If it was good enough for an astronaut, it would be good enough for me. I just hoped my parents could afford it (I couldn't, being an impecunious student).

So, some months later when my parents asked me what I would like for my 21st, I shot back immediately, "A Breitling Navitimer." "That's nice, dear" my mother said. Then, after a pause, she added, "What exactly is a Breitling Navitimer?" I silently handed her the carefully torn-out ad from the magazine in the doctor's surgery, and hoped for the best. And wouldn't you know it, whilst the old folks were taking a winter holiday at Bournemouth on the south coast of England, they happened to wander into a Watches of Switzerland shop, and wandered out again £38/6/- (38 pounds and 6 shillings) lighter (after discount), and with a shiny new Navitimer model 806.

With the watch came a manual on how to use the slide rule, and a general brochure on the care of fine Swiss watches. I carefully noted that it recommended cleaning and re-oiling every 12-18 months. "The small cost acts as an insurance premium on the life of your watch and will save you worry and expense in the future." I resolved to make sure I adhered to this servicing schedule.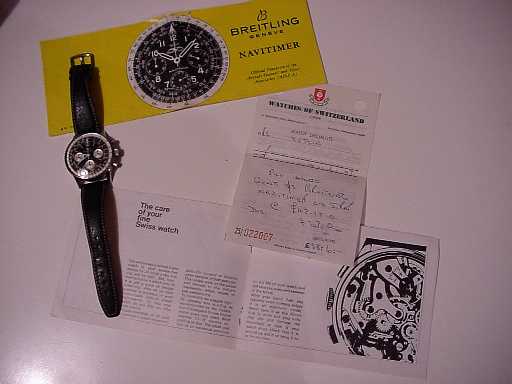 For days I just gazed at the object of my affection on my wrist. I could see my reflection in its slightly domed acrylic crystal, and beautifully finished shiny black dial.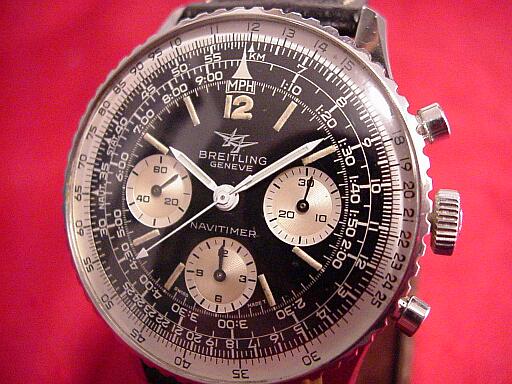 Click to enlarge



I learned how to use its circular slide rule and conversion shortcuts (not that difficult for me, as I was already using a slide rule in my engineering course. And anyway, I had the manual!).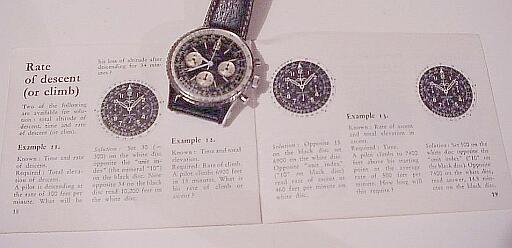 It was always a talking point, provoking comments such as, "How do you tell the time on that thing?" My standard reply was, "I can't, but I see the barometer's falling in Bombay." I would go to sleep listening to its fairly loud ticking in my ear, and have fun with a torch under the bedclothes seeing how long the luminescence lasted. (Does any of this sound familiar?) In time I came to respect it for what it is—a solid, dependable, attractive friend. It's not something you'd wear to do the concreting in, but treat it right and it won't let you down. And if you like busy dials, it just looks so damned right.
So, enough about the personal history. Let's get down to some details.

Specifications
Model: 1967 Breitling Navitimer, model #806. Signed on dial, crown, case-back and movement. Originally supplied on black leather strap.
Case: All stainless steel. Snap-on caseback. Case diameter: 41mm excl. crown, 44mm incl. crown. Crown diameter: 6.5mm, non-screwdown. Distance between lugs: 22mm. Distance across lugs: 48.5mm
Movement: Venus cal. 178 integrated chronograph with castle wheel, manual wind, 17 jewels, 18,000 bph. Glucydur balance, Nivarox 2 hairspring (I think—it's copper coloured). Incabloc shock protection.
Crystal: Domed acrylic crystal covering bi-directional rotating bezel incorporating circular slide rule (C and D scales).
Water resistance: -1 metre. This is the distance you have to hold the watch away from any water to make sure none gets in.
Subregisters: 30 minute (jumping hand) and 12 hour totalisators at 3 o'clock and 6 o'clock respectively. Running seconds at 9 o'clock. All subregisters dished with fine circular rings and blued steel hands. Centre sweep chronograph seconds hand. Tritium paint on hour markers and hour and minute hands.
Case finish: Combination of mirror polished finish on bezel, top of lugs, pushers, crown and outer ring of case-back; brushed satin or milled finish elsewhere.
Power reserve: 46.5 hours (measured—full wind to stop, chrono off).
About Breitling
I DON'T INTEND to go into the full history of Breitling here—you can see it for yourself in detail at the Breitling website. Suffice it to say Breitling specialised in the late 19th and early 20th centuries in the making of high quality stopwatches (chronographs), and was one of the first manufacturers to recognise the need of early aviators for wrist watches incorporating such devices. Indeed, Breitling claim to have produced the first wrist watch chronograph in 1915 (although Omega would contend that their chronograph was the first in about 1913). Throughout the 1930s, 40s and 50s Breitling continued to make chronographs with different scales to suit different professions, such as tachymetres for production engineers and drivers, and pulsometers for doctors; in 1942 it produced the first chronograph with a slide rule—the Chronomat. 1952 saw the introduction of the Navitimer—a chronograph with "navigation computer" especially for pilots. (Again, there is some contention about the date—a correspondent informs me that according to his research involving Swiss horological journals, the Navitimer was first announced in 1955.)

The Navitimer was subsequently selected as the official timepiece of the Aircraft Owners' and Pilots' Association (AOPA), something which Breitling has traded on ever since. A 24-hour dialled version (the Cosmonaute) was also produced; in 1962 astronaut Scott Carpenter took his own Cosmonaute with him into space on the Aurora 7 orbital flight. (24-hr watches are useful for space travellers, as after a few orbits am and pm tend to blur into one continuum.)

Throughout the 1970s and 80s it actually became quite trendy to own a Breitling—helped, no doubt, by such media figures as Princess Stephanie of Monaco being seen wearing one. The price of Breitlings began to rise in proportion to their trendiness. Later Breitling models continued with the aviation / space theme, and incorporated 'improvements' such as automatic movements, date function, water resistance and various gadgets such as 'bezel rider tabs'. The styling was 'updated', with the dials on some models vying to see which could pack in the most information. I leave it to you to decide which type—modern or vintage—you prefer.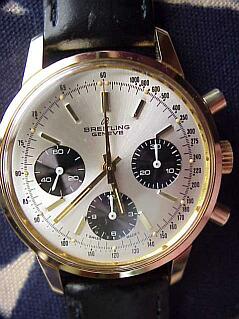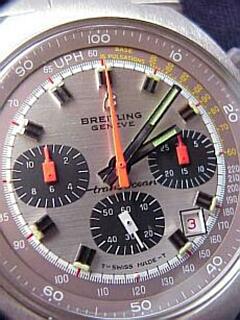 Some classic designs from the 1960s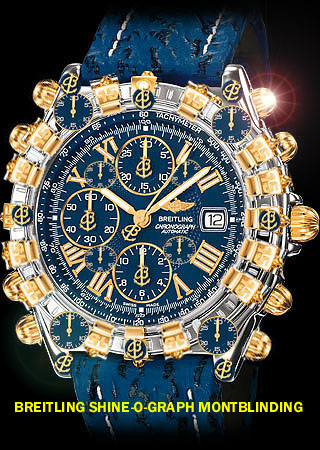 RKNY's interpretation of modern Breitling design. I just hope Breitling's designers don't see this—they may be tempted to copy it
The Navitimer
SO SUDDENLY IT'S 1977 and I realise I haven't exactly stuck to my servicing plan; in fact, I've never had the watch serviced. Then again, I've had no reason to—it's behaved perfectly for 10 years. The pusher action is positive and crisp without being stiff; the chrono hands always return exactly to zero; the bezel turns freely without being loose; the watch keeps good time and has never stopped with or without the chrono running (unless of course the mainspring is fully unwound). The crown is smooth to wind and positive in its action; setting the hands is easy because the hands stay put when you push the crown back in. In spite of the shiny dial and domed crystal, readability under all but the blackest of conditions is remarkably good. In fact, the only thing I could complain about is that the leather strap eventually rotted; I replaced it with a generic stainless steel band. However, I felt guilty about the lack of servicing, so I selected a long-established jewellers/watch repairers (but not Breitling-authorised), and handed my baby over for a service and a new crystal.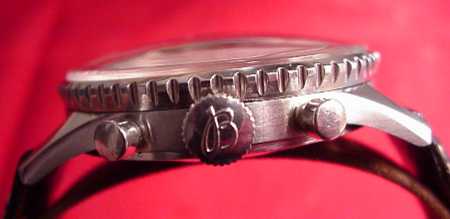 It was only when I picked it up after the service that I felt my first misgivings. The crystal had been put in crooked, and somehow the watch looked, well, different. I couldn't quite put my finger on it. It was going alright, and it was definitely my watch, but there was something not quite...... Anyway, I got them to put the crystal in straight, I put the watch on, and thought no more about it. It wasn't until much, much later that I realised what was different. No doubt meaning to be helpful, whoever had worked on the watch (I suspect some adenoidal apprentice) had decided to buff up the stainless steel surfaces, with the result that all the beautiful brushed and milled finishes were gone (except for between the lugs, where he couldn't reach), and in their place little mirrors now gleamed back at me. It was one of those frustrating experiences where it was too late to go back and complain; whoever had done it had probably moved on, safe from having my fingers wrapped around his throat if only I had caught him in time. I bitterly reflected that this not-so-small cost of servicing had definitely not "saved me worry and expense in the future."
However, the Navitimer continued to perform flawlessly. I now only wore it occasionally, for Sunday best; the spiralling cost of replacement meant it had become an investment rather than an everyday timepiece. I stayed away from service centres. Until I met...my man. In case you get the wrong idea, I should explain that "my man" is a watchmaker whom I have learnt to trust. I have purchased several vintage pieces from him, and had him service or clean up others; in each case I have considered I've had excellent results for a fair price. And so I showed him the Breitling. Its timekeeping had become a bit erratic, varying from -30 s/day to +15. With a practiced flick of the wrist he swung down the loupe permanently attached to his glasses, and in the same fluid movement had gently inserted his knife into the snap caseback and removed it. I stared, fascinated as always, at the coppery-tinted movement with its myriad of cogs, levers and springs.
"I haven't had it serviced for, um, a while," I murmured. "Do you think maybe the balance amplitude is a bit down?" I tried to impress with my horological knowledge.
"Nah, it's going like an express train" he muttered, turning it this way and that. A sudden hissing intake of breath followed by a tut-tutting sound got me worried. It was the sort of noise the dentist makes when he finds something in your mouth that's going to be expensive.
"It's very dirty" he said reprovingly, staring at me over his glasses. "When's the last time you had it serviced?"
"Oh, a while ago.....I can't quite remember exactly...." He looked at the faint mark scratched on the inside of the case.
"Hmm...1977. See these rust spots here?" He prodded at some miniscule brown spots on the inside of the back. "These could fall off and get into the movement. Need to watch that. Right. Give me a call next Friday." And that was that. I vaguely mentioned about wanting the brushed finish restored.
"We'll see what we can do."
I left, with a child-like faith in his ability to work miracles.