Cont'd from Part 1

OF COURSE, the watch wasn't ready on Friday, but soon after that it was.
"What do you think of that?" he said, giving me the watch and smiling with quiet pride. I just stared. It looked like the first day I got it, 32 years before. It gleamed where it should gleam. The crystal was clear and unblemished. He had repainted and re-"luminised" the hands, as I had asked him to do (they were looking a bit daggy). But best of all, the brushed finish had been restored along the sides and back of the case.
"Lot of wear in the centre wheel bushing," he said. "Whoever serviced it last time greased it instead of using oil."
I felt my hands move, involuntarily clutching an invisible adenoidal throat.
"I was going to put a jewel in there," he carried on, "but I didn't have one the right size. So I rebushed it instead."
I nodded, playing with the chronograph buttons. All was well, the sweep second hand smoothly moving off its mark, the minute recorder clicking over on the minute, the hands all resetting to zero, just as before. I had my baby back again.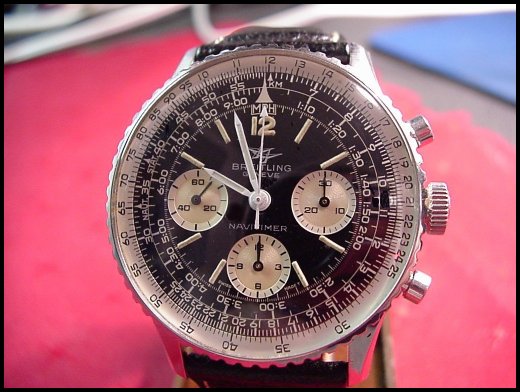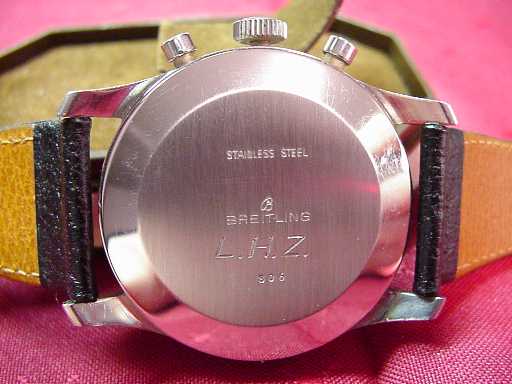 Epilogue
IT'S BEEN several weeks now since the service. Tightening up the centre wheel bushing and giving everything else a good clean and lube has worked wonders for the accuracy, which is now around +2 seconds per day. I've fitted a black leather Hirsch strap (the proper Breitling one is ridiculously expensive), which sets the Navitimer off perfectly. I've also fitted an EOT double-deployant clasp, which is very comfortable and extremely well-made (see photos below).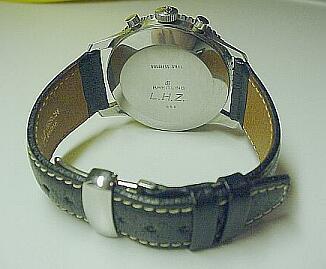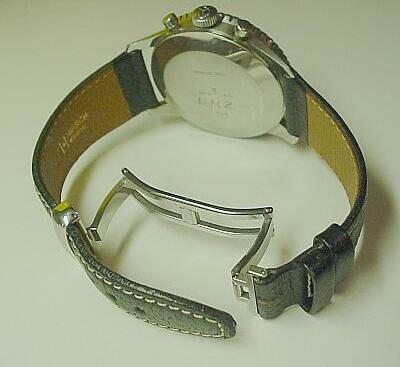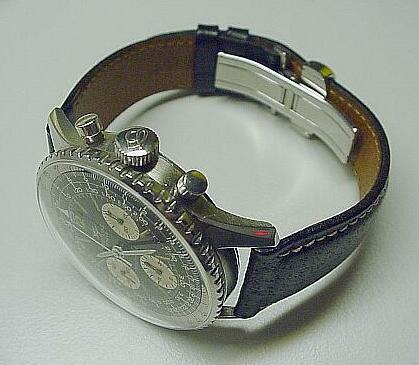 They say style never goes out of fashion, and after more than 45 years the Navi still draws admiring glances and comments from watch cognoscenti and illiterates alike. It's been with me for more than half my life, and thanks to its Venus cal. 178 movement, has never missed a beat. Those movements are not only long-lived and excellent timekeepers: they also have good looks (the one pictured is a 175 as used in the Minerva Heritage, but to the untrained eye the 178 looks identical).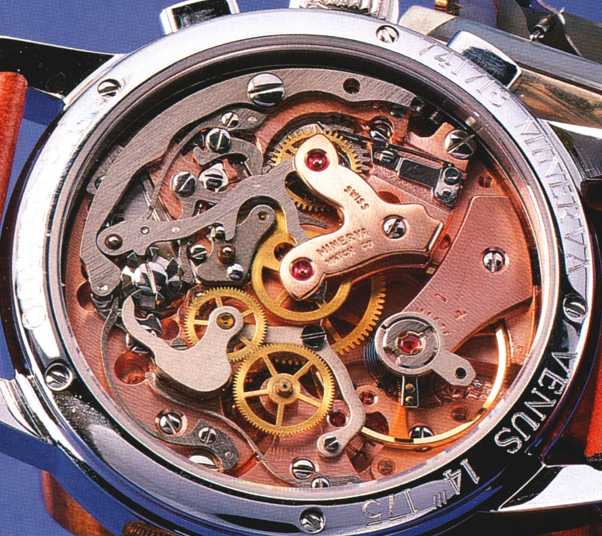 However, it's not a watch you can abuse. One must be especially careful around water—ordinary handwashing or a walk in the rain is OK, but showering / saunas / hot tubs / swimming are definitely out. I suppose the reasoning behind this lack of water resistance is that pilots aren't meant to ditch their planes in the sea, and if they do, they'll have greater things to worry about than their watch stopping. There is (or there's supposed to be) an O-ring between the case and snap-on caseback to keep out dust and moisture, but I suspect the crown stem and crystal are weak points where water can enter. The newer Navitimers (ironically called Old Navitimers) are much better in this respect, although the stated water resistance is only 30m or 100ft—not really enough to wear them swimming with confidence.

The E6B-type slide rule is not a gimmick; it is perfectly capable of giving sufficiently accurate answers to a whole range of problems, including currency conversion. It can even act as a de facto calendar by setting the number representing the current date on the outer scale at 12 o'clock, as I found out through the TimeZone Breitling Forum (thanks, DennisB!).

(If you would like to download the slide rule instructions, please click here. This takes you to a page where you can download a self-extracting zip file, which contains scans of the instruction manual. Alternatively, if you prefer the simpler method of viewing the manual as a PDF document, click here.)

The vintage Navitimer is gaining in value, as collectors begin to appreciate the unique qualities of this classic timepiece. Now if only my man had had the right size jewel in stock...it would have been rather nice, having the only 18-jewel Navitimer around!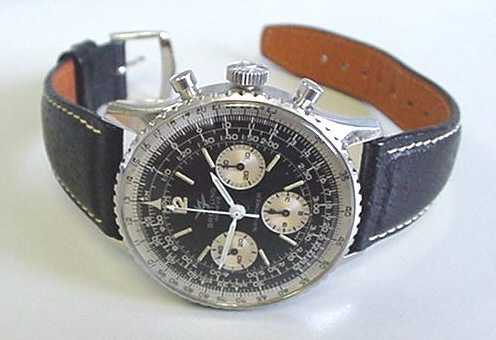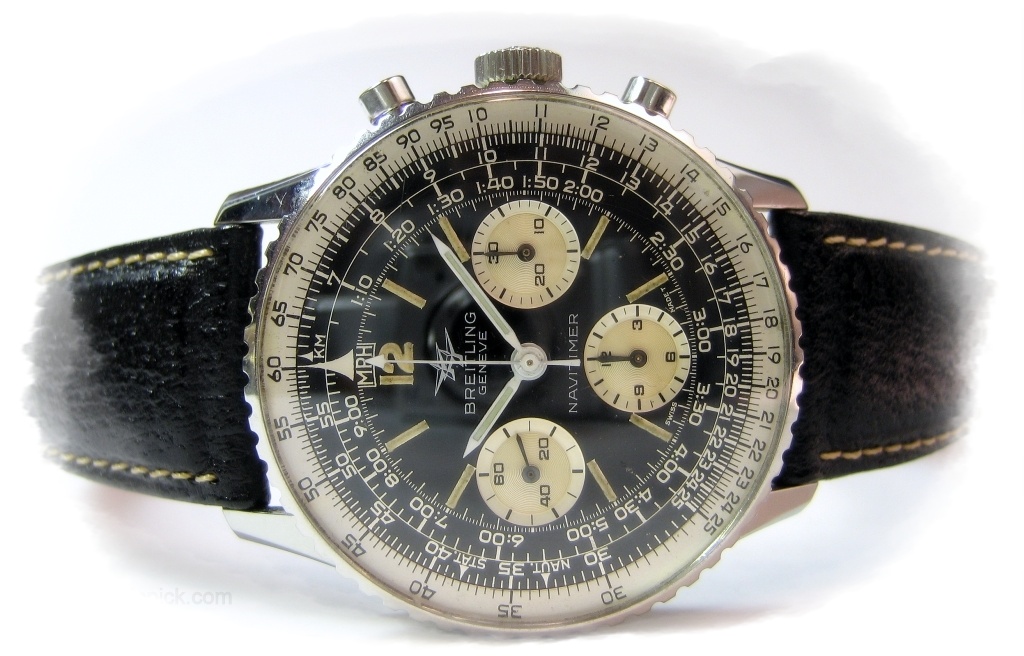 Useful Links

Unofficial Navitimer Website This interesting website is dedicated to the Breitling Navitimer, and has many photos of the various styles made over the years.




© Les Zetlein 1999-2012. My pictures and text may be used for non-commercial purposes provided source is quoted. No part of this review may be used for watch sales, including internet auctions, without my express permission.

Picture of Venus 175 movement courtesy of Uhren Magazin, April 1999.

Back to Part 1 HOME

If you would like to see a list of other reviews I've done, please click here

Any comments or corrections? Then please send me an e-mail

Last updated 11 February 2012