All of the above presupposes having a clock that stays accurate while at sea. And since to win the £20,000 prize the method had to be proved on a journey from Great Britain to the West Indies—typically of six weeks' duration—the clock could not be out by a total of more than two minutes for the whole journey, or three seconds a day. This level of accuracy was unheard of for most clocks of the day, let alone one that had to perform at sea with all the various disturbances and temperature changes to contend with. Except, of course, for that curiosity Digges had heard about some time ago. In 1736, some 25 years earlier, a self-taught carpenter-cum-clockmaker called John Harrison had built a weird-looking device for keeping time at sea, and had managed to persuade the Admiralty into arranging a sea-trial on board H.M.S. Centurion on a run to Lisbon. The 'device' (for it didn't look much like a clock) was very large and heavy, and had occupied a large portion of the Captain's cabin, but apparently it had performed extraordinarily well—keeping time to within a few seconds a day. However, not much had been heard from Harrison since. Which brought Dudley to another reason for feeling gloomy.

Coming towards him across the freshly holystoned deck was a soberly-dressed man in his early 30's. William Harrison, son of John the Clockmaker, was on board to supervise a trial of his father's latest version of a sea-going clock. Digges was not especially fond of passengers. They got in the way of daily life aboard one of His Majesty's ships. They showed squeamishness and distaste whenever he had to order punishment for the crew for malingering, fighting or gambling. And worst of all, he had to entertain them at dinner in his cabin. Moreover, Harrison was not the only passenger on this trip—the Governor-designate of Jamaica, William Lyttleton, was also on board. And now Harrison was here for the daily ritual of winding the clock.

To ensure no possibility of underhand practice, the Commissioners of the Board of Longitude (the body established to administer and adjudicate the prize) had insisted that Harrison's clock be locked inside a wooden case that needed no less than four different keys to open it. Harrison had a key, as did Lyttleton, Digges and Seward. And every morning, regular as—well, clockwork—they all assembled in Digges' cabin to oversee the winding. Digges had been amazed the first time the case was opened and he saw the clock, nestled in the red velvet lining. It was more of an overgrown pocket watch than a clock, about 5" (12 cm) in diameter, with an exquisitely fine dial. Digges wondered how such a small thing could possibly be accurate enough to be useful in determining longitude. You were lucky if your pocket watch kept time to within 15 minutes a day, let alone a few seconds. Digges shook his head in disbelief.

Following the noon sighting, Digges made his customary dead reckoning calculations to work out his position. He made the longitude 13°50'W; Madeira he knew was 17°00'W. So there was still over 180 nautical miles to go—two days' sailing. The crew would not be happy.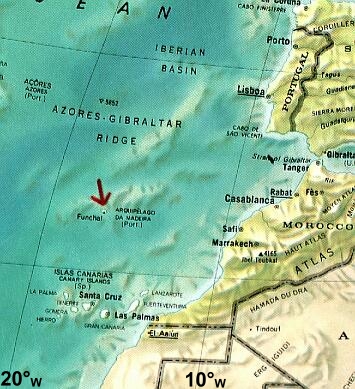 Before long there was a knock at his cabin door. It was Harrison. Digges knew he would have made his own calculations regarding their position, using the Greenwich time shown on his father's clock.
"Well, Mr Harrison, where do you put us?" In spite of his general dislike of passengers, Digges had time for the earnest young man; he tended to keep himself to himself and talked sparingly, having thought through first what he was going to say, in the manner of those from the north of England.
"By your leave Captain, I make our longitude 15 degrees and 19 minutes west. I think we'll make Madeira by tomorrow morning." His tone was respectful but confident.
"You do, do you?" mused Digges, rubbing his chin. If Harrison were right, that would put them approximately 90 nautical miles and one day's sailing closer to their destination than Digges, with all his years of nautical training, had calculated. He shook his head.
"No, that can't be right," he said. "We won't see Madeira for two days, I'll lay odds on it."
He was aware that Harrison was looking at him steadily, and that he had to make a decision: either lay a course for Madeira according to his dead reckoning, or put his trust in Harrison's confounded clock and lay a completely different course. If he chose the wrong one he could miss Madeira completely and sail for days without finding it. Not for the first time that journey did he feel a sense of foreboding settling over him.