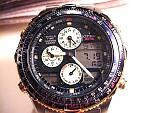 One of the original Navihawks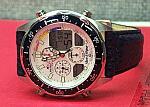 Navisail Stars and Stripes—another of the Navihawk family


THE SKYHAWK (THE EAGLE HAS LANDED)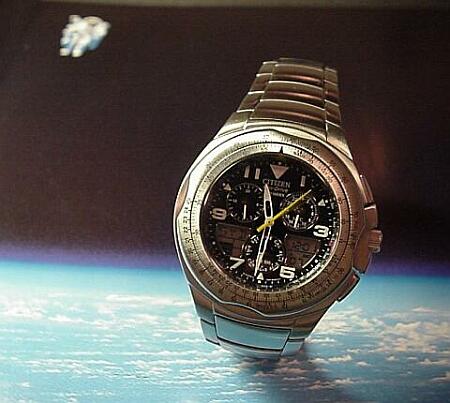 At first glance there might seem little to connect the space-age, 21st century Citizen Skyhawk with Captain Digges' problems in the mid-18th century. But there is. All of his angst could have been relieved if only he had access to one. For in that one small instrument, he would have had an extremely accurate clock which showed not only Greenwich time, but local time in 29 cities; a perpetual calendar; a stopwatch; a countdown timer; three alarms; a slide rule calculator; with the whole thing being wrapped up in a seaworthy case. Furthermore, he would have had no need to wind it or in fact do or change anything to keep it running for 20 years or more. All in all a remarkable timepiece—however, one that is not without its faults. Also, it should be noted that Digges would still have needed to take daily sun sightings to establish local noon, so that he could compare this time with the UTC (or GMT) time on the Skyhawk and thus work out his longitude. And as we have seen, in determining longitude accuracy is crucial—each error of one second equates to a positional error of 1500 feet or 0.5km. But enough of Digges and his tribulations for now. Let's look at the Skyhawk in a bit more detail.

The family history

THE SKYHAWK can trace its antecedents back to 1994 or thereabouts, when the original Citizen Navihawk, part of the Promaster series of sports watches, was released (click here to see my review). This battery-powered quartz watch was (and perhaps still is) the epitome of "geek heaven"—a large multi-function, multi-timezone 'pilot-style' watch with no less than four pushbuttons, analogue and large digital displays, a slide-rule bezel, and no crown. The whole thing was wrapped up in a heavy stainless steel case, water resistant to 100 metres. Its pièce de résistance was its ability, at the touch of a button, to switch the analogue local time with another timezone represented by the digital display—very handy for travellers and always fascinating to see. Over the ensuing years several versions of the Navihawk were released (apart from the Navihawk range there was also the Navitach and the Navisail), but the differences were largely cosmetic. I bought a Navi in 1997, and have had great fun wearing it and playing with all the features using it in a serious and professional manner ever since.
In 2000 Citizen brought out 'son of Navihawk'—the Skyhawk. It has essentially the same functions but the appearance is very different. The styling is much sleeker as befits a 21st century watch, with rounded contours and integrated lines. Gone are the four round pushbuttons, replaced by a small crown and two flat pushers. Mode changing is achieved by twirling the crown backwards or forwards, as opposed to the uni-directional button pushing of the Navi. The subdials are laid out in a quasi-tricompax pattern at 10, 2 and 6 instead of the 6,9,12 configuration used in the Navi. Unfortunately, this has meant the digital displays are much smaller.
Perhaps the biggest change of all is that the Skyhawk has the advanced cal. 650 Eco-drive movement, and is now part of the Eco-drive range instead of the Promaster range.
The big question was, should I get one? I wrestled with this knotty problem for some time, but I'm sure, dear reader, you've already guessed the answer.

The rationale for purchase

CONSIDERING I already had a Citizen Navihawk with essentially the same features as the Skyhawk, why would I want a Skyhawk? I suppose there were three main reasons: the case and dial are quite different so that while there is a family resemblance they don't look the same; the very solid-looking integrated bracelet is much better than the standard Navihawk one; but more importantly, I wanted to sample the Eco-drive movement. The Eco-drive principle of using only light to power a quartz-accurate movement, with no battery changes and thus being environmentally-friendly, really appealed to me. Was it as good as it was supposed to be? There was only one way to find out. And with the price of the stainless steel Skyhawk tumbling to around US$200 on the web (half the original cost), the price was right.