First Impressions

THE FIRST THING that hits you about the stainless steel Skyhawk is that this is a big, heavy and solid piece of technology. It weighs in at 161 grams on the post office scales, which means it is very hefty indeed. It would make a good knuckle-duster (I seem to remember James Bond using his Rolex Sub for this purpose in one of the Ian Fleming books. Don't try this at home, kids.) The whole watch has a brushed finish, except for the underside of the case, the screw-in caseback, the pushers, the crown and the four indentations in the bezel, all of which are polished. The overall effect is aesthetically pleasing, to me at least.
The second thing is the quality of the made-in-China integrated bracelet, which has all solid links and a solid steel deployant clasp complete with twin-pusher release and flip lock. The design of the links however also makes it relatively inflexible, so much so that it can stand up by itself (see photo).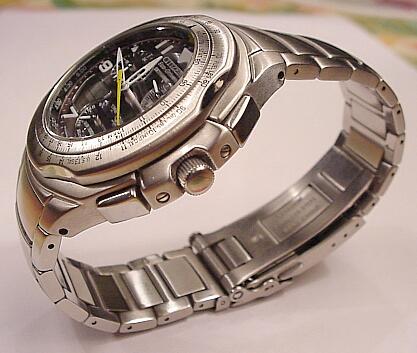 In spite of this inflexibility the bracelet is quite comfortable, once sized correctly. I found that when it was loose the bracelet was a bit of a hair-puller—it needs to be just tight enough not to slide around on your arm. It too would make a good knuckle-duster.

The case is large, measuring 46mm across at the crown. It's also quite thick at 14mm from front to back, including the slightly domed mineral crystal. Some of this thickness is no doubt caused by the requirements of the Eco-drive movement.
Another aspect of the movement, that of gathering as much light as possible, is reflected—literally—in the shiny black dial and domed crystal, which has no anti-glare coating. The result is annoying reflections under certain lighting conditions, which can make it hard to read the hands at times. An anti-glare coating would fix this, but I don't know what it would do to the efficiency of the movement in converting light to electricity to power the watch. A side-effect of all this is that it's difficult to photograph the Skyhawk without reflections in the dial, although this can result in some interesting photos (see below).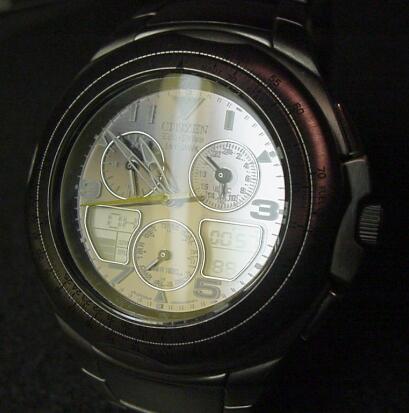 The dial itself is unusual (apart from its 'busy' appearance) in that it's the only one I can think of that uses all the odd numbers as hour markers. The even hours (apart from 4 and 8) just have triangular markers.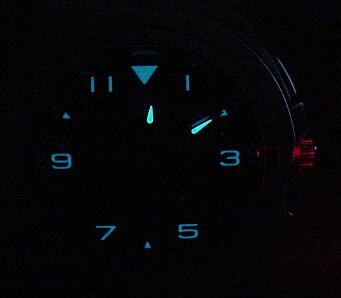 An unusual form of luminous material is applied to the ends of the skeleton hour and minute hands, and the hour markers. I say unusual because the glow it gives off is blue rather than green, and the only clue to what it is is given by the tiny writing at the bottom of the dial which says: "N-Japan-N". I've seen "P-Japan-P" before (which stands for Promethium-147, a fairly useless luminous source), but never "N". It's light-stimulated rather than radioactive, in keeping with Citizen's non-toxic policy. (The same policy has dictated that the rechargeable lithium-ion battery used in the Eco-drive movement is made from non-toxic materials.) This new luminous material works surprisingly well, given the small amount of it actually applied to the hands. The secret is to ensure sufficient exposure to light (fluorescent is particularly effective) of say 2-3 minutes before plunging the watch into darkness. It then glows, with diminishing effect, for most of the night. [Update: the blue lume is what Citizen calls 'Natulite' or 'Natural Light' - I've seen both names used.]