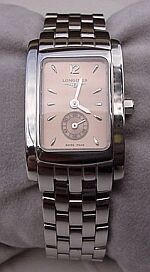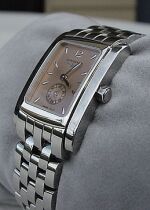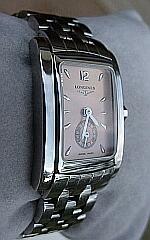 SO WHAT'S it like, then? Well, in a couple of words, very nice. According to Longines the polished stainless steel tank case houses a 'high precision' quartz movement (cal. L176) which, whilst not in the same class as their temperature-compensated VHP (very high precision) calibre (which is guaranteed to be within 1 minute per 5 years), still doesn't seem to have lost or gained more than a second or two over 4 months. It also sports a curved sapphire crystal, and is water resistant to 30 metres, which should take care of life's little splashes.
The highly (and I mean highly) polished all-solid link integrated bracelet with its bi-fold deployant clasp reeks of quality. There's plenty of adjustment available via removable links held in place with pushpins. The flat, rectangular caseback snaps on and is engraved with the usual Longines winged hourglass logo, plus 'Swiss Made' and 'All Stainless Steel', together with an 'S' for sapphire and '30' for 30m WR. Interestingly, there's also 'E.F.Co', which puzzled me until I deduced from the Longines catalogue (and their excellent website which is well worth a visit—see link above), that it stood for Ernest Francillon, who joined the business in 1862. He rose to become the proprietor of Longines, and when he died in 1897 they renamed the company 'Fabrique des Longines, Francillon & Co' as a mark of respect. (Ernest proved to be an outstanding businessman, but it probably helped in his early career that he was the nephew of the founder of Longines, Auguste Agassiz.) In 1937 the company name was changed yet again to the more familiar Longines Watch Co. Ltd. The company is now of course part of the huge SMH (Swatch) conglomerate.
The case measures 30mm lug to lug by 20mm wide (excluding crown), with a thickness of 6.5mm. The whole watch including bracelet weighs in at a reasonable 50 grams—enough to provide a solid 'heft' without straining delicate female wrists. The octagonal crown is tiny at 3.8mm diameter, but as it's only needed occasionally to set the time, this is not a real drawback.
The rectangular copper rose-coloured dial with its applied polished steel '12' and teardrop hour markers really makes the watch, in my opinion. The dial itself has a very light sunburst pattern, whilst the seconds sub-dial is fractionally sunken and sports engraved concentric rings. And yes, the seconds hand moves in one-second jumps, but as it's small anyway it's hardly noticeable. To my amazement I discovered (by using a loupe) that the seconds hand lines up exactly with the seconds markings on the sub-dial. Not that not doing so would bother its new owner.
The sword-shaped hands are also made of polished steel (or rhodium plated?) and appear bright and shining in some lights and black in others. They are folded down slightly either side of a central axis running the length of each hand. There is no luminous material.
Overall, the attention to detail and the level of finishing is most impressive.

TO SUM UP What I want from a watch and what Teresa wants are two different things, and so it may be better for her to put it in her own words. This is her talking now:

"I was originally looking for a vintage mechanical watch like one of Les's, because I like the designs from that era. I vaguely had in mind a Lady Breitling of some sort, but when I saw the Dolce Vita I knew it was exactly what I had been looking for. I just love its Art Deco looks, its classic elegance and the overall impression of quality. I don't mind it having a quartz movement—in fact, if the truth be known, I prefer it as I don't have to remember to wind it and it's always accurate. The copper rose dial sets it apart from other watches, yet it co-ordinates nicely with different outfits. To me, it's got the three C's: it's classy, it's got chic and it's comfortable. What more could a girl want? And it's easy to read the time, with the seconds sub-dial adding a distinctive touch. I've had lots of compliments on it. It's great!"

FAST FACTS
Model: Longines Dolce Vita Ladies mid-size with sub-seconds and copper dial
Model No: International - L5.156.4 UK catalogue - 11200-71
Movement: Quartz cal. L176
Features: Polished steel case and bracelet; deployant clasp; curved sapphire crystal; 30m water resist; battery end-of-life indicator; hacking sub-seconds; International 12 months guarantee (except the USA for some reason)
Recommended retail price: UK £595 US $850. Considerable discounts available on the net. Check pricescan for latest prices.