THOSE OF YOU familiar with my reviews will know that from time to time I manage to persuade my friendly neighbourhood watchmaker into allowing me to borrow interesting items from his "pre-loved" collection for a few weeks, so that I can review them. Shortly after writing a review on a new watch that I actually bought, the Seiko SKX-171 Diver's Auto 200m, I spotted its vintage (mid-70s) Citizen counterpart sitting patiently in the display cabinet, just waiting for the right customer to come along.
"That's nice," I said to John, pointing a stubby finger against the glass. "Do you think I could just..."
John rolled his eyes heavenwards and sighed. "Take it, take it" he muttered. "It's not like I was going to sell it or anything..." Something in his tone made me think that my friendly etc. watchmaker had had a trying day, and I wasn't helping. I beat a hasty retreat, after getting him to loosen the caseback so I could peer at the movement at my leisure. That night I started comparing my new Seiko with the possibly 25 year old Citizen, and discovered some interesting differences; and thus the idea of the face off was born.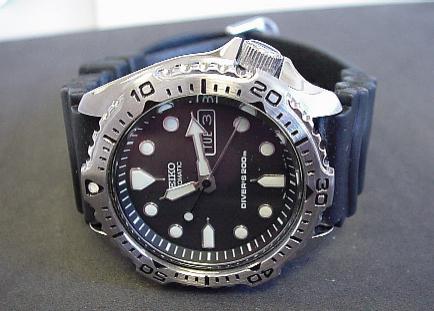 Brand new Seiko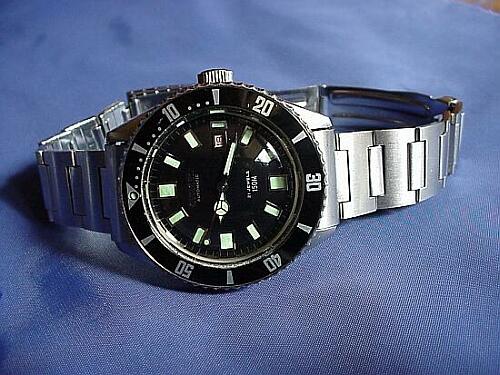 Vintage Citizen





MY INTIAL THOUGHT was the Citizen is the epitome of what a vintage dive watch should be—solid stainless steel case with a nice heft, very legible face with large bright green hour markers, mercedes hands, classic rotating bezel, screw-lock crown and caseback, and a thick, domed glass crystal. The general air of quality was only let down by the rather ordinary folded link stainless steel bracelet; it does the job but it could be so much better. Details of the Seiko can be gleaned from my review, so rather than repeat it all I'll just cover mostly the Citizen here and summarise everything in a comparison table at the end.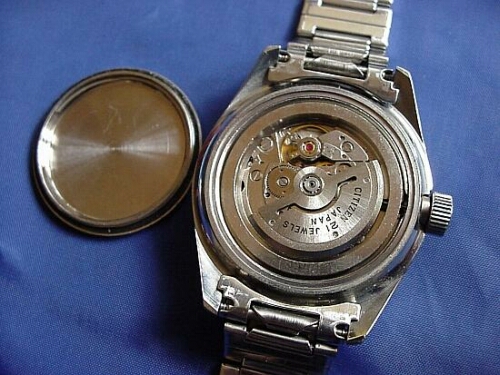 THE MOVEMENT in this circa 1975 dive watch is the cal. 6001. It features 21 jewels, shock protection, a flat hairspring (albeit with a large kink near the regulator pins), a bi-directional winding rotor running in 13 ball bearings, and beats at 21,600 vph. It can be wound manually but it doesn't hack. Note that this movement winds in both directions; the more modern Citizen 80xx calibres only wind in one direction and are much less efficient at keeping the watch wound. Certainly I had no trouble in this regard; in the 3 or so weeks I wore it I never had to wind the watch manually. The power reserve is a useful 44 hours 40 minutes on a full wind.
The movement is nicely but not overly finished, with polished screws and collimage on the rotor and bottom plate. Two large screws secure it to a large metal spacer.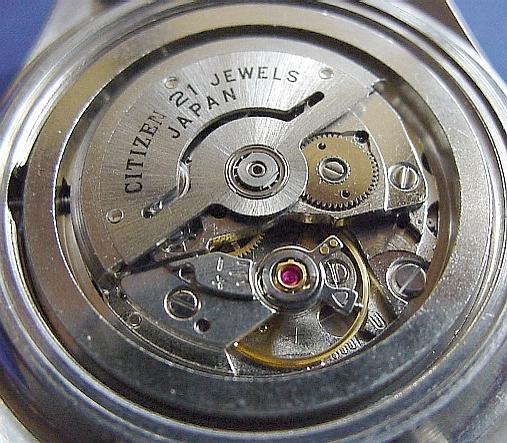 Nicely finished, and effective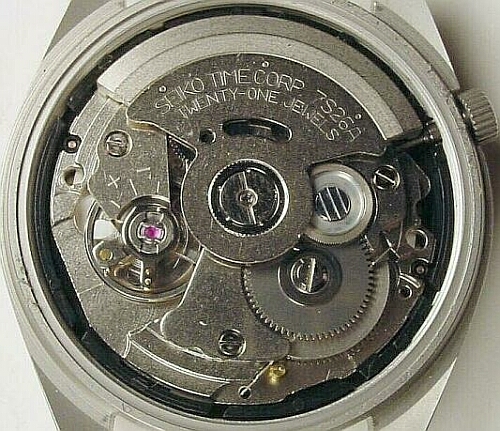 Not so nicely finished, but still effective
(Photo by 'Bob')




AS STATED, THE CASE is solid stainless steel, polished all over except for circular brushing on top of the lugs (same as the Seiko). It weighs in with the bracelet at a respectable 120 grams. Case and bezel diameter is quite large at 41mm, with 20mm between lugs and 47mm lug to lug. There is a reasonable standard of case finish between the lugs, but the pointed ends of the lugs themselves are somewhat sharp. Case thickness (front to back) is 13mm.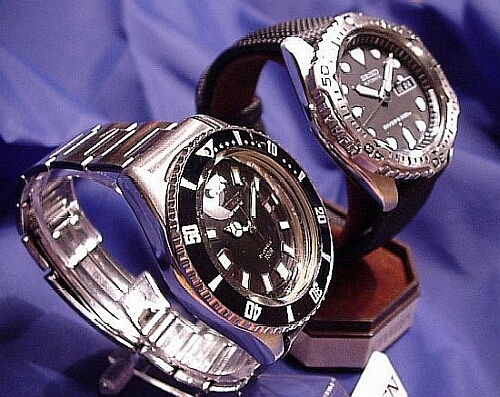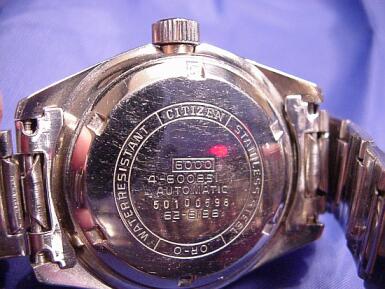 The polished screw-in caseback carries a thin rubber O-ring and also a crimped metal spring, presumably to provide some tension to prevent accidental unscrewing. The screw-in unsigned crown looks identical to that on the Seiko (hmmm—outsourced from the same factory, perhaps?), is of a good size at 7.5mm diameter, and due to the lack of crown guards is easy to grasp. Unlocking and locking the crown is positive and smooth, as is pulling it out to its various positions. With the crown unscrewed, hand winding of the mainspring is possible. Pulling the crown out to the first detent position enables changing of the quick-set date (forwards only); one further pull enables setting of the hands.


THE BRACELET is composed of folded links, polished on the inside and brushed on the outside. Although fairly light and flimsy with noisy endpieces, it is nonetheless comfortable on the wrist. The clasp is of the single-deployant type, and closes positively and securely. There is no flip-lock or diver's extension. The name CITIZEN is embossed on the clasp and is polished.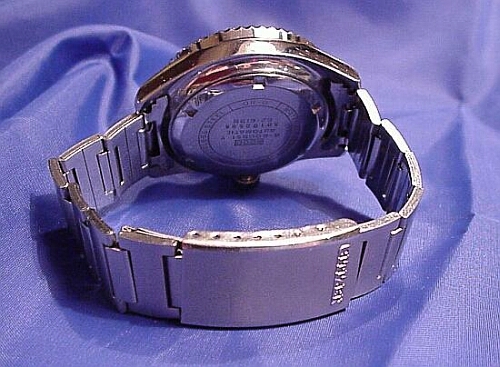 THE GLASS CRYSTAL is unusual in that it initially gives the appearance of being highly domed. Closer inspection reveals that to be an optical illusion, for in fact the crystal is absolutely flat on top, and sits 0.5mm above the bezel. It must be curved on its underside to give that effect. I couldn't ascertain what sort of glass it was, but the clarity of the refractions through the sharply bevelled edge indicates a high refractive index, which makes me think it's not just untreated mineral glass. There are a couple of small, insignificant scratches on the glass.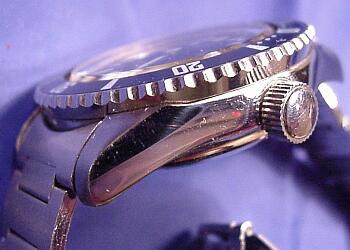 THE BEZEL is in the familiar vintage Rolex/Tudor style but is thicker in height at 3mm. It has a metal insert, and turns smoothly in both directions but has no indents (i.e. there are no "clicks").
It should be noted that a bi-directional bezel, although typical of dive watches from this era, is not recommended these days for scuba diving. This is in case it gets knocked accidentally in the wrong direction, thus indicating less elapsed time underwater than has actually occurred.
The markings themselves are crisp and clear, due in part to Citizen's use of the old draftsmen's trick of slightly extending edge lines (see photo below).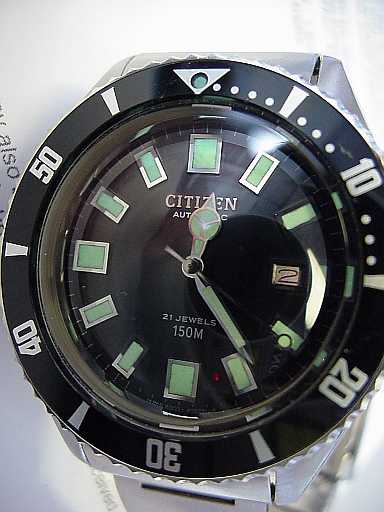 THE DIAL is a perfect matt black. The highly polished CITIZEN logo and hour markers seem to be embossed rather than applied. Silver printing proclaims the watch to be automatic, with 21 jewels and 150m water resistance (again, typical for this era). The hands and markers are filled with a very bright green luminous material—there are no clues as to what it is—but even after 25 or so years it is extremely visible by day and not too bad at night, either. The hands are highly polished and seem well made, but to my eye the seconds hand looks unbalanced, ending as it does in a circular blob. The date is displayed at 3 o'clock in red lettering on a silver background, but the date window is too small for it to be easily legible. The date changes gradually between 10.30pm and 12.05am.

THE OVERALL PERFORMANCE of the Citizen was exemplary. It ran at a rock-solid +8 seconds/day when left crown up at night (to avoid scratching the bracelet on the caseback). It could probably be tweaked by judicious regulation to do a little better than this, but by any yardstick +8s/day is more than acceptable for a 25 year old mechanical watch.
The winding rotor went about its business so quietly and smoothly that I was not conscious of it at all while wearing the watch. I didn't hear or feel it doing its job. As mentioned above, there was no need for any handwinding during the 3 week test period (apart from the initial wind).


HEAD TO HEAD COMPARISON


| | | |
| --- | --- | --- |
| | CITIZEN | SEIKO |
| Case type | Solid stainless steel with screw-in caseback | Solid stainless steel with screw-in caseback |
| Case diameter | 41mm | 42mm |
| Distance between lugs | 20mm | 22mm |
| Lug to lug | 47mm | 46mm |
| Weight | 120g (on bracelet) | 95g (on rubber strap) |
| Height - front to back | 13mm | 13.5mm |
| Stated water resistance | 150m | 200m |
| Crown | 7.5mm, screw-in | 7.5mm, screw-in |
| Movement | cal.6001, 21-jewels, flat hairspring, 21,600 vph, date | cal.7S26, 21-jewels, flat hairspring, 21,600 vph, day & date |
| Winding system | Bi-directional rotor autowind; 44.5h power reserve; can be handwound | Bi-directional rotor autowind; 47h power reserve; cannot be handwound |
| Crystal | Mineral Glass(?); flat | Hardlex; flat |
| Bezel | Rotates bi-directionally; no detents | Rotates uni-directionally; detent every ½ minute |