Introduction
In the first review in this series (of the Felicia de luxe Chronographe), I alluded to the fact that I had arranged with my local watch-maker to occasionally 'borrow' a watch from his stock of vintage watches for sale, and, without fear or favour, write a review of it. This is the second review in the series, and is of a watch that I had often heard of but rarely seen in the metal—the Eterna·matic by the Eterna Watch Co. The watch in question is thought to have been manufactured in the early 1960s or thereabouts, although as will be discussed later, there is evidence indicating it may have been made up to 10 years earlier.
The Company
What is now known as Eterna S.A. began life in 1856 in Grenchen, a small town in the north-west of Switzerland near other famous watch-making towns such as Biel, La Chaux de-Fonds and Le Locle. The original name of the company was U. Schild, after its co-founder schoolteacher Urs Schild, who set up the company with doctor Josef Girard. Just how a schoolteacher and a doctor came to set up a watch-making firm is something I haven't been able to figure out yet.
In 1906 the name of the company changed to 'Eterna-Werke', and in 1932 it divided into 'Eterna S.A.' which specialised in precision movements, and 'ETA S.A.' which concentrated on making raw movements. Today, of course, ETA is a giant manufacturer of ébauches, the raw movements which are bought by other watch manufacturers to be used as is or modified in some way. There would be few manufacturers around today who would not have an ETA movement inside one or more of their watches.
Eterna's reputation for building rugged and reliable watches received a tremendous boost in 1947, when Eternas were worn by Norwegian anthropologist and explorer Thor Heyerdahl and his crew during their successful 101-day, 6920 km (4300 mi) Pacific Ocean voyage from Peru to Polynesia. Not convinced by the conventional wisdom of the day that Polynesia was settled by travellers from the west of it, Heyerdahl made the east-west journey on a balsa wood raft, named the Kon-Tiki, to prove Native South Americans could have migrated to Pacific Islands. The Kon-Tiki was modelled on rafts used by ancient Peruvians. Eterna celebrated this remarkable feat by naming its sports watch model the Eterna Kon-Tiki, and it's been popular ever since. One wonders if it would have been so popular had Eterna called it the Eterna Heyerdahl.

Ferdinand Alexander Porsche acquired Eterna in 1995, thus continuing his association with watchmaking which commenced with Orfina and then later with IWC. Also in that year the Pininfarina design studio was commissioned to produce a new line of watches, the '1935' series, including the rectangular 'Art Deco' model.
Eterna has a history of being innovative, as the illustrations opposite show. In its time the company has held the record for the slimmest quartz watch ever produced ('Linear Quartz Squelette', 1.5 mm, 1979), and set the absolute record for flatness for all categories with the Eterna 'Linea Museum' (0.98 mm, 1980).
The Eterna·matic
Eterna's first automatic movement was the cal. 834, first manufactured in 1938. It had hammer winding in one direction only. Eterna's last hammer wind movement (the cal. 1158) was made in 1946.
In 1948 Eterna produced their first rotor automatic, the 'Eterna·matic', in the ladies' cal. 1198. The outstanding innovation in this calibre was the mounting of the rotor on 5 ball bearings, each of 0.65mm diameter. This arrangement produced a particularly low friction and rugged mounting for the rotor, which together with a low friction springless double click wheel allowed bi-directional winding. A similar layout was used in the first men's rotor movement, the cal. 1248 of 1950. The double click wheel was later replaced (1956) by two thin beryllium click wheels side by side, which increased transmission capability and allowed a considerable reduction in movement height.
So successful was the basic design of this movement, that all Eterna automatic movements ever since have incorporated the 5 ball bearings and have been called 'Eterna·matic'.
The Watch
This particular Eterna·matic comes in the guise of a rather classy-looking dress watch. The case and screwed case-back are stainless steel, with a solid gold capping on the bezel and lug tops. The dial has a spun silver finish with an unusual alternating ring and radial pattern around the minute chapter, complemented by very attractive applied gold markers and gold dagger hands and sweep second hand. The dial has been re-finished, but it is quite well done. Only when it is examined under a loupe does it become obvious that this is in fact a re-dial.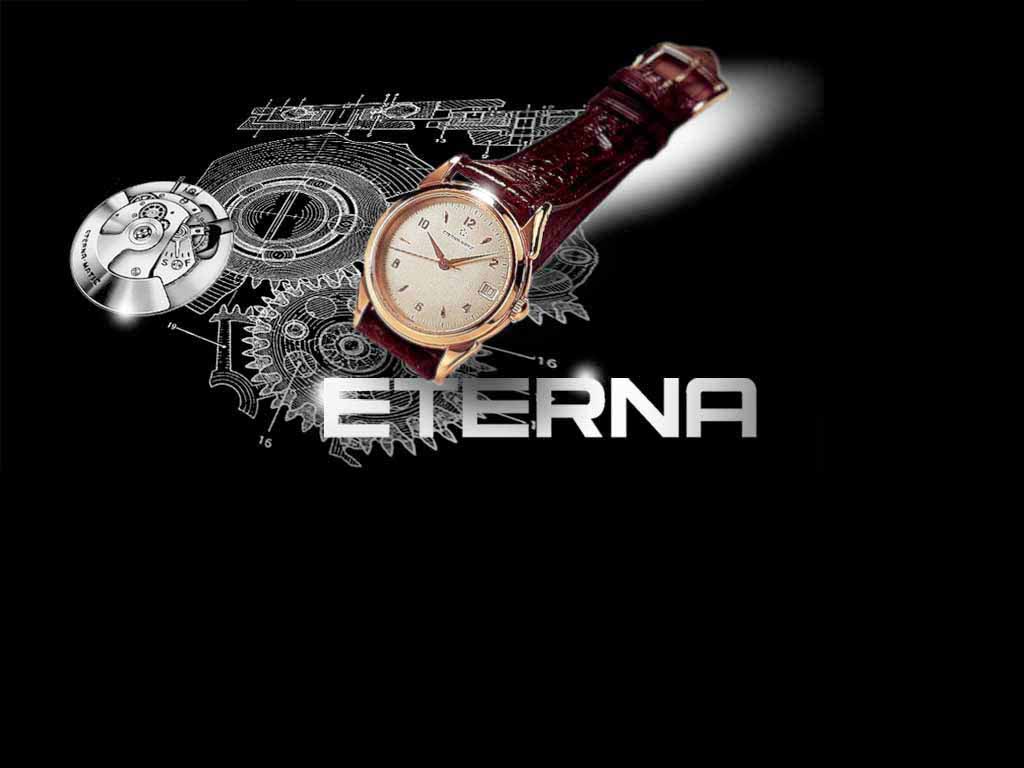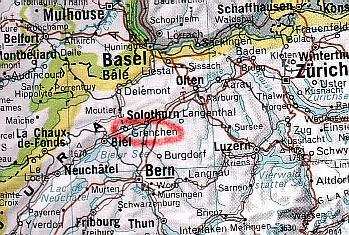 Some famous names here!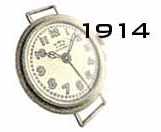 At the Swiss National Exhibition, Eterna presented the first wristwatch with an alarm—for that time, a technological revolution.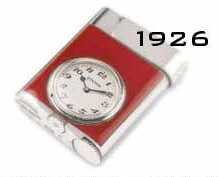 The first watch-cigarette lighter from Eterna. Each time the flame was ignited, the watch was wound up. A great incentive to smoke as many cigarettes as possible!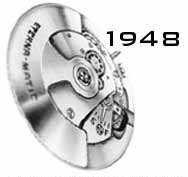 The Eterna·matic—first automatic movement with the rotor mounted in ball bearings. The 5 balls became Eterna's trademark.