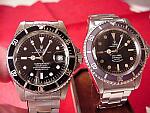 NB Fake Rolex but real Tudor!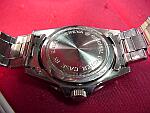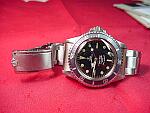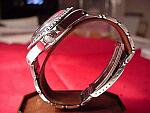 REVIEW: 1968 TUDOR SUBMARINER AUTOMATIC
by LesZ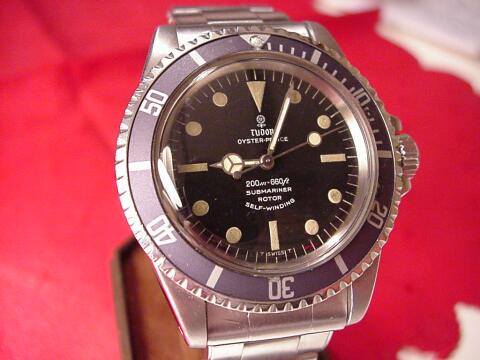 QUESTION: when is a Rolex not a Rolex? Answer: when it's a Tudor. Rolex have been making watches with the Tudor name on them for many decades, using Rolex cases, bracelets, dials, hands, crystals and crowns—in fact, Rolex everything—except the movements. Admittedly, in the very early days (the 1940s and 50s) Rolex did fit Rolex movements into their 'cheaper line'. As a case in point, the early Tudor Submariners were fitted with the Rolex cal.390 movement. However, later Tudors use what are essentially standard (but high grade) ETA movements with little modification. They may not be as robust as the modern in-house Rolex movements, but they've been around a long time and have proved themselves to be accurate and reliable. And, of course, cheaper.
I spotted this little beauty whilst waiting in my local watch repairer's while he fitted a new battery into my Omega Speedsonic. He has a cabinet of odds and sods for sale, some quite desirable, others not so. This one was on consignment. I asked to see it, and of course, once it was in my hands and ticking, I was sold. I casually gave it back, said I would think about it, and would call back if interested (just call me Mr Cool). He smiled a knowing smile. Don't forget, I had bought the Speedsonic from him. Naturally I called in a couple of days later, bargained a bit, and the Sub was mine.
Now, you have to realise that this style of watch is a complete departure for me. I mean, all it does is tell the time, for crying out loud. No date, no chronograph dials, no alarm, no countdown timer, no slide rule, no automatic time zone setting hands à la Navihawk—just a purpley-grey rotating bezel, and those magic letters "200m=660 ft" on the dial. Oh, I've got watches that are 10bar (100m) water resist, and I've even had a swim wearing them (no problems), but I've always hankered after a real water resistant watch. You know, for all those days when you might unexpectedly find yourself cast overboard from an ocean liner or something. Knowing the correct time then could be very important, such as being able to estimate how long it will be before hypothermia sets in………but I digress. My man said it needed a service; the balance amplitude was down, the case and crystal (acrylic) needed a polish, and the last service date scratched inside the caseback was 1986. He subsequently discovered a worn ratchet wheel in the auto-wind mechanism and replaced it.
Dating my Sub to 1968 (it didn't come with the original papers) was a matter of some simple detective work. Stamped inside the caseback and on the bracelet are the symbols I.68 (Roman I, Arabic 68). In Rolex parlance this indicates the first quarter of 1968. An additional piece of evidence is that according to an authoritative source (Automatic Wrist Watches from Switzerland by Heinz Hampel), the ETA 2483 movement inside my watch was not fitted into the Tudor Sub until 1967. Another reliable source (fellow Australian Paul Delury, known on TimeZone as Gumby) tells me that on the Tudor Oysters the rose emblem on the dial was superseded by the shield in the mid-60s; however, he wasn't sure this also applied to the Subs—it could have been a bit later. Rolex apparently didn't keep manufacturing records for its Tudor line (strange!), so we may never know for sure.
First Impressions
Anyone familiar with the Rolex Sub will immediately see the strong family resemblance and yet there is something quite distinctive about the Tudor. The bezel diameter is identical at 39.5mm (43.5mm including the crown), the oyster case has the familiar and unique Rolex wrench ring pattern on the back, and the rivetted 12-link bracelet and the large screwdown crown protected by protruding crown guards are unmistakably Rolex. However, the lighter-coloured bezel and the different writing on the dial somehow convey a more 'refined' impression compared to the bolder black of the Rolex bezel. In the hand and on the wrist the Tudor looks and feels smaller and lighter than the later Rolex models. The movement is extremely quiet—almost impossible to hear unless it's right up to your ear. The rotor is silent and vibration-free in its action (no Hamilton wobble here!). The highly-domed acrylic crystal sits a massive 3.5mm above the bezel and is a sure-fire magnet for doorposts and brick walls if you're not careful. Still, being acrylic, it's a cinch to polish out light scratches using the old toothpaste trick. (Just put a small amount of ordinary toothpaste onto a barely damp soft cloth, rub gently on the crystal, and let dry to a haze. Polish off with a dry, soft cloth. Make sure you don't let the toothpaste run into nooks and crannies where you won't be able to get at it later.)

The hands and hour markers are tritiumed and must have been dazzling when new, for they still shine brightly after exposure to strong light but quickly fade until only the hands (all 3 of them) and the 'pearl' on the bezel give off a very faint glow. The minute markers are very accurately positioned, because once the second and minute hands are coordinated, they maintain an exact relationship at any part of the dial. In other words, at anywhere on the dial, the minute hand points exactly to the minute marker as the second hand passes the 12 o'clock position. I like that in a watch. Legibility of the uncluttered dial is outstanding—even without my glasses. Definitely a plus for the long-sighted!
And then there's the bracelet. Ahh, the (in)famous Rolex oyster bracelet! This one, being an earlier model (the 7206), has thin folded links with a brushed finish on the outside and polished on the inside. However, the outer links have polished endplates rivetted onto them, giving the appearance of solidity. It feels somewhat light and even flimsy compared to later, thicker and heavier bracelets I have worn. It has those horrible, tinny, pressed metal endpieces that go 'tchink' when you move your arm. It's a hair puller. It doesn't have a flip lock or wet suit extension. It took me 2 days of fiddling with the adjustment pin in the clasp to get it to feel anywhere near right (luckily there's plenty of adjustment holes). And yet, and yet……….it looks good. I especially like the look of the clasp, with its Rolex crown opener. The clasp hasn't opened unexpectedly on me…..yet. (I know, Sod's law says it will happen at the most inconvenient time, like when I'm waving from the top of the Eiffel tower to people on the ground.) It's beginning to feel almost comfortable. And as for being light, well, you get used to it. With all 12 links in it fits my 7˝" (19cm) wrist OK. I may even end up liking it (apart from the endpieces).

[Update—after several months of use, the bracelet now feels very comfortable and hardly pulls a hair (they've probably all been pulled out). I've tightened up the endpieces and virtually eliminated the 'tchink'. The bracelet is now very wearable.]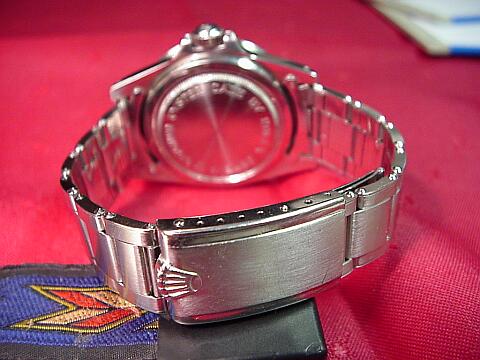 Performance
It's early days yet, and no doubt it's still settling in after the service, but the Tudor is currently running at a consistent +10 secs/day. That's with being worn during the day and left dial up at night. Hopefully, the consistency of the gain means that some judicious regulation will improve the accuracy, although it must be remembered that this is not a chronometer rated movement.

[Update—after regulation accuracy improved to about +5 secs/day left dial up at night, and +1 sec/day left crown down at night!]

The movement does not hack (i.e. it doesn't stop when you pull out the crown), but for accurate time setting you can stop it by applying backwards pressure on the crown when in the fully extended position. This is easier to accomplish when the mainspring is nearly unwound. When it's fully wound, the movement is very reluctant indeed to stop! After an initial full winding when I first got it 6 days ago, I haven't touched the crown. The crown itself is delightfully smooth and positive to screw and unscrew, as is winding the mainspring with it. The crown carries the Rolex symbol only, so is of the 'Twinlock' type. (The improved 'Triplock' sealing system is indicated by the addition of three dots under the Rolex crown symbol.) I don't know what the power reserve is—probably in the range of 38-42 hours, which seems common for this type of movement. I haven't tried wearing the watch in water yet.

[Update—measured power reserve is 41.75 hours from full wind to stop.]

SPECIFICATIONS
Tudor Oyster Prince Submariner, model no. 7016/0. Signed on dial, crown, caseback, movement, bracelet and clasp.
Movement: ETA 2483 25-jewel bi-directional rotor automatic; 18,000 bph (2.5Hz); Glucydur balance; incabloc shock protection. Modification/embellishment - minimal; some perlage evident. Centre sweep seconds hand. Non-hacking but backwards pressure will cause movement to stop (eventually!).
Case: Stainless steel, all polished except for brushed finish to tops of and between lugs; screw back signed "Original Oyster Case by Rolex Geneva"; water resistant to 200m/660ft; 'Mercedes'-style hands; weight incl. steel bracelet approx. 90g; 39.5mm Ř across bezel excl. crown; 20mm between lugs; 47.5mm across lugs; 13.5mm overall thickness. Tritium paint on hands and hour markers.
Crown: 7mm Ř screwdown Twinlock signed with Rolex crown symbol.
Bracelet: Stainless steel 12-link rivetted oyster, non-flip lock deployant clasp with Rolex crown symbol as opener.
Bezel: Bi-directional, no indents.
Crystal: Acrylic, convex.
Summary
The Tudor Submariner is like a Mercedes with a Ford engine. The external parts are solid, tried and tested, and immediately recognisable. The internals are also dependable and efficient, but somehow don't have the same aura or cachet of the luxury brand. This is fortunate for the collector of the unusual, for it means that with the Tudor Submariner, a quality product can be had for relatively little outlay compared to its more famous sibling—although I note that prices for vintage Tudors are rising as good ones become rarer. To carry the car analogy a bit further, fixing the motor is cheaper too, should anything go wrong.
I prefer the more discreet appearance of the Tudor Sub compared to its Rolex brother, with its 'vintage' aged dial (somewhat like myself), and am delighted with the performance so far from this 30-year old timekeeper. And it'll never need a battery! Now, where did I put my snorkel and flippers…..?
All photos taken with a Sony Mavica FD-83.
© Les Zetlein, July 1999. All rights reserved.
If you would like to see a list of other reviews I've done, please
click here
Any comments or corrections? Then please...

send me an email !
Last updated 7 October 2002
home | email | about us | watch reviews | recipes | guestbook