A Traveller's tale: LA, NY and the UK, 2005 - Part 1
---


In 2004 my wife Teresa and I made a brief visit to New York and Los Angeles (amongst other places), and enjoyed ourselves so much that we decided we would return one day for a more prolonged visit. As luck would have it family commitments meant that our presence would be required in New York and Leeds (UK) in September/August the following year, and so we decided to raid the piggy bank once more and include Los Angeles in our itinerary. This was so we could take a drive up the west coast to Monterey, to see the coastal scenery and also to visit the unique Hearst Castle at San Simeon. I also wanted to conduct some watch-related business in LA, of which more later. As another bonus, I would be able to put my newly-acquired Canon Powershot S2 IS digital camera through its paces (5 MP, 12X stabilised optical zoom and 4X digital zoom).
Sydney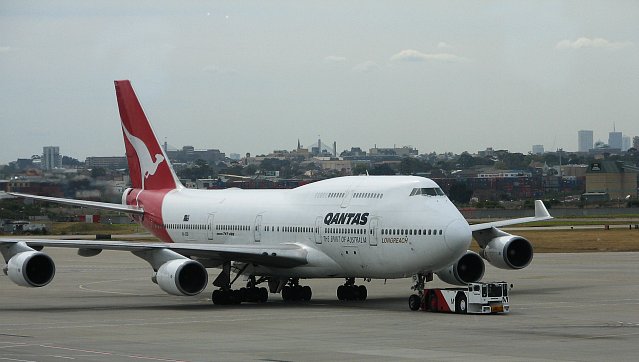 The trip started out well enough with a smooth flight from Adelaide to Sydney, but our flight to LA was delayed for a couple of hours as the plane wasn't ready. Then, just after we had boarded the Qantas flight to LA the Captain announced there would be a 4-hour delay in taking off, as a large hole had appeared in the taxiing runway where it met the main runway(!), and it needed to be filled with quick-setting concrete for safety's sake. The alternative he was negotiating was to offload some fuel from the plane's very full tanks, so that we could take off in a shorter distance and be airborne by the time we passed said hole. However, this would also take about 4 hours (offloading fuel is a risky business) and would mean we wouldn't have too much in reserve if we got blown off-course or had to circle before landing at LAX. Luckily sanity prevailed and the Captain decided we would wait for the hole to filled in. So off we all trooped again to kick our heels in the airport lounge. At least it gave me the opportunity to photograph the Sydney skyline (although one has to be careful flashing a camera around in airports these days—the security boys don't like it very much). A point of interest to both Australian residents and non-residents is that at the airport you can claim back any GST (goods and services tax) on items that you intend to take out of the country bought within the last 30 days, even if it's just for your holiday. I got back approximately $80 for the camera and associated equipment. You must have your receipts with you however.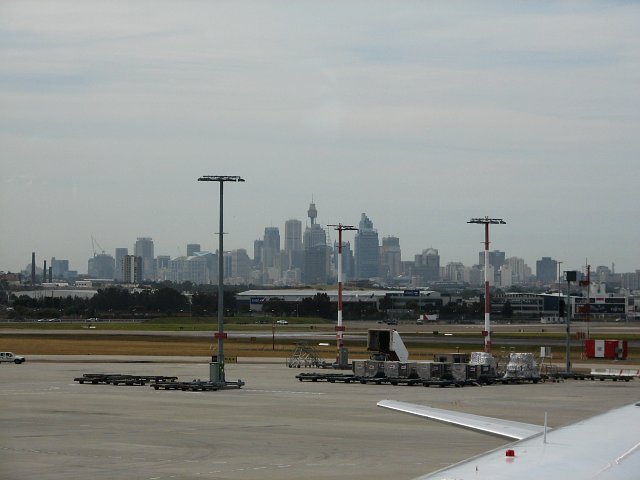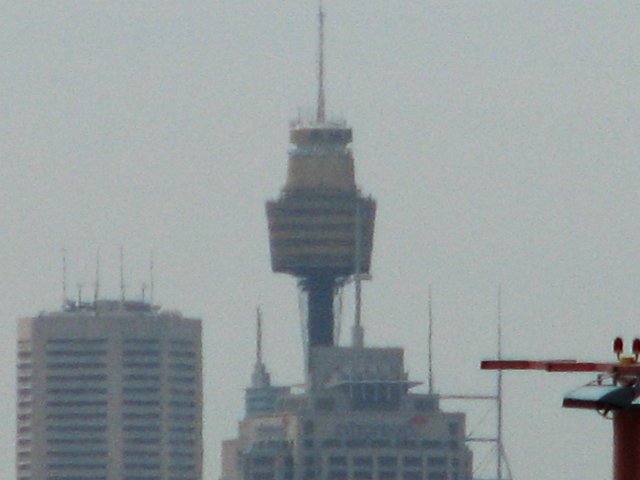 This close-up (taken handheld from behind the glass of the lounge at maximum combined zoom of 48X — which is a focal length of 1728mm in 35mm terms) is of the top of Sydney Tower, which boasts two restaurants (one à la carte, the other self-select buffet) rotating slowly 300 metres above sea level, affording magnificent 360° views of the city. It takes 70 minutes for one revolution. You can also now take a 90-minute excursion around the outside of the top of the tower, if you feel so inclined.
Eventually we boarded again and proceeded on our way to LAX. The flight was (thankfully) uneventful, except that I noticed one of the stewards was wearing a Seiko SKX779 diver's watch known colloquially as the 'Black Monster' or BM. It was the first time I had actually seen one 'in the metal', and it struck me as very impressive—much better than in the photos I'd seen. The matching stainless steel bracelet set it off nicely, too.


Los Angeles
LA welcomed us by taking our fingerprints. This is now standard procedure for all non-US citizens entering the USA, and actually it was no big deal. Our forefingers were scanned electronically and it was all over in a few seconds. The security officers were pretty laid back and kept the queues of travellers amused. But hey, this was LA and not uptight New York, right?
Unfortunately, the delay in Sydney had upset our tightly-planned schedule. The idea was to pick up a car at the airport and immediately drive north 250 miles to San Simeon, where we would stay the night before visiting Hearst Castle in the morning. Because we had arrived 5½ hours late we would now not make San Simeon before nightfall. However, we forged on, taking the free shuttle from the airport terminal to the nearby Avis car rental lot and picking up our pre-booked car. (Actually we upgraded to a larger one that could accommodate our suitcases out of sight in the trunk (boot).) Soon we were on our way—my first time driving in America, on (to me) the wrong side of the road, on the LA freeway system and in rush hour. It should not come as any surprise then that I have no photos of this time—I was too busy keeping an eye on the speedo and every vehicle within 500 yards, whilst Teresa was attempting to navigate using the small-scale map that the kind people at Avis had given us. Luckily, the route was pretty straightforward (I-405, US-101) but I was surprised at how fast everyone was going: it seemed nobody but us was adhering to the 65mph speed limit. And one did eventually get used to drivers lane-hopping or making sudden dashes across three lanes to use an exit at the last moment.
Soon the LA sprawl receded and we were out in more open country. We stopped at the pleasant town of San Luis Obispo (Spanish for St Louis the Bishop, founded 1772, pop. 44,000) for a comfort break and to book our accommodation at one of the many hotels/motels in the Cambria-San Simeon area. But as pleasant as SLO appeared, it had a major drawback—all the public toilets seemed to be closed! Relief came via the good auspices of bookstore Barnes & Noble, which not only had toilets available to its customers, but public telephones as well. And thus we were comforted, and managed to book our accommodation.


San Simeon and Hearst Castle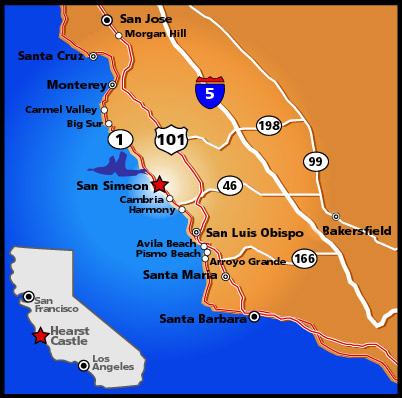 When leaving San Luis Obispo we managed to take a wrong turn and continued for some distance on US-101 instead of using California Highway 1. When it finally dawned that we were on the wrong road there were several very pointed remarks exchanged between driver and navigator (who gave as good as she got). All was not lost however; we cut through westwards on California Highway 46 and enjoyed a pleasant drive on this virtually traffic-free high-standard single-carriageway road, chasing the sun as it sank ever lower into the sea before us. Sure enough, it was dark when we got to San Simeon but the motel room was comfortable. We had dinner in the local Italian restaurant but unfortunately neither the meal nor the local merlot was anything to write home about (or photograph).
Next morning we were up bright and early for the 3-mile trip north on Highway 1 to Hearst Castle Visitor Center. It's advisable to get there early to avoid the inevitable crowds that arrive later in the day. For those who don't know, Hearst Castle was built by publishing tycoon and compulsive art collector William Randolph Hearst on a 270,000 acre hilltop estate overlooking the Californian coastline. In 1919 he commissioned the highly talented architect and engineer Julia Morgan to design and supervise the works. What was supposed to be a 2-year job turned into a 28-year marathon for both of them, as Hearst continually expanded the scope of the project. There he resided with his "friend", actress Marion Davies (whilst his wife resided in New York), and entertained the leading figures of the day from all walks of life—including royalty, politicians, film stars and athletes. Work ceased in 1947 when Hearst left the residence for medical reasons, and it was never finished completely. It stands today as a splendid memorial to both his vision and mania for collecting objets d'art, and Morgan's ability to realise his dreams and integrate some of his vast art collection both as ornaments and structural components. The Castle is truly unique and to see it is an eye-opening experience.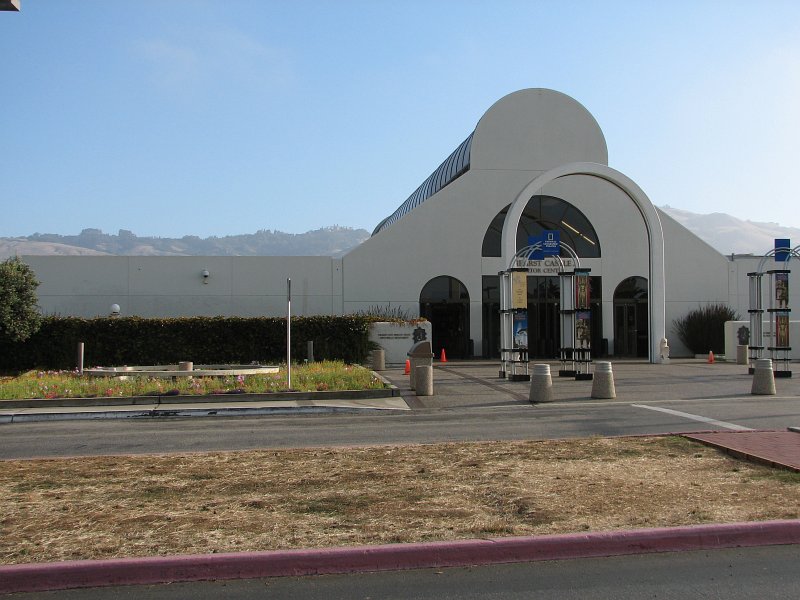 The entrance to the Visitor Center. The Castle can just be seen on the hilltop to the left of the glass rooflight.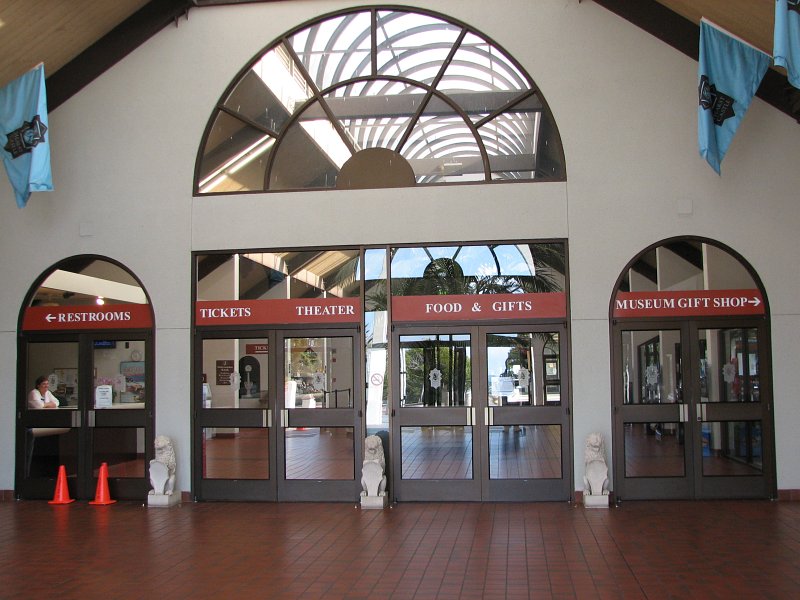 As you can see, the whole thing is very well organised. We took Tour #1, which is recommended for first time visitors. It costs $20-24, depending on season. Check out the Hearst Castle website for further details.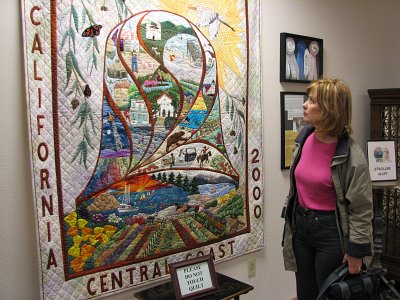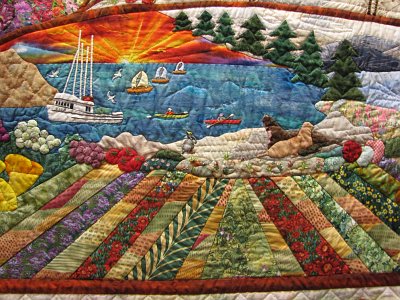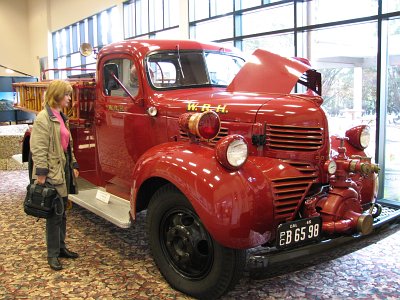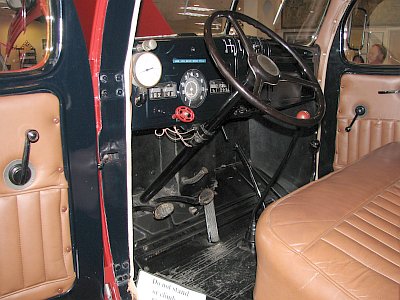 Whilst waiting for your tour to begin you can spend some time looking at items on display in the cinema foyer. Not too many people have their initials on their own personal firetruck!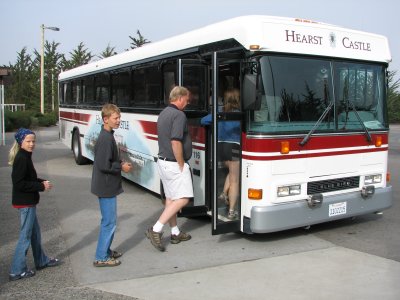 Buses take you the 5 miles up to the Castle, and the road is narrow, steep and winding. On the way you may see all sorts of animals such as elk, deer, goats and even zebras. These are descendants of the many original inhabitants of the zoo that Hearst established on the estate.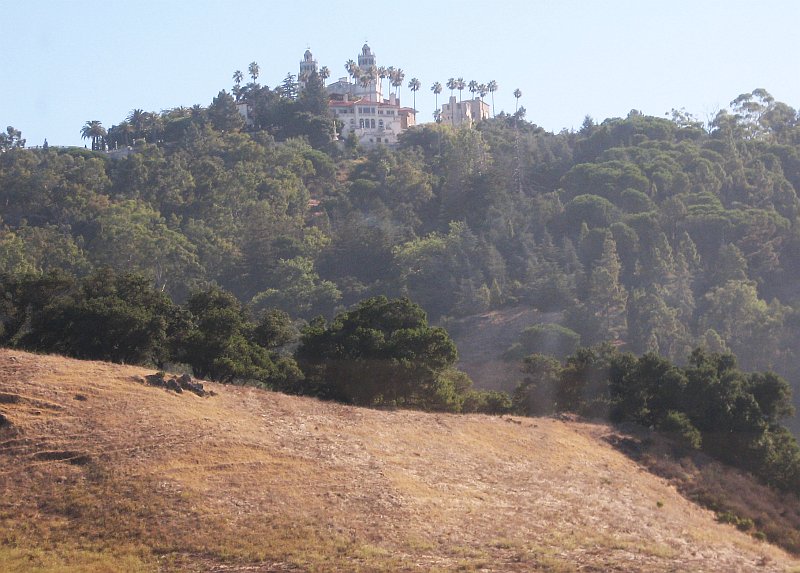 Glimpses of the Castle can be had from the bus on the way up.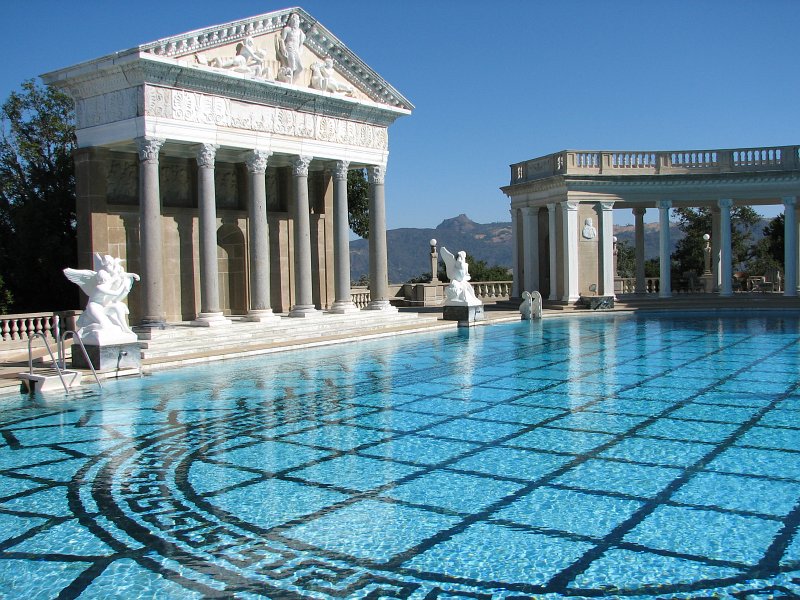 After being greeted by your guide and told the ground rules (no eating/drinking/smoking, follow paths and carpet strips, no flash pictures indoors), you come across the fabulous 'Neptune' outdoor pool. The triangular temple pediment and columns date from Greco-Roman times; the colonnades at either end of the pool are modern replicas. The views across the hilltops of the estate are magnificent. Hearst built in this location because it was high enough not to have the views blocked out by the frequent mists coming up the valley from the coast. Can't you just imagine yourself frolicking in the pool on a hot summer's day with the likes of Douglas Fairbanks Jr., Mary Pickford, Jean Harlow, Cary Grant, Clark Gable, Carole Lombard or Greta Garbo? All were guests at the mansion at one time or another.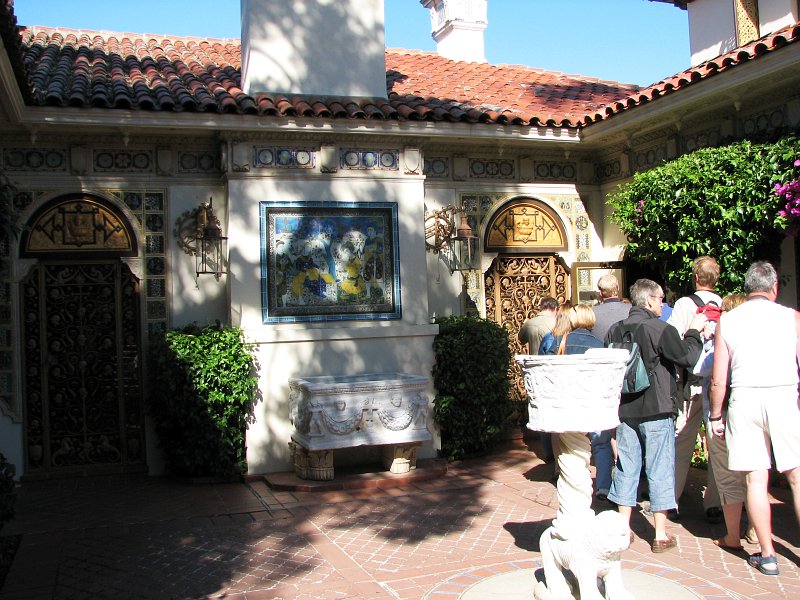 Next we come to one of three guesthouses (Casa del Monte, Casa del Sol and Casa del Mar), each of which contains multiple bedrooms, bathrooms and sitting rooms. The workmanship is exquisite, as can be seen below.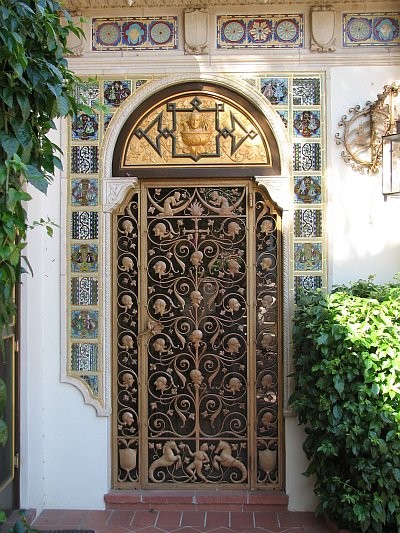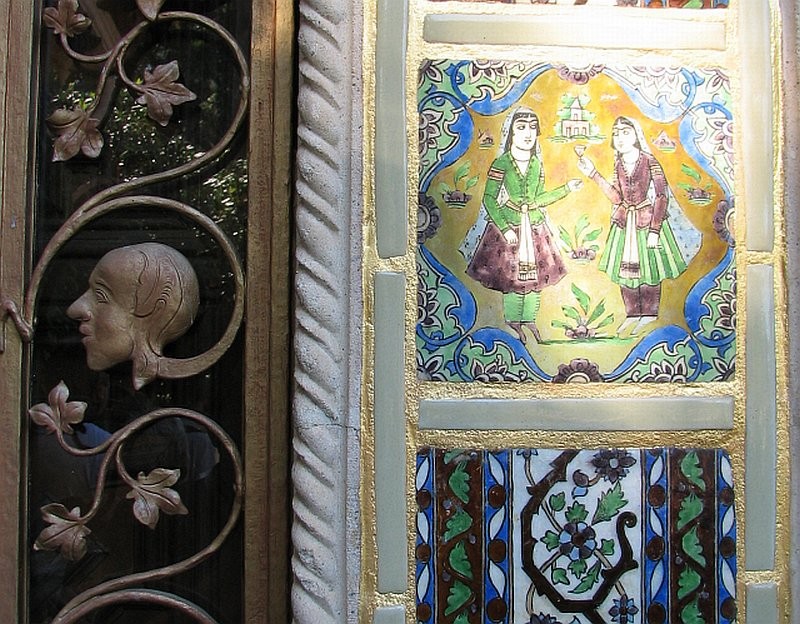 This photo shows a tile on the right hand side of the door. The girl on the right is offering a glass of wine to the girl on the left, who seems a little reluctant to take it for some reason. Note the gold paint on the grouting around the tiles. Going inside, we pass through some bedrooms. The image stabilisation on the camera really came into its own here, as the light inside is deliberately kept dim to preserve the furnishings and fitments. Exposure times were as long as 1/13 of a second.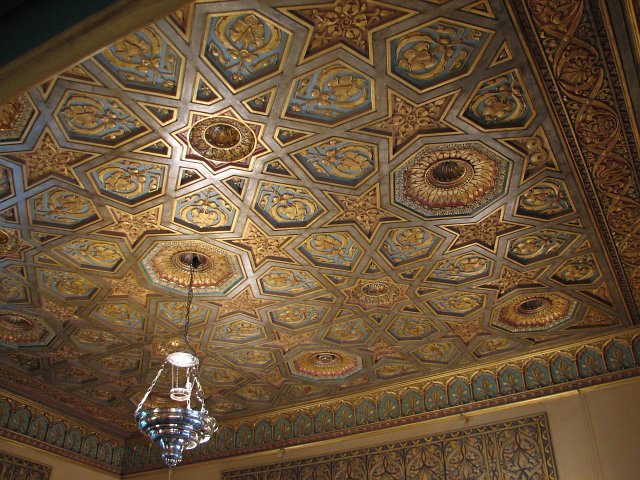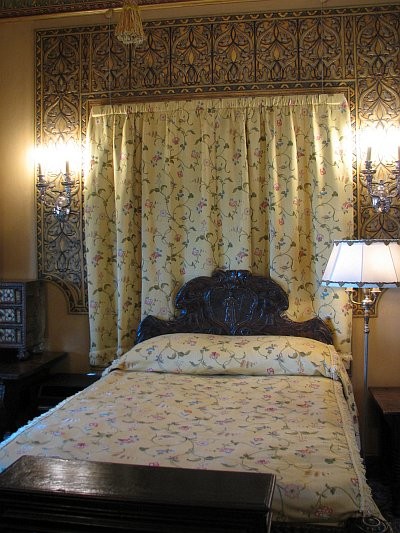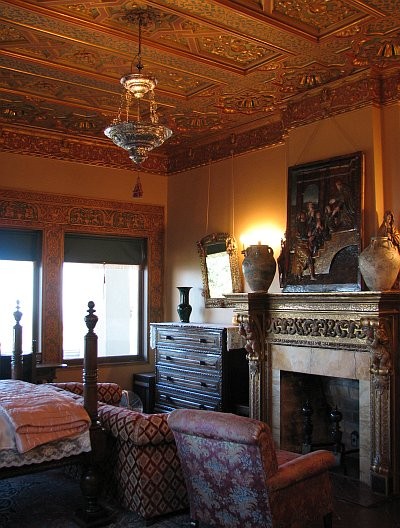 Many of the ceilings were imported from Europe, and others were made locally in the European style. It's hard to distinguish one from the other, they're so well done.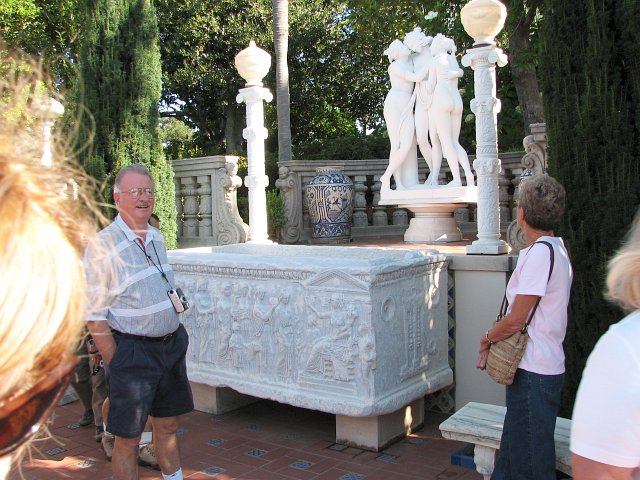 You can't help falling over works of art at Hearst Castle. An ancient sarcophagus sits in front of what is probably a French 19th century copy of Antonio Canova's The Three Graces.

Before we enter the main building or Casa Grande, we can pause for some quiet reflection...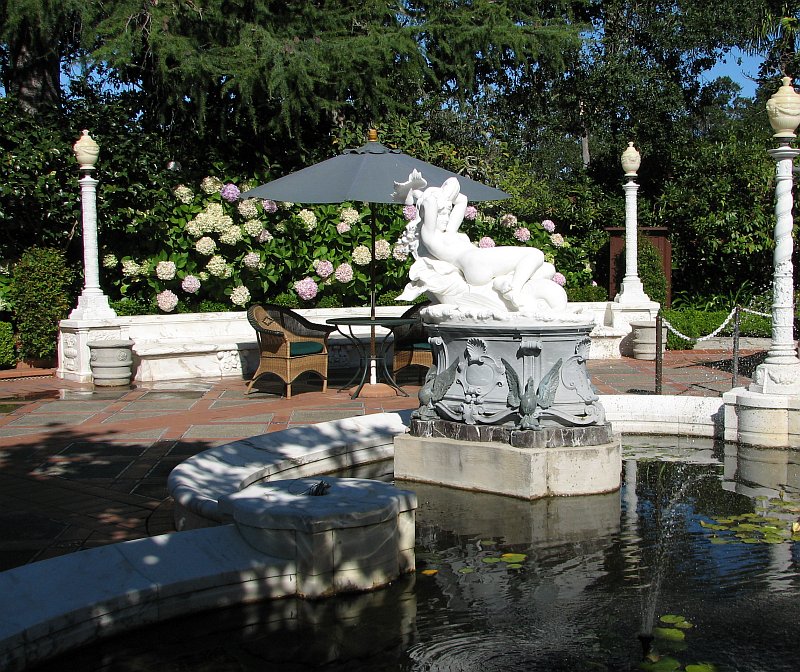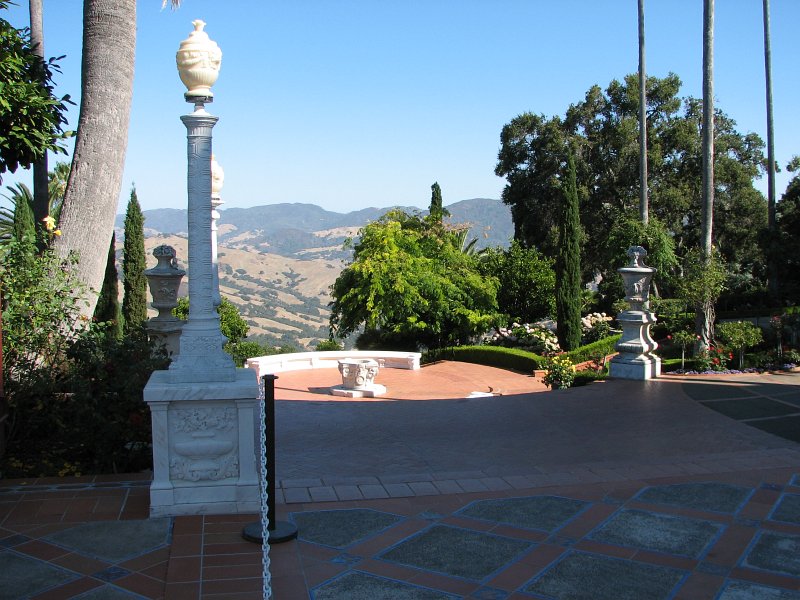 Continue to Part 2

Home

Written 24 October 2005.
Last updated 27 October 2005.