A Traveller's tale: LA, NY and the UK, 2005 - Part 2
---
Hearst Castle—Casa Grande
With its 115 rooms on four floors including 38 bedrooms, 42 baths, 14 sitting rooms, 2 libraries, guest and staff dining rooms, billiard room, movie theatre, kitchen and pantry, the Casa Grande is exactly what it says it is. This rambling, sprawling, cavernous edifice was the last major building project on 'The Enchanted Hill', as the three guesthouses were built first (Hearst initially lived in guesthouse 'A'—Casa del Mar—which faces the Pacific Ocean). It took decades to plan, design and construct, not least because Hearst kept changing his mind about his requirements. Its basic structure is of reinforced concrete to withstand the earthquakes for which this region is famous, with an internal finish resembling hand-carved stone to give the place a 'mediaeval' look. As ambitious as the estate is, Hearst and Morgan had plans for even more—a bowling alley, ballroom, banquet hall, art gallery, clock tower, polo field, topiary maze and two more guesthouses, all of which were never realised.
If the front facade of the Casa Grande reminds you of a cathedral, that's because the design of its twin towers was inspired by the Santa Maria la Mayor cathedral in Ronda, Spain. In fact, the basic premise of the entire estate is that of a Spanish hilltop town. No wonder Hearst called it La Cuesta Encantada—The Enchanted Hill.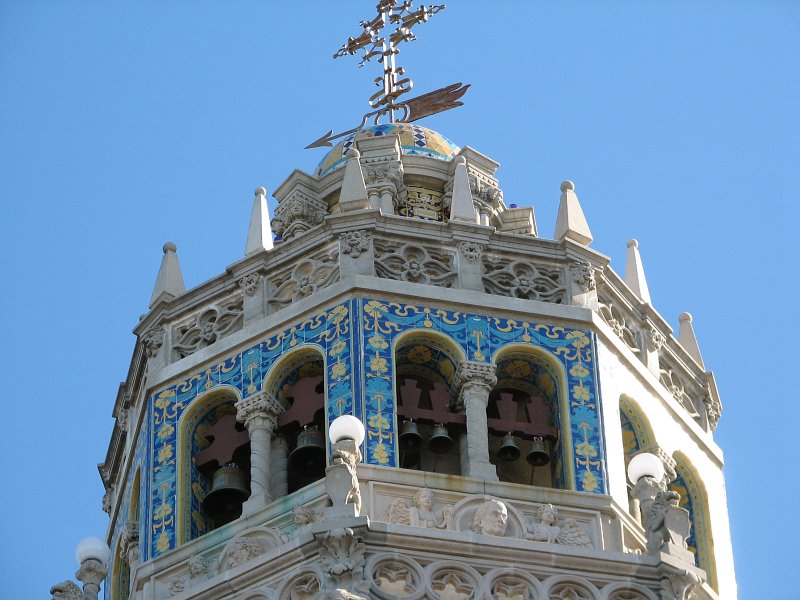 The above photo shows the intricate detailing of one of the twin towers. The original towers were demolished on Hearst's orders because he wanted a larger design that included a carillon (set of bells).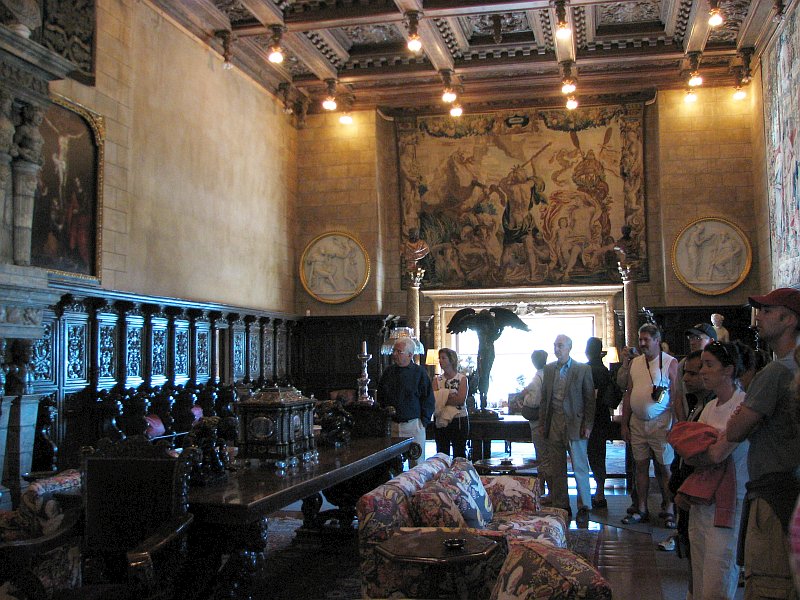 This is part of the Assembly Room, 82 ft long and 24 ft to the ceiling. It was here that all the weekend guests gathered before having meals in the Refectory next door. It was obligatory to have all meals in the Refectory—Mr Hearst didn't believe in his guests taking meals in their own rooms in the guesthouses. Breakfast in bed? Forget it!





Here's our tour guide explaining the various features of the Assembly Room and how life was in the house. The room is of course stuffed with art treasures from all over Europe (like most rooms on the Estate). You can see how the massively-proportioned fireplace dwarfs her. Surely this room has to be the inspiration for the one in Citizen Kane.
The lighting in this room is deliberately maintained at an extremely low level so I've had to lighten the image considerably, which accounts for the 'washed out' look.
| | |
| --- | --- |
| | The Refectory is in the style of a baronial dining hall, complete with a minstrels' gallery at the far end. It is decorated with priceless tapestries, an imported hand-carved timber ceiling, and banners which represent districts in Sienna, Italy. Hearst didn't use minstrels in the gallery but he did have his guests entertained at meals with his favourite music — non-stop cowboy tunes. Mealtimes must have been a barrel of laughs. |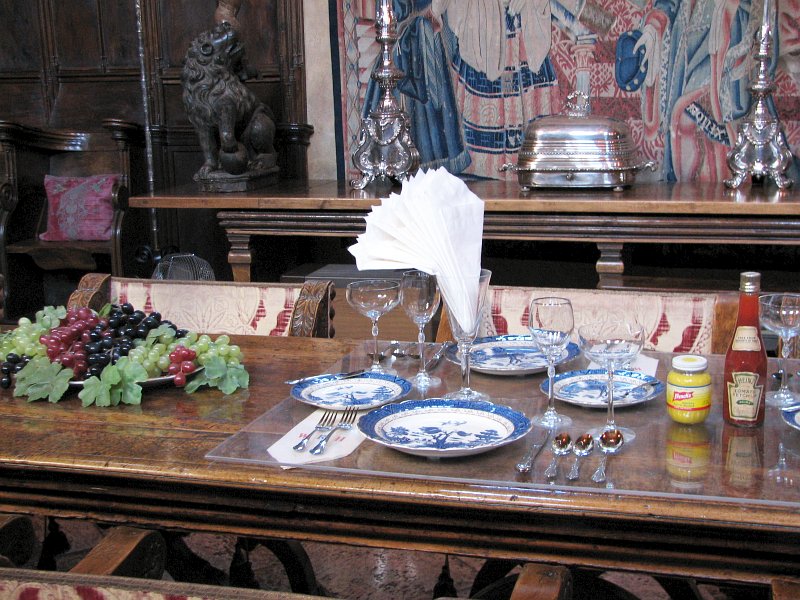 Despite the grandeur of the room (and no doubt the quality of the food), Hearst insisted that two sauces in their original bottles should be present on the table for every meal—French's mustard and Heinz tomato ketchup, just as you see them here. I guess when you're rich enough you can make up your own etiquette.
Hearst would sit at the centre of the table, with his newest and brightest guests seated closest to him. As your length of stay at the estate increased, you were gradually seated further and further away. When you reached the end it was time to take the hint and leave.


| | |
| --- | --- |
| | This gilded caryatid (an architectural term meaning a draped female figure which acts as a supporting column) is one of about 18 such figures (all identical) in the large movie theatre. It was darker than a dog's guts inside the theatre so I was pleasantly surprised how well this photo turned out. According to legend, the face of the caryatids was modelled on that of Marion Davies, whose film career Hearst did much to promote. A movie was shown in the theatre nearly every night, often a new Hollywood production not yet released for public viewing. Guests were expected to go to, and stay at, the movie and not wander about by themselves (or in couples) in case they got into 'danger'. |
| | |
| --- | --- |
| | Last stop on the tour is the Roman pool. Here guests disported themselves at night or when it was too cold to use the outdoor Neptune pool. Every surface of the pool, walls and ceiling are a mosaic of hammered gold and delicate Venetian glass tiles. |
| | |
| --- | --- |
| | Behind the diving platform is an area known as the Ladies' Pool. Here the ladies could quietly gossip, away from any boisterous activities in the main pool. |


And so we came to the end of what had been a fascinating 2½ hours. We had seen a lot and yet there was a lot more to see, which will have to wait until another time. I can only commend the State of California's Department of Parks & Recreaction for the spendid job it is doing in preserving, maintaining and managing this priceless heirloom. It should be on every traveller's list of things to see.

After a quick coffee and Danish in the Visitor Centre and a browse around the souvenir/bookshops, we prepared to sally forth for the drive up the Ocean road to Monterey. We'd heard how splendid the views were along this scenic highway, and were looking forward to them. Unfortunately, Nature had other plans and sent in a sea mist, as she so often does in this part of the world.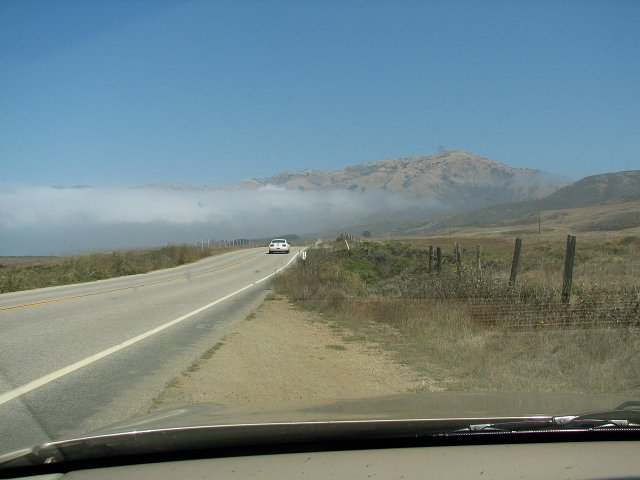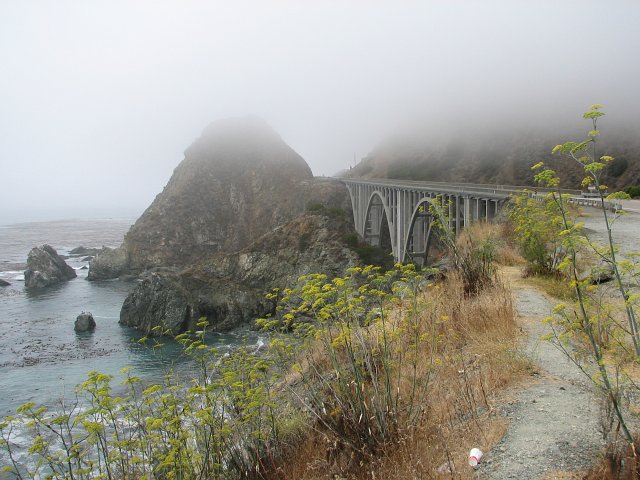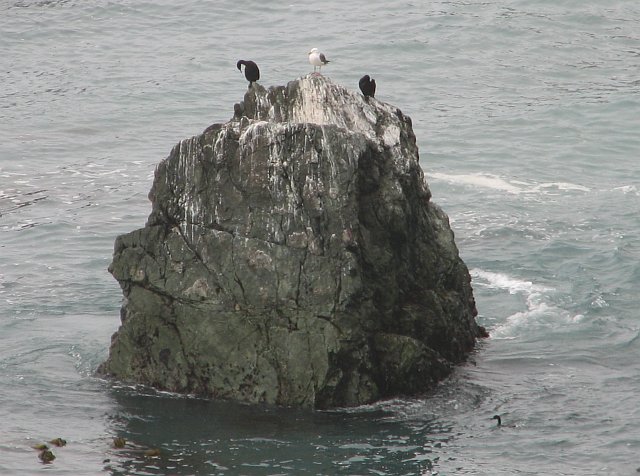 Even the birds looked miserable!





Eventually the sun broke through, enabling us to see the majestic sweep of the coast (above). Because of recent rock falls and being unable to pass a particularly slow vehicle on the narrow, twisting road, we reached Monterey a lot later than we had planned and didn't have much time to explore as we had to get back to LA that night. I can tell you though that there's a lot of boats in the harbour! One thing that did catch my eye was the unusual facade of the Golden State movie theatre (below). I also like the movies they were advertising (Rear Window with James Stewart and Grace Kelly, and the 1927 silent classic The General with Buster Keaton. Plus Dennis James at the organ!).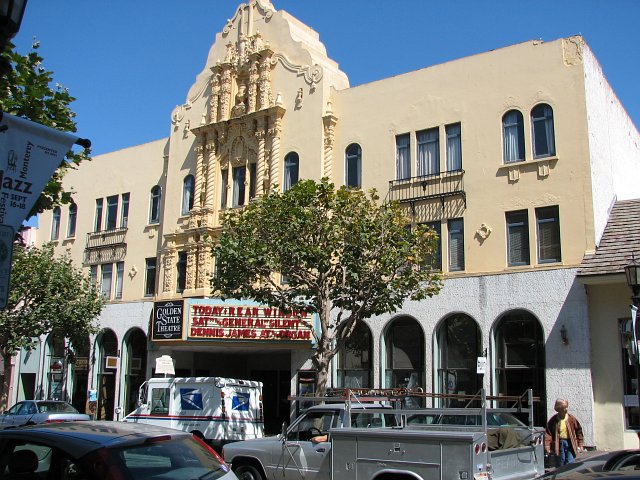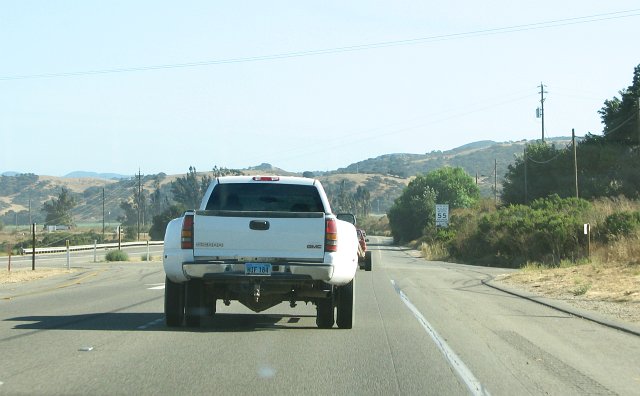 Not sure if this duck-tailed, dual-tyred pickup (or 'ute' as we say in Australia) is a factory product or chop-shop special. Sure looked strange though. Another strange thing we saw on our travels down US 101 (which is a much faster route than the coast road) were these bell-shaped markers (see photo below), which we came across every couple of miles or so. From my rudimentary knowledge of Spanish I knew that El Camino Real meant The King's (or The Royal) Highway, and since we also knew that Spanish missionaries had set up a chain of religious missions along the coast some 200+ years ago, we figured the bells were a commemorative marker of some sort. As it turns out, we weren't far off the mark (pardon the pun). You can find the whole interesting history of the markers here.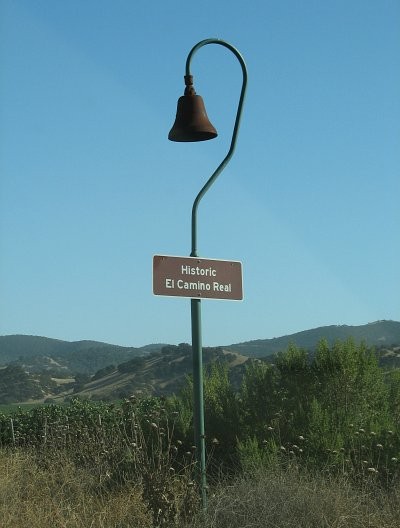 By the time we approached the outskirts of LA I was feeling much more confident about driving on the freeway system, even though it was getting dark. The secret is to drive confidently and at a brisk speed. Unfortunately, this mode of driving also led to the realisation of why so many LA drivers suddenly veer across several lanes to reach an exit: it's due to the peculiar method of signing they use on freeways. So many times we would be following the signs to a particular highway or locality, only to find as we neared it that there would suddenly be two signs pointing to it, in different directions (e.g. one sign would point to an exit, the other would say carry straight on). No doubt you could reach your destination using either way, but when you're travelling at 65+ mph at night, surrounded by hundreds of other vehicles, you don't have much time to make a decision. The classic situation was when we wanted to get off the freeway in the vicinity of LAX (LA International Airport). I knew there were at least two major airports in LA, LAX and Long Beach. Given the importance of LAX, you would think there would be specific signs to it early and often. But no. What did we find? A sign pointing to an exit, saying "LA Airports". Did this include LAX? How many other airports are there in LA besides LAX and Long Beach? To be on the safe side I jammed on my indicator and careered across three lanes to the exit (aha!), only to find at the bottom of the off-ramp that this was NOT the best way to LAX—I should have stayed on the freeway. So we did the right turn, U-turn, right turn onto the on-ramp trick (one that I became very proficient at), and eventually there was a big sign to "LAX". But why, oh why, wasn't it there when I needed it?


Continue to Part 3

Back to Part 1

Home

Written 27 October 2005.
Last updated 27 October 2005.