A Long Weekend on South Australia's
Limestone Coast — Part 2
by LesZ
---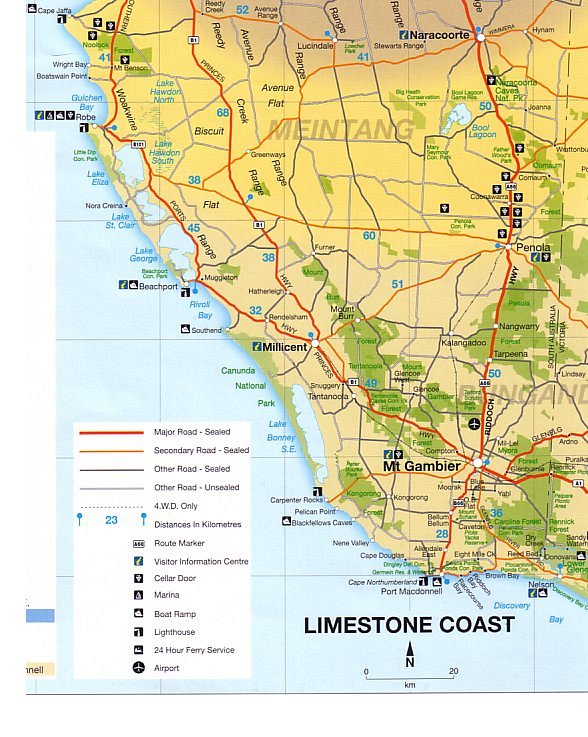 Day 3
After an early start and a good breakfast we left Robe and struck out eastwards cross-country to Penola, about 100km away and at the southern end of the Coonawarra wine district. Although the road was classified as secondary it had a smooth surface, was mostly gun-barrel straight and empty of traffic, so we made very good time until about half-way along we reached...the roadworks. Sealing of the rubbled shoulders was being carried out as a safety upgrade, so the traffic cones were out, the lane widths were reduced and a 40km/h (25mph) speed limit imposed for kilometre after kilometre after kilometre....crazy! After the good run we had had it was very frustrating, even if we weren't in a particular hurry to get anywhere. Eventually the roadworks from hell were over and we pressed on apace to Penola, in the middle of farming and forestry country.


| | |
| --- | --- |
| | You can't go far in Penola without coming across the name of John Riddoch. In 1852 or thereabouts the 25 year-old John migrated from Scotland to Victoria, along with his mother and father and his younger brother George. He became a gold digger (literally) and buyer on the Victorian goldfields, then used the money he made to become a Geelong shopkeeper and wine merchant. In 1861 he paid £30,000 for Yallum Park, 8km west of Penola. Here he built an Italianate mansion surrounded with exotic trees and a forty-acre (16 ha) deer park; a genial host, he entertained notables including princes, dukes (such as the Duke of York before he became George V), governors and even English novelist Anthony Trollope. John was a loyal friend and patron of Adam Lindsay Gordon (the eccentric horseman—remember him?), who wrote some of his poetry, including 'The Sick Stockrider', at Yallum. |
| | |
| --- | --- |
| Yallum Park is said to be the best preserved Victorian House in Australia in its original condition. Original William Morris wallpapers, gasoliers, acid-etched and stained glass windows, Italian marble mantlepieces, gold leaf, antique furniture and a number of extremely old pieces of glass, porcelain, silver and brass are some of the features. All decorations date from 1879. The garden, established in 1880, is planted with trees from all parts of the world. Purchased by the Clifford Family in 1914, the homestead is still retained as a private "farm house" and is open for public viewing (by appointment). | Photo from www.limestonecoast.net |
Perhaps it was being a wine merchant all those years ago that gave John a taste for good wine, for in 1890 he founded the Penola Fruit Colony, which was later renamed Coonawarra. With its rich terra rossa ('red earth') soils overlying the porous limestone, Coonawarra was ideally suited to growing cabernet, sauvignon and shiraz grapes. And so the seeds of a thriving wine industry in the area were sown, and today the red wines of Coonawarra have an international reputation for quality.

Penola has a well-preserved sense of history, typified by the (non-functional) postbox in the main street. This is of the traditional British red 'pillar box' design, complete with the initials VR for Victoria Regina (Queen Victoria). Since the old queen died in 1901, it has to be at least 106 years old. By strange coincidence, John Riddoch, who did so much for the district that he had a highway named after him, also died in 1901. By an even stranger quirk of coincidence, it was Anthony Trollope—yes the same novelist who stayed with John Riddoch at Yallum Park—who set up the first iron pillar box, as an experiment, at St Helier on Jersey in 1852. Trollope was then a senior Post Office official (who also wrote the odd novel in his spare time). Following the successful trial, the first one on the mainland made its appearance in Carlisle the following year. By 1900, there were 32,593 pillar boxes throughout the United Kingdom, and from there they spread to most of the Commonwealth countries. Spooky, huh? What's also spooky is that the old geezer leaning on the Penola pillar box in the photo below is almost as well-preserved as the pillar box itself.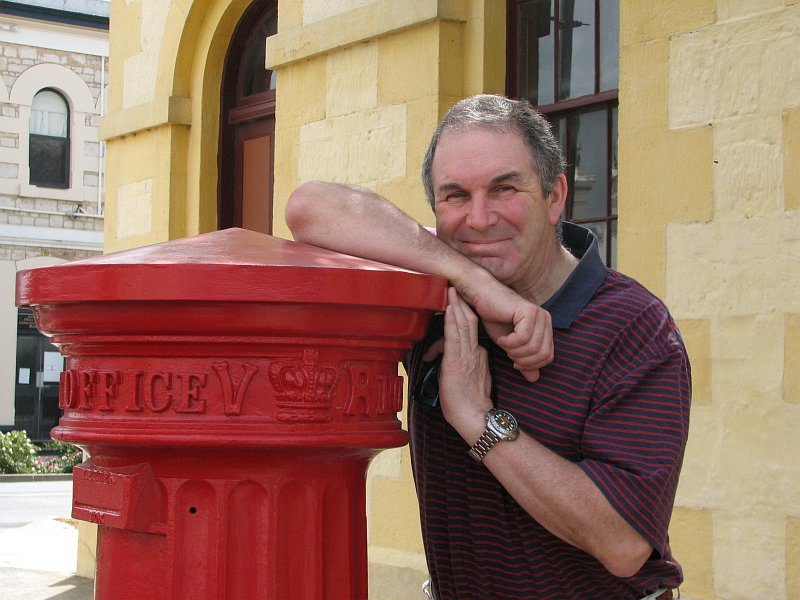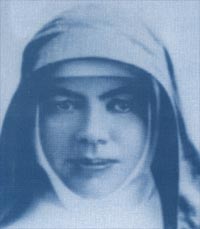 It would be remiss before leaving Penola not to mention Blessed Mary McKillop, Australia's first and only native-born saint. Born in Melbourne in 1842, she came to Penola and with the help and encouragement of Father Julian Tenison-Woods, founded the Order of the Sisters of St Joseph in 1866. The Order was largely an educational one, looking after the education and welfare of poor children. Being a strong-minded woman she was often in conflict with the Church hierarchy, leading to her being excommunicated in 1871 for alleged insubordination. However, the excommunication was lifted six months later. By the time of her death in 1909 the Order had spread throughout Australia, and today also has facilities in New Zealand and Peru.

After many years of investigation, Mary McKillop was finally beatified by Pope John Paul II in 1995, and canonised by Pope Benedict XVI in 2010. There is a Mary McKillop Interpretive Centre in Penola, and you can also see her original schoolhouse, which has been restored.





The Wineries—at last
From Penola to Coonawarra is only 10km, but along that corridor are no less than 24 wineries. We decided that as much as we'd like to sample all of them, time and other practical constraints (such as being able to find our car in the carpark after visiting no. 24) meant we'd have to limit ourselves. First up then was the oldest winery on the strip, Wynns Coonawarra Estate, established in 1896. Note the original buildings on the left (which feature on the company's label), contrasted with the modern industrialised tank farm on the right.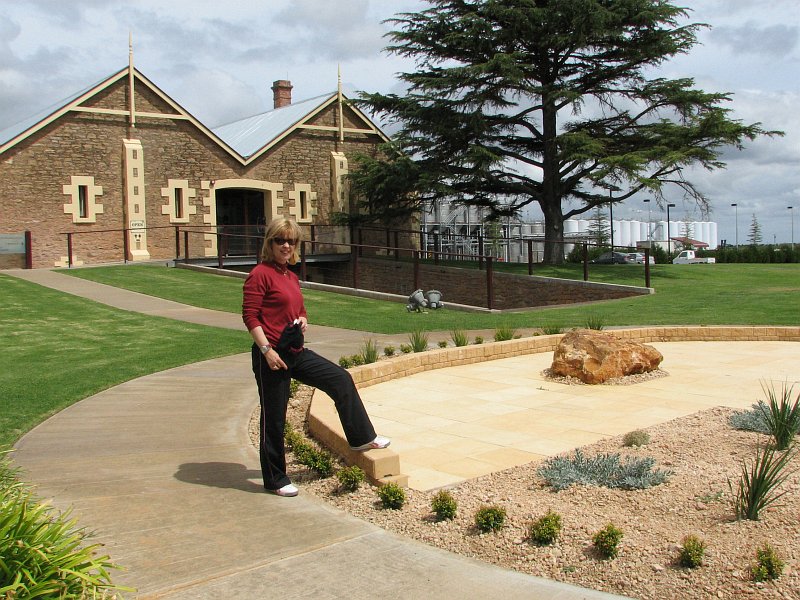 The main buildings may look old on the outside but the insides have been completely refurbished, making a comfortable, relaxed atmosphere in which to sample the goodies. The staff were very friendly and helpful, and encouraged us to work our way through the extensive tasting menu of white and red wines and port. Being mindful of the need to keep a clear head for driving, I took advantage of the spitoons which were thoughtfully provided. SWMBO just quaffed it all down.




Comfortable and relaxing...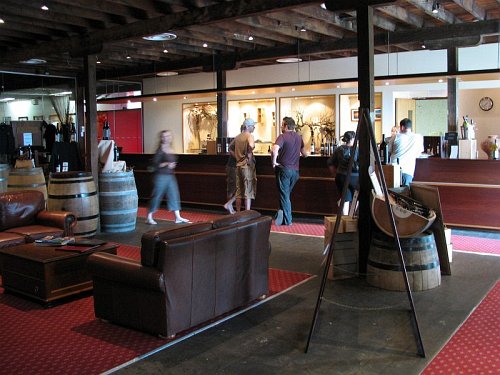 She likes the camera...and the camera likes her...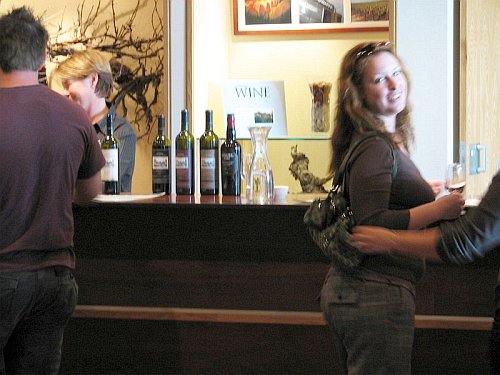 I've swirled, sniffed, swooshed and sipped...now, where's that spitoon?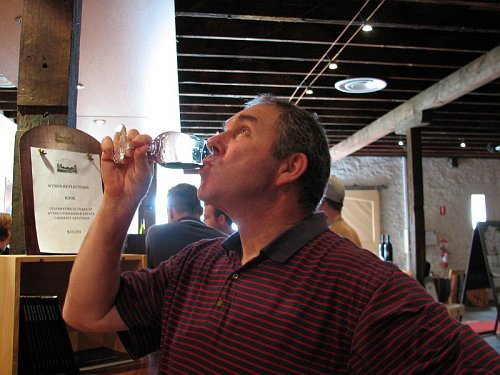 You roll this 'rolling decanter' gently around on the table to let the wine 'breathe', then place it in its stand.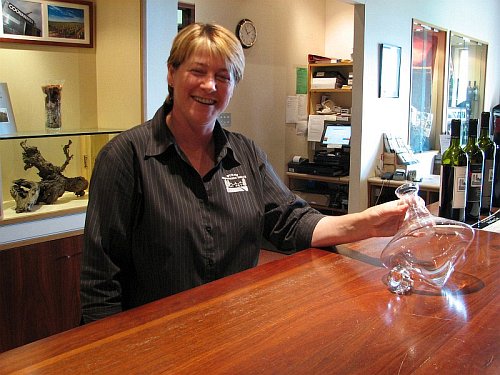 After trying everything that was on offer we decided on some Reisling (surprisingly full of luscious citrus flavours), some Cabernet/Shiraz/Merlot (spicy, dark, berry fruit galore) and some Port (Cab Sauv with Touriga) to take home with us.

Next stop was something entirely different—the ultra modern Rymill Winery. Owned by Peter Rymill and his wife Judith, both former champion show jumpers, the winery building was only started in 1990 after Peter completed a degree in Wine Science and a diploma in Wine Marketing. However, it should come as no surprise that this show jumper had a hankering to become a vigneron, for his great-grandfather was none other than our old friend, John Riddoch.

The building was designed so that there are no internal columns to interfere with the free flow of people and machinery within it. It has three levels, with panoramic views available from the upper two. It's unlike any winery I've been in before. The statue of two rampant stallions in front of the building is life-size. The spitoons are a good size, too.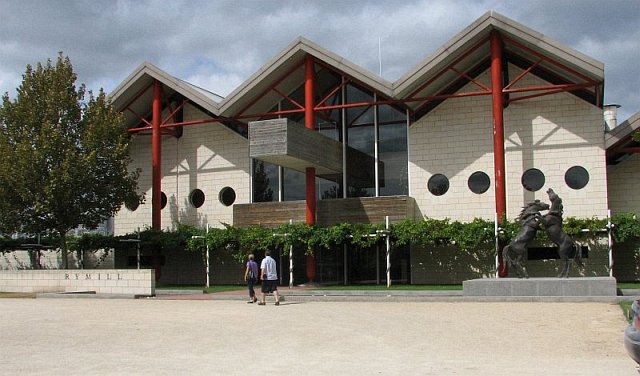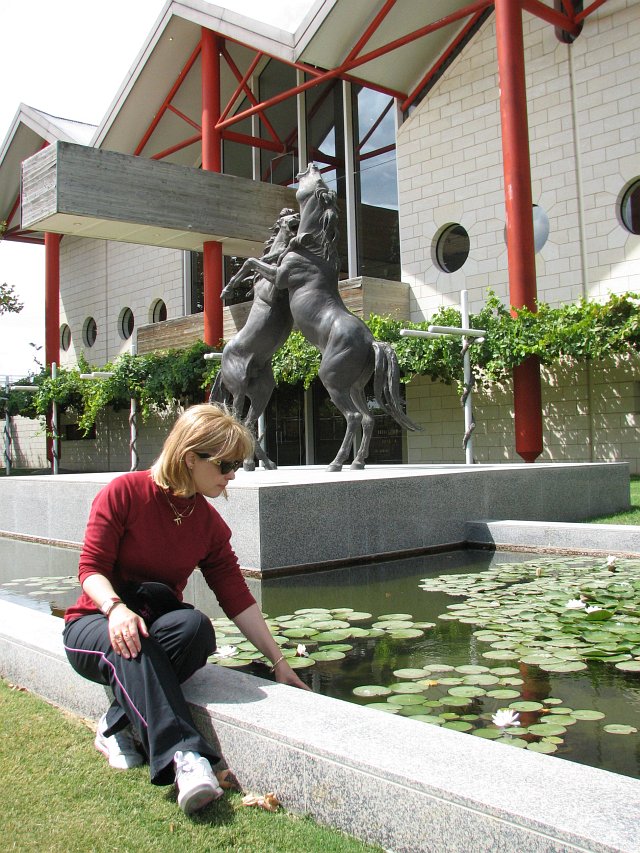 The entrance lobby, viewed from the tasting bar. The winery proper is through the glass doors on the left.

Our tasting hostess for the afternoon—Megan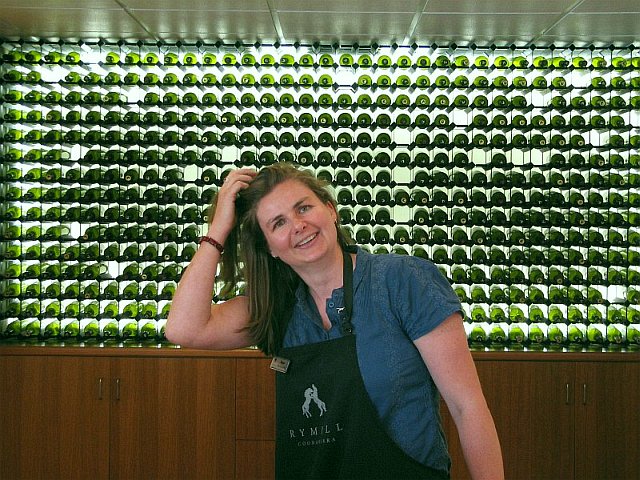 What a civilised way to taste, discuss and enjoy wine!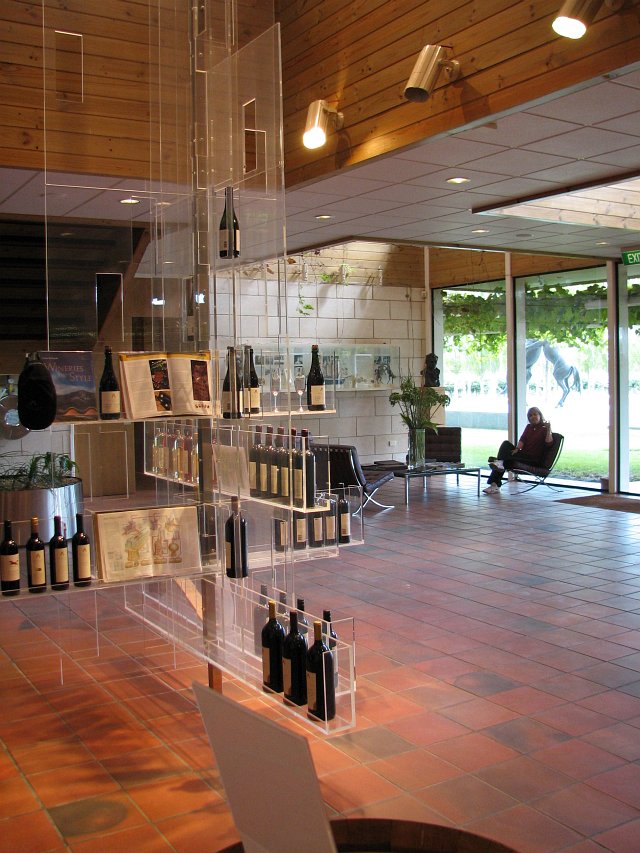 Inside the winery proper. At least the casks at the back look old!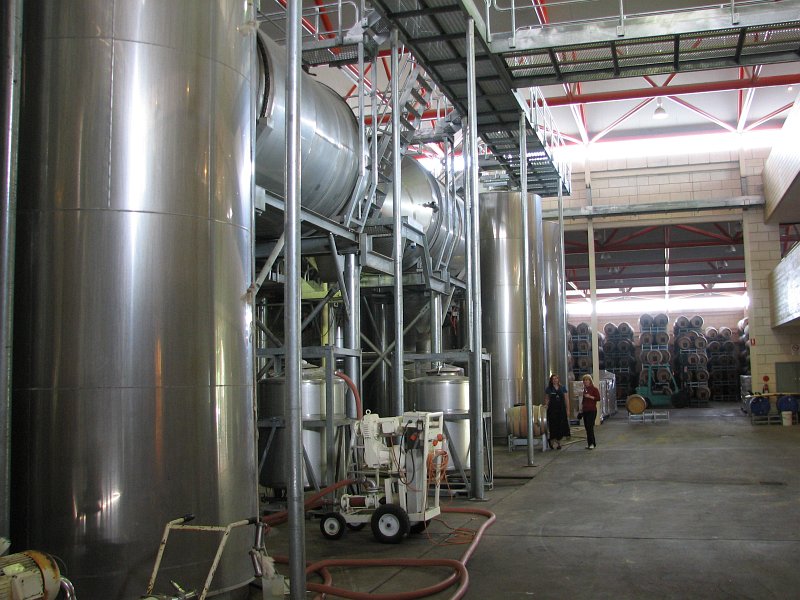 As we climb the stairs to the upper storeys, we can sneak a peek inside the testing lab...
Looking down on the lobby area. At the bottom left of the display case is a replica of a gold nugget that was dug out of the Victorian goldfields by John Riddoch. It was worth £1500 in the 1850s -- a sizable sum.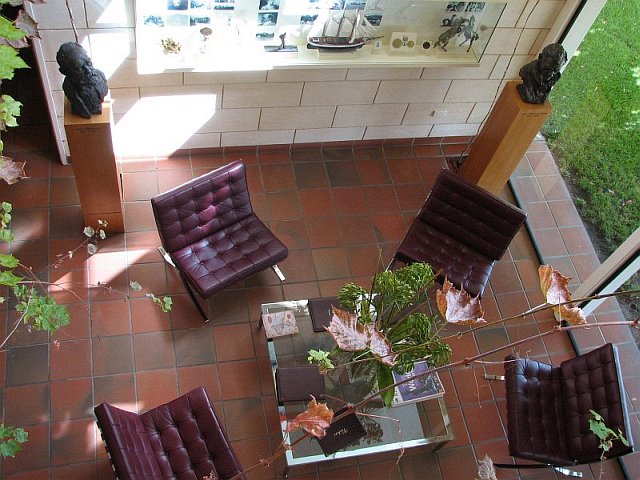 View across the vineyards and main driveway.





For any watch nuts reading this, you'll be pleased to know Rymill's are also growing Citizen Aquamounts and Kenneth Cole Designer watches!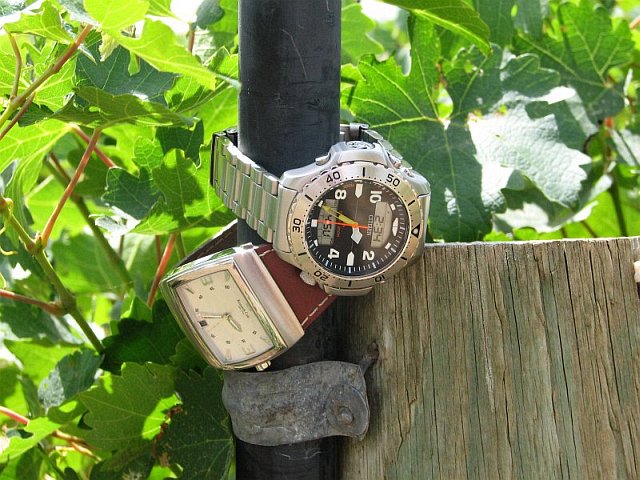 Oooh look...an Aquamount Shiraz!




After much sipping and spitting, we ended up picking the Sauvignon Blanc and the Shiraz as best to our liking. I was gratified that Megan thought the Shiraz was the best on the list too, despite it being only moderately priced.

We could have gone on for the rest of the day in this fashion, but decided we'd head for home instead. Passing through Naracoorte, one of the earliest-settled towns in South Australia (1840), we came across an unusually-decorated police station and court house—no doubt the police thought they'd better get in first before the graffiti vandals did. Actually, that's a slur on the country towns we had visited that weekend: without exception they were clean, tidy and graffiti free. It seems that the half-witted morons who cannot resist daubing their tiresome and ugly 'tags' everywhere only exist in the larger conurbations. Maybe country kids have better things to do with their lives. Anyway, I thought it was worth a picture. As usual, SWMBO had to get into the act.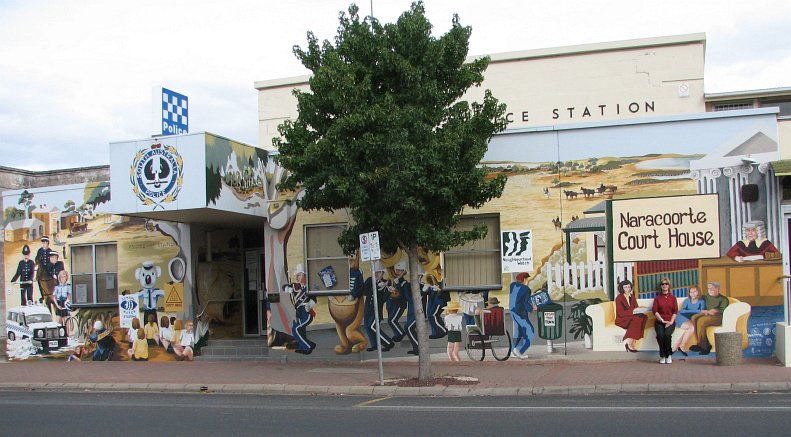 The Naracoorte Caves, 11km south-east of the town, are in a wooded conservation park. Open to the public, they include three caves with stalactites and stalagmites, similar to the Tantanoola Cave but larger. There's also Fossil Cave, a site of world significance containing unique fossilised specimens of Ice Age animals. If you're up for a bit more adventure than the usual guided tour can provide, you can don overalls, helmet and headlamp and squeeze your way through 'natural' caves with no additional lighting. Just mind out for the bats which love to nest there in their thousands. And where there's bats, there's.... We put this activity on the list for next time. Maybe.

Well, that about wraps it up. We thoroughly enjoyed our long weekend on the Limestone Coast, and I hope that, through the photos, you did too. I'll leave you with one last shot, which although taken in the 'Green Triangle' of the S.E. grazing country, is more reminiscent of the Australian Outback—a big, wide, brown empty land. But I bet you there's a winery just over that hill.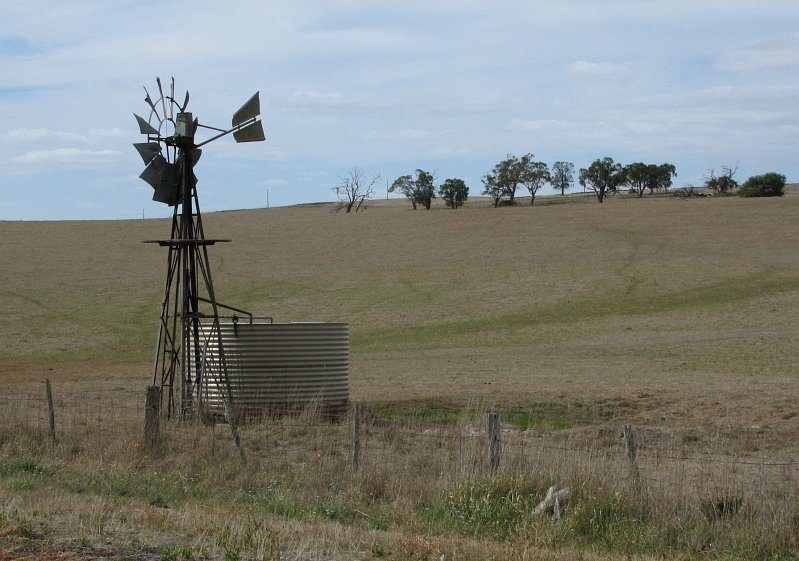 Written 14 March 2007.
Last updated 26 June 2011.