A Long Weekend on South Australia's Limestone Coast
by LesZ
---
Introduction

The wine-lovers of South Australia are spoilt for choice when it comes to winery tours, for there are many picturesque areas to visit where one can sample (and indeed, if sufficiently moved to do so, buy) a staggering variety of wines "at the cellar door". World-famous grape-producing areas such as the Barossa and Clare Valleys to the north of Adelaide, and McLaren Vale to the south, are within easy reach for a one-day excursion. Further afield to the south-east, long-established vineyards at Padthaway and Coonawarra produce magnificent full-bodied reds. However, since these latter areas are approximately 400km (250 mi) from Adelaide, it's best to take 2-3 days for the trip to enjoy the experience the most.


As well as the numerous wineries, the south-east of South Australia also boasts "the Limestone Coast" (see lower map on right). Actually, Limestone Coast is a bit of a misnomer, for it takes in virtually all of the south-eastern portion of the State, from the Coorong National Park (the long, narrow coastal wetlands eco-system which is home to many species of plants, native wildlife and birds, including the famous pelicans -- the movie Storm Boy featuring "Mr Pelican" was shot here), to the many limestone sinkholes and extinct volcanoes which pepper the region.


And so it came to pass that your humble scribe and SWMBO (She Who Must Be Obeyed) sallied forth one recent Friday morning, ready to sample the delights of said Limestone Coast over the next three days. We had booked a self-contained cottage in the picturesque seaside town of Robe, and this was to be our base for the trip. Robe is a very popular spot for a holiday, even in winter, and so booking accommodation in advance is highly recommended.











Pelicans in flight on the Coorong -- photo from www.thecoorong.com






Day 1
Since this was to be a leisurely trip we decided to have a refreshment stop at Tailem Bend, about an hour's drive from Adelaide. I always use the Shell roadhouse (unless it's crammed full with tourist bus passengers), and true to form it didn't let us down. After a bite to eat and a cafe latte to fortify us, the next port of call was the township of Kingston S.E. It's called Kingston S.E. (South East) to distinguish it from the township of Kingston O.M. (On Murray), which is about 300km (185mi) to the north. Kingston S.E. is the northern gateway to the Southern Ports cray fishing region, and attracts hordes of recreational fishermen, scuba divers, sailors and windsurfers, who regularly sight sea lions, seals and dolphins. It also has the best fish-and-chip shops in South Australia, and is home to...the Big Lobster. Here you can see SWMBO nonchalantly posed in front of the monstrosity, which is sorely in need of a lick of paint. The signwriter is also in need of some spelling lessons. Can you see why?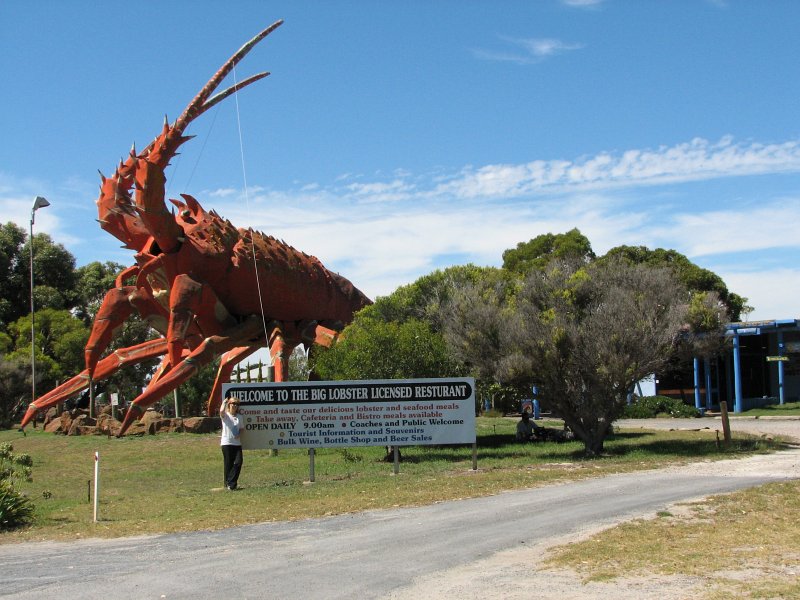 Although we could have spent more time in Kingston we didn't, deciding instead to press on to Robe. Between Kingston and Robe are several wineries but we chose to give these a miss as well this time. Maybe next time we'll investigate the cellar doors at Cape Jaffa and Mt Benson.

Robe is a very pretty seaside town, with quaint cottages, beautiful unspoilt beaches, and a buzzy main street. It's also packed out during school holidays, so we were pleased we weren't there then. Robe used to be a major wool shipping port in the 1850s, and there's still a very strong boating and fishing flavour about the place. (Sidenote: In 1857 over 10,000 Chinese workers disembarked at Robe and then travelled hundreds of kilometres on foot to reach the goldfields in Victoria. In this way they avoided the Victorian Poll Tax.)


Robe faces onto Guichen Bay, which was named in 1802 by early French explorer/mariner Nicholas Baudin. Actually a lot of SA's coastal features were named by Baudin while he was attempting to chart the southern coast of Australia, or New Holland as it was known then. Guichen Bay was probably named just before Baudin crossed paths with English explorer/mariner Matthew Flinders, just to the north in the appropriately named Encounter Bay. Flinders was racing Baudin (in the opposite direction) to be the first to complete the task of charting the southern coast. Guichen Bay offers fine swimming, sailing and relaxing.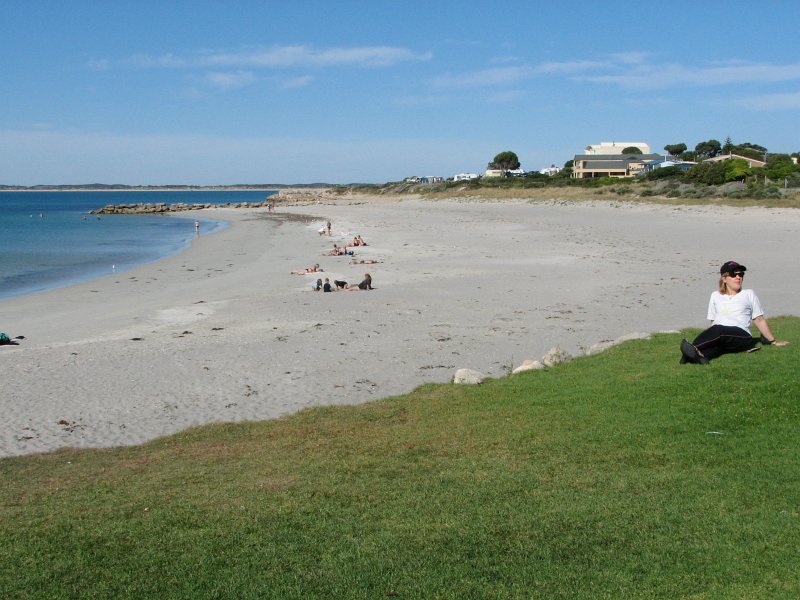 Robe has another claim to fame. It's the only place in South Australia where someone died as a direct result of enemy action in WWII. Some sea mines from a German raider floated ashore, and two RAN personnel were killed when trying to defuse them. SWMBO is seen taking her chances with a sea mine here:





After a leisurely wander around the town to get our bearings, we indulged in a fish and chip supper and then retired to our cottage to unwind for the night.



Day 2
Saturday saw us up bright and early (well bright, anyway), and ready to explore towns along the coast. First stop was nearby Beachport, a small township on Rivoli Bay. On the way there we came across a road sign you don't see every day -- beware wombats crossing the road, especially at night. As they can grow up to 1 metre long and up to 35kg (77lb) in weight, hitting one with your vehicle is not recommended.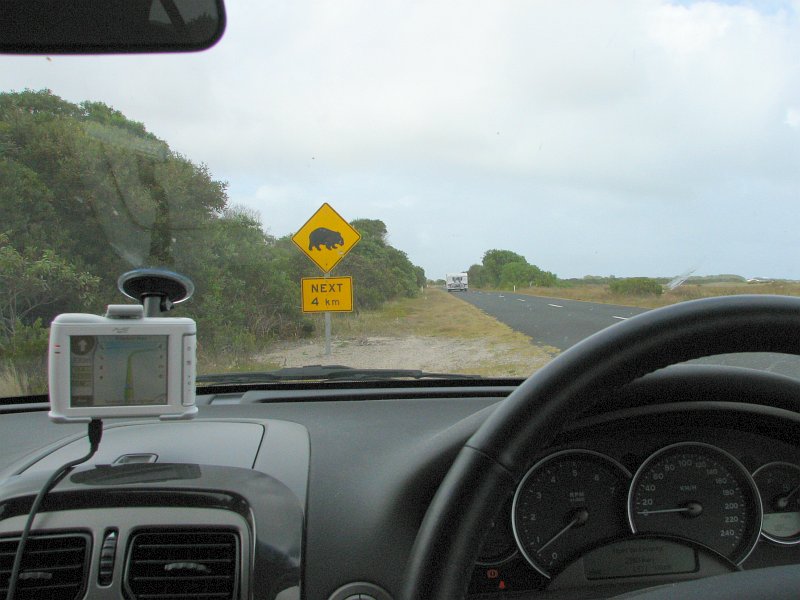 Like Robe, Beachport is best known for cray fishing and water sports. It also has the second longest jetty in the State, almost 0.75km (0.45mi) long. (The longest is at Port Germein, and at 1.65km (1.02mi) it's also the longest in the southern hemisphere.) Since the weather was fine we decided to go for a stroll along it.




Preparing to stroll: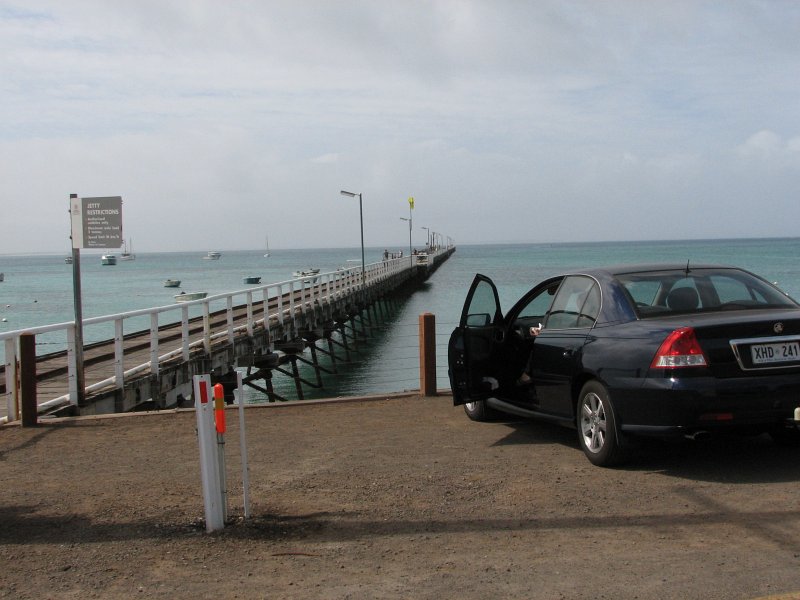 Looks like a long way!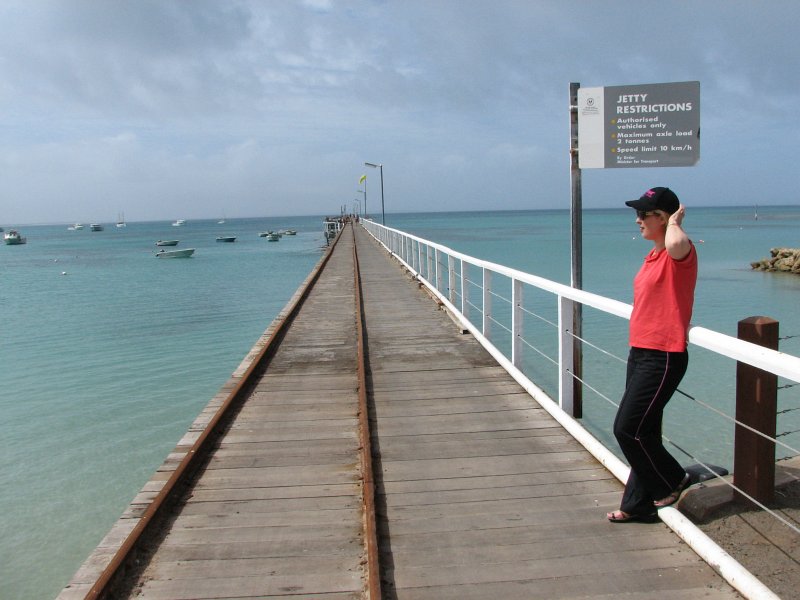 Hello Sailor!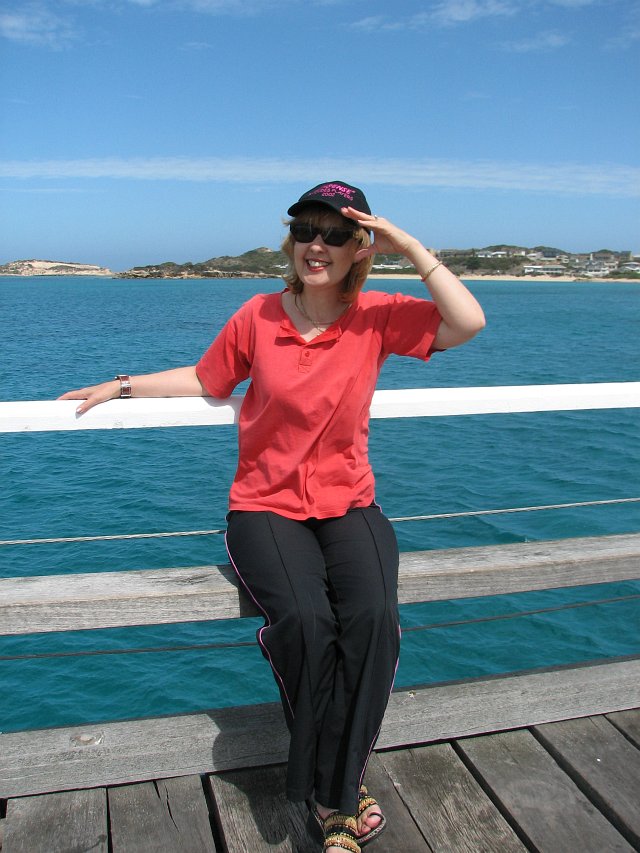 Phew! Made it!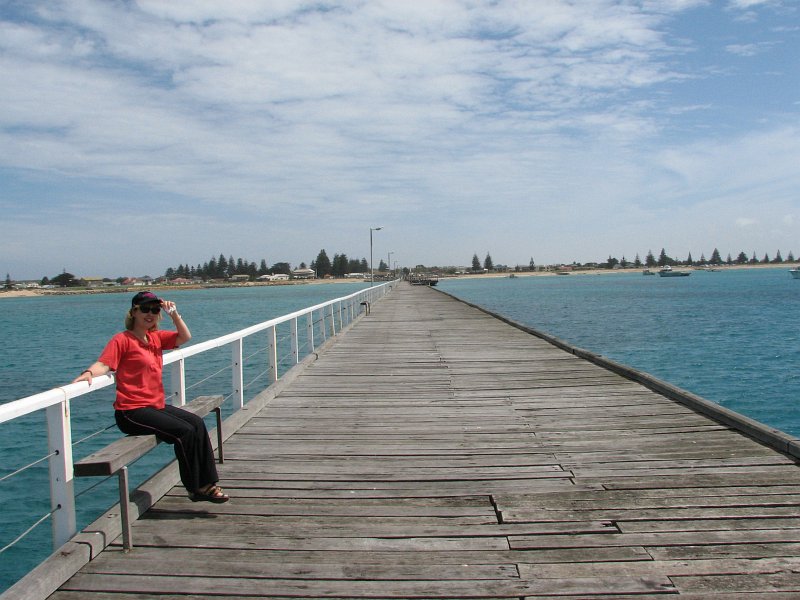 Start of jetty taken from same spot as previous photo, handheld at max. zoom (12x optical + 4x digital = 48X)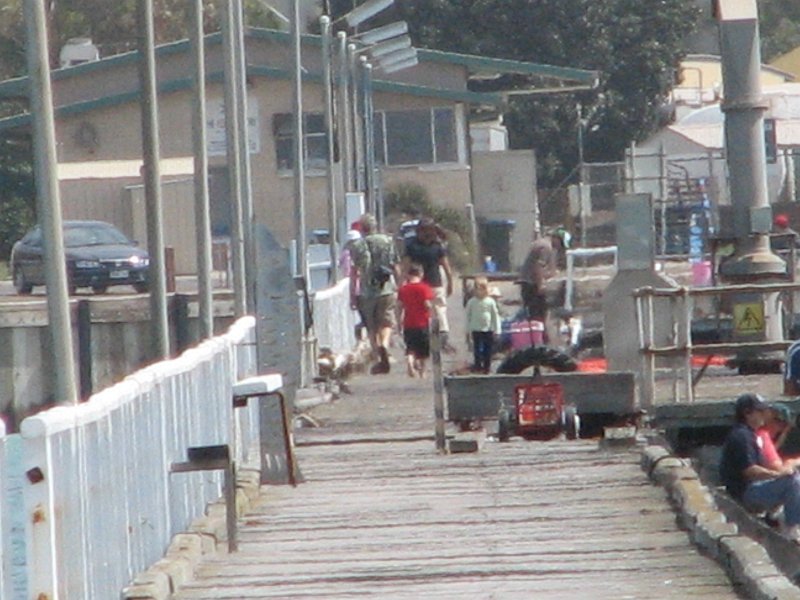 19th Century and heritage buildings are a feature of Beachport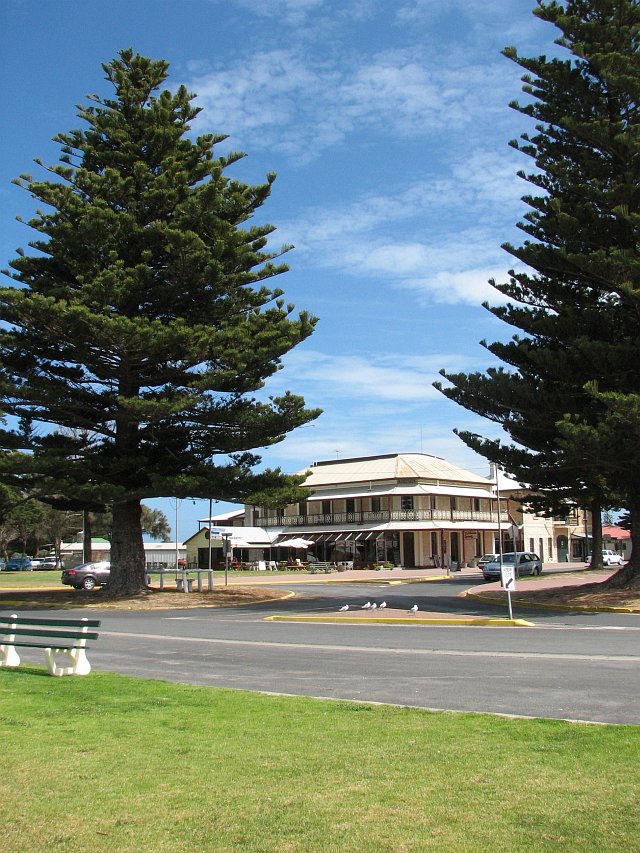 The actual "town pump" -- but this one no longer works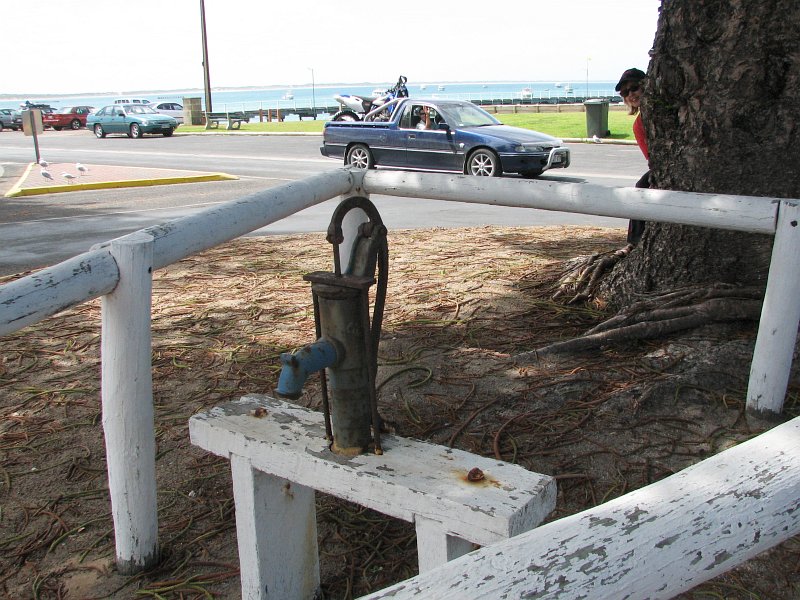 From Beachport we proceeded via Millicent, a thriving commercial and industrial town, to the tiny hamlet of Tantanoola. Small it may be, but Tantanoola has several claims to fame. In the 1890s a bushman called Tom Donovan shot and killed the 'Tantanoola Tiger' (in reality an Assyrian or Northern Russian wolf), whose stuffed remains are still on display in the Tantanoola Tiger Hotel. And, in 1930, the Tantanoola Cave was discovered by local lad Boyce Lane whilst out hunting rabbits with his pet ferret. The ferret chased a rabbit down a hole, and promptly disappeared. While trying to retrieve it, Boyce discovered the dolomite cave, complete with stalactites, stalagmites and helictites. Helictites grow in random directions including upwards, seemingly defying gravity. To date, no-one has advanced a convincing theory as to how these grow, but some form of capillary action is suspected. Conducted tours of the cave are available throughout the day, starting on the hour ($8/adult, concessions available). The cave is also the first and possibly the only one in Australia that is wheelchair accessible. Here's some photos: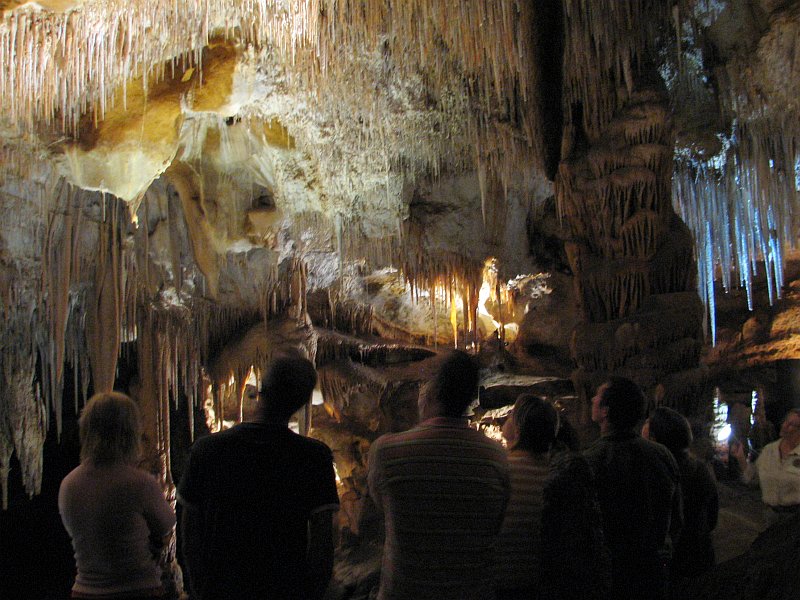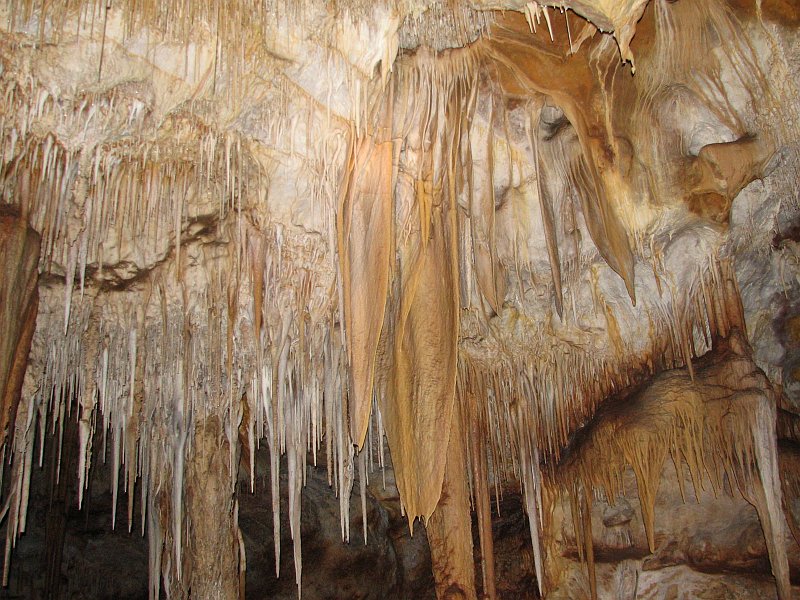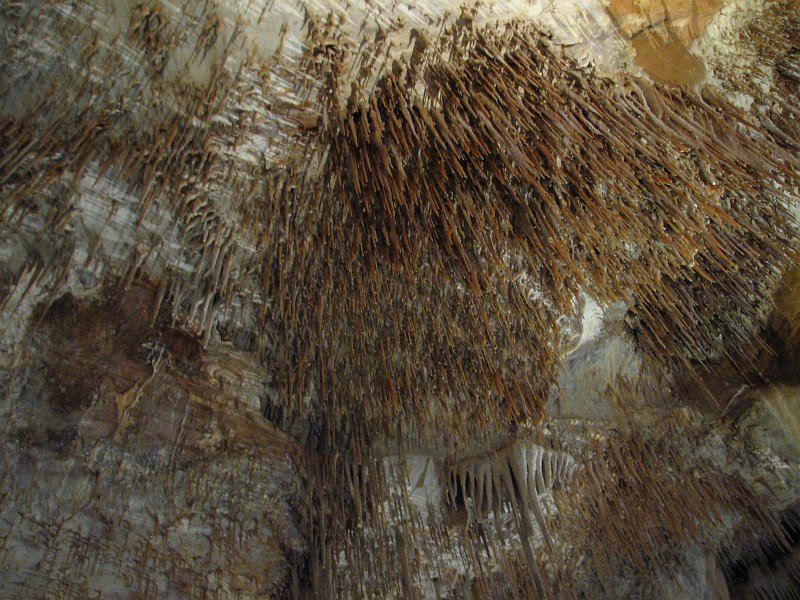 Here the tour guide is showing fractures in the formations, caused by earthquakes.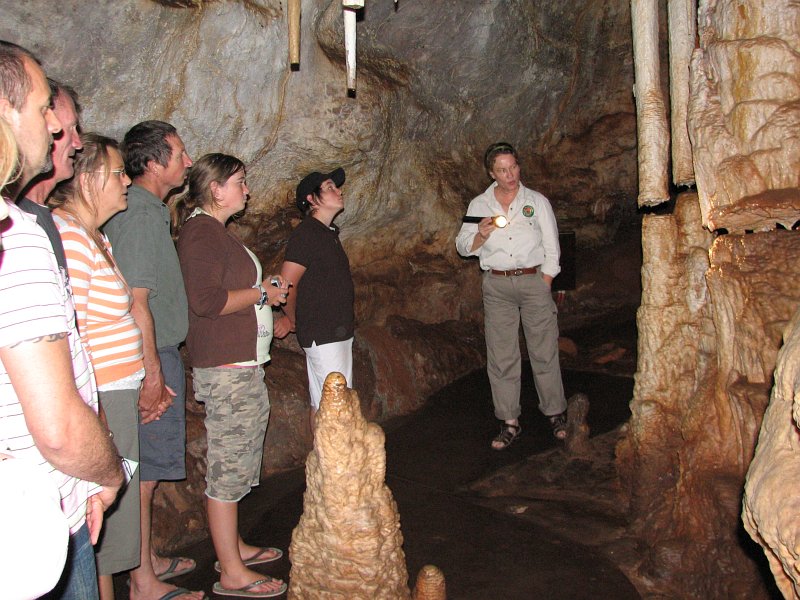 Reflections of the cave roof in a pool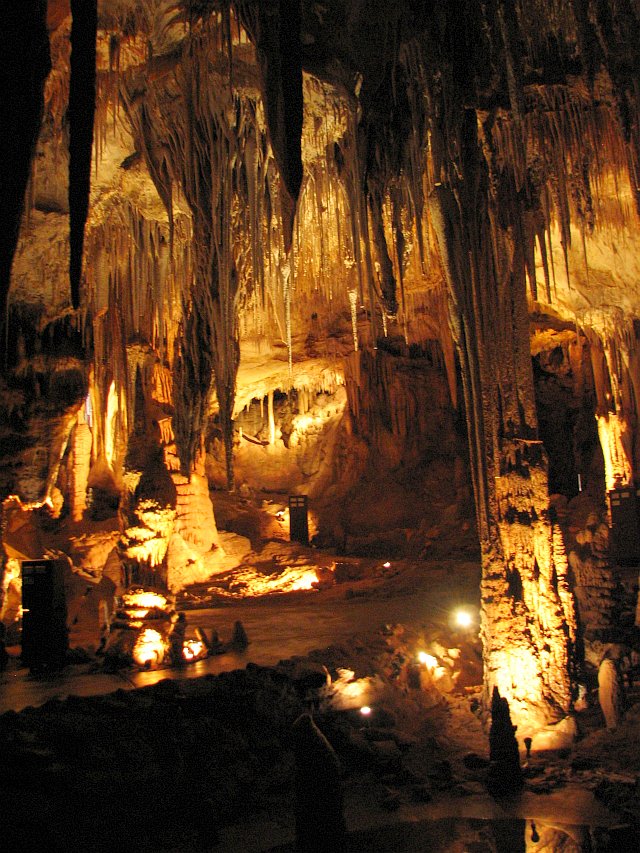 It's rather daunting to think just how many thousands of years it took for the formations to grow, and that they are still growing, quietly, drop by drop. It was cool in the cave—the temperature is a steady 16°C (61°F)—and it made a nice break from the hot day outside. But, soon we were off to our next stop, the region's largest town, Mt Gambier.

Much of the south-east of SA is dedicated to plantations of quick-growing timber species such as pinus radiata (Radiata Pine, Monterey Pine), which is used extensively by the construction industry. Views such as the one below whilst driving along the area's highways are therefore quite common. Actually, the plantation in the left of the photo extended to the left horizon, but I couldn't fit it all into the frame! Radiata pine is so overwhelmingly the dominant species grown that we were surprised to see a Eucalyptus plantation at one point.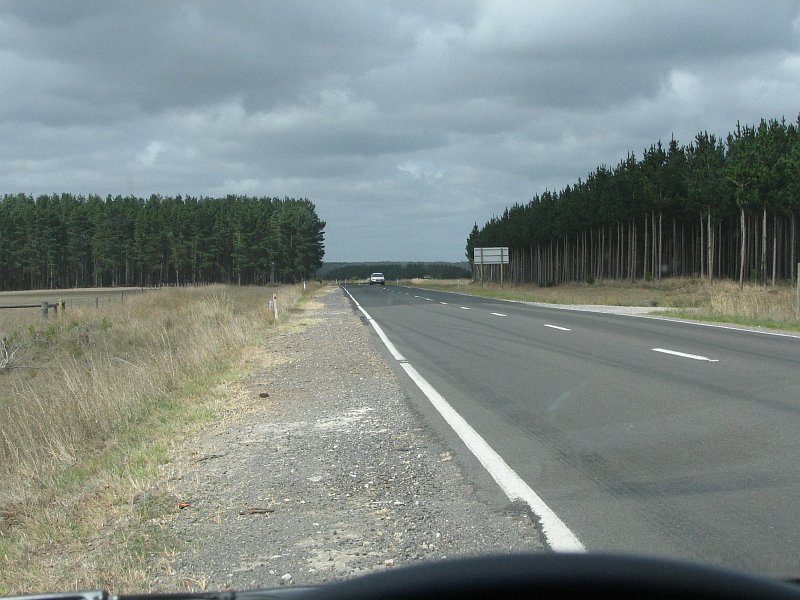 Mt Gambier is the name given to both a dormant volcano and the city which has developed on its slopes. The population is about 30,000, which makes it the largest city in SA outside the State capital, Adelaide (pop. 1.1 million). Because of the underlying limestone formations, the region around Mt Gambier is peppered with sinkholes and underground caves, some of which are flooded and can be explored by divers. But the major attraction for visitors is the famous Blue Lake, which apparently is the only one in the world which changes colour from green-grey in winter, to a brilliant turquoise blue over a few days in November (summer). The lake is one of four formed by water filling the volcano's craters, but it's the only one to change colour. It's also the city's major water supply, being an average of 70m deep and holding 36,000 million litres.




The Blue Lake -- photo from www.mountgambiertourism.com.au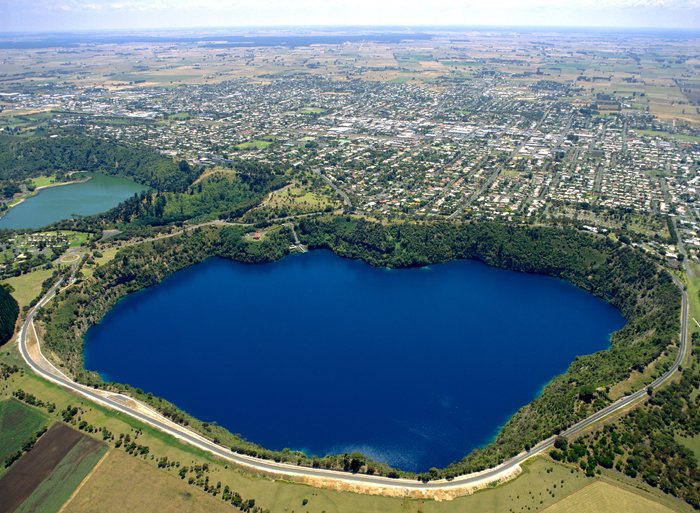 Why does it change colour? Well, many theories have been advanced in the past, but as yet none has been proven. The most common theory is that the top layers of the lake warm in summer, creating a chemical reaction with the cold bottom layers, turning the lake to its brilliant blue. But that's a very mundane explanation. I prefer the local folklore that it's a bunyip that does it—a bunyip being a swamp-dwelling devil or spirit from Aboriginal mythology. A bit like the Loch Ness monster in a way.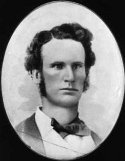 Another bit of Blue Lake folklore concerns well-known poet and horseman Adam Lindsay Gordon, who worked for a while in the Mt Gambier/Penola area in the 1850s-1860s as a mounted trooper and horsebreaker. Whether for a drunken dare or a bet (or most probably both), he jumped his horse over a fence and onto a narrow ledge at the top of the lake. This was a most dangerous manoeuvre, because if the horse had lost its footing both it and Gordon would have tumbled about 100m (330ft) into the lake. Although a very good horseman, Gordon was also reckless and had a habit of falling off and injuring himself, which probably accounts for his somewhat scary stare in the photo. He was a very troubled man, prone to melancholy, and in 1870 at the age of 36 he killed himself with his rifle. Sixty four years later, in 1934, a bust of him was placed in Poets' Corner, Westminster Abbey, London—the only Australian poet to be there.

Just behind the Town Hall in the centre of the city is the sinkhole known as the Cave Gardens. This was the original water supply for the early settlers, presumably until they discovered how pure the water was in the Blue Lake. The Gardens are now a pleasant place to relax in whilst admiring the plantings. Unfortunately, the long, hot and unusually dry summer we've just had has caused a drought necessitating water restrictions, so these photos don't show the Gardens at their best. The sinkhole still functions as a major drain for stormwater (when they get some), which travels along the underlying limestone slopes and eventually emerges on the coast.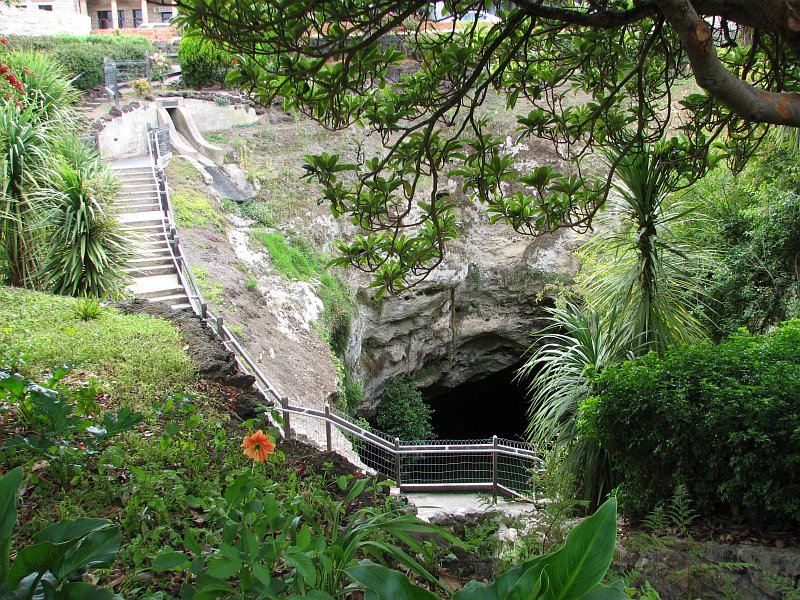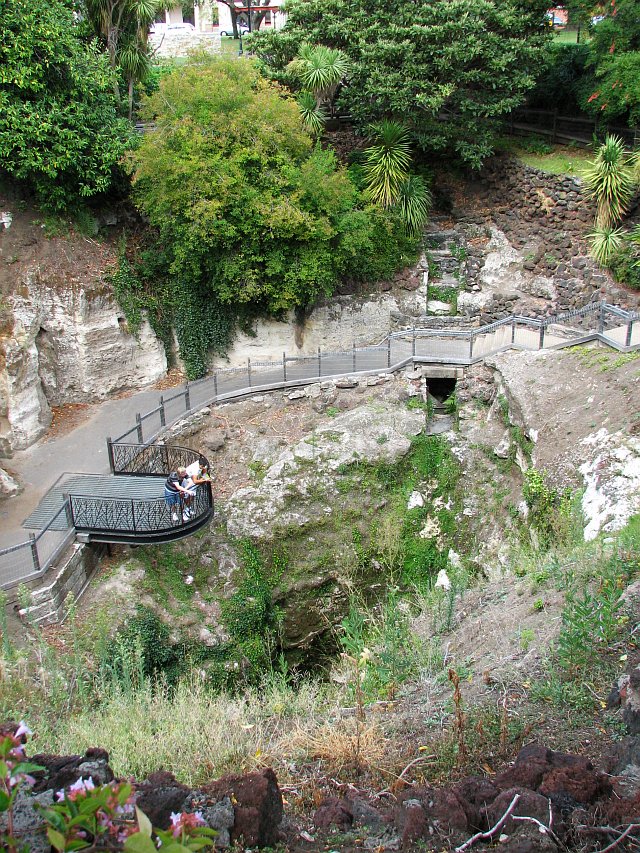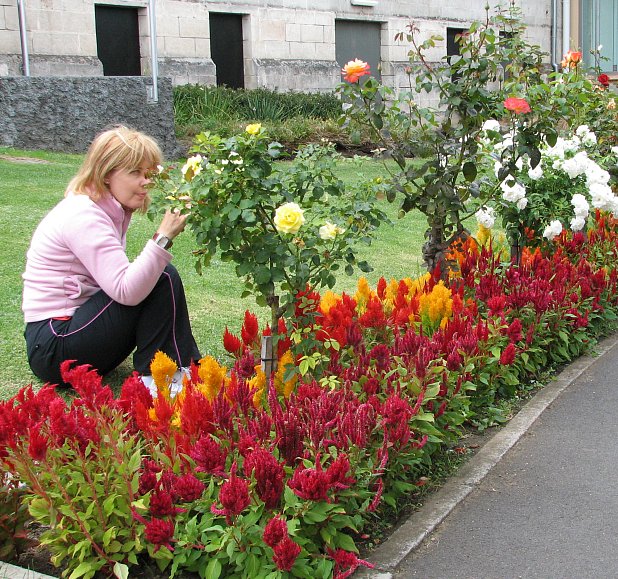 It was getting time to consider returning to Robe for the night, a distance of 125km. On the way back we came across another uniquely Australian road sign, one I think I can safely say you'll never see anywhere else: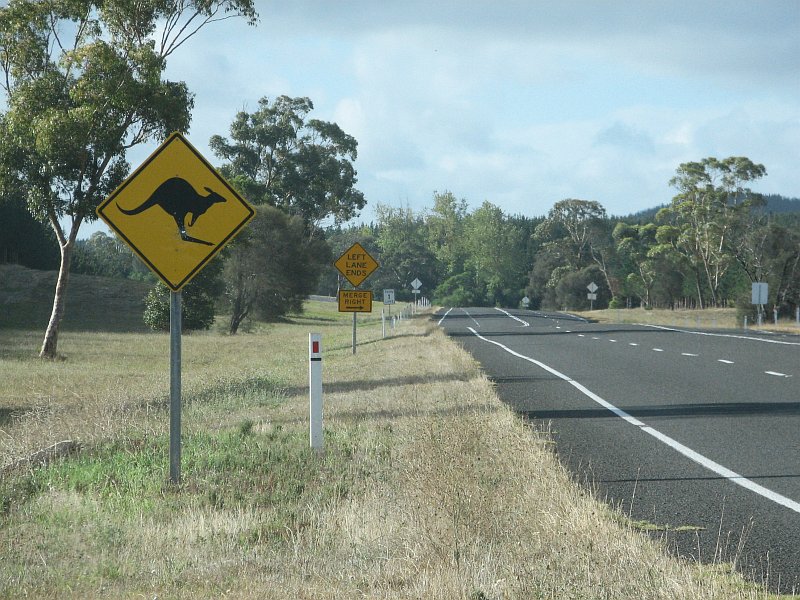 Kangaroos are much bigger and heavier than wombats, so you really don't want to hit one—it can ruin your entire day.

You may have noticed in a previous photo the portable satnav system we use. It's really not essential for driving in most of regional Australia, as the main roads are clearly marked and signed, so all you need is an up-to-date map. In unfamiliar towns and cities however it's very useful, provided as always you use a modicum of common sense. As with any satnav, it's only as good as the digitised mapping inside it. Luckily the Australian maps in this model are fairly recent, and we didn't have any trouble finding our way around. Indeed, before we began our journey I typed in the street address in Robe where we were staying, and it took us right to the door. Which is good, because being male I hate to stop to ask for directions! As well as showing the route ahead, the satnav shows other useful data such as distance to go and estimated time of arrival, based on current average speed. Here you can see that in 18.6km we'll come to a roundabout, and I need to take the second exit. In case I forget to look at the screen, a pleasant female voice tells me which direction to take, and when. Simple to use, and fun!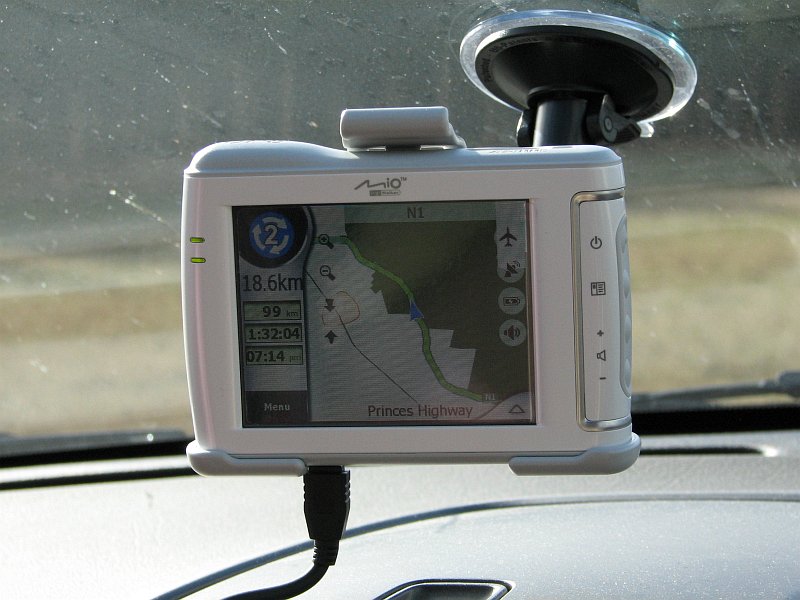 An interesting view, I thought...approaching the wind turbine farm near Millicent. That's not water on the road—it's heat haze.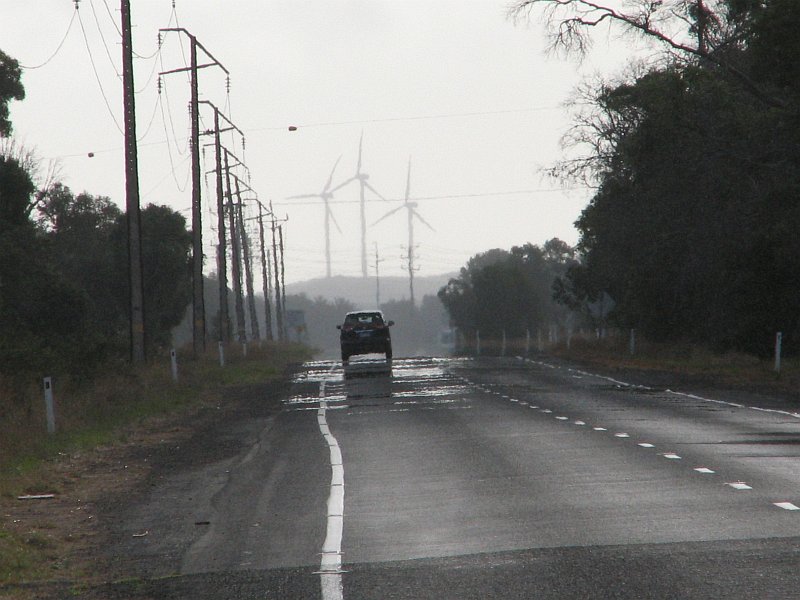 When we arrived back in Robe, there was just time for a romantic walk along the beach as the moon was rising...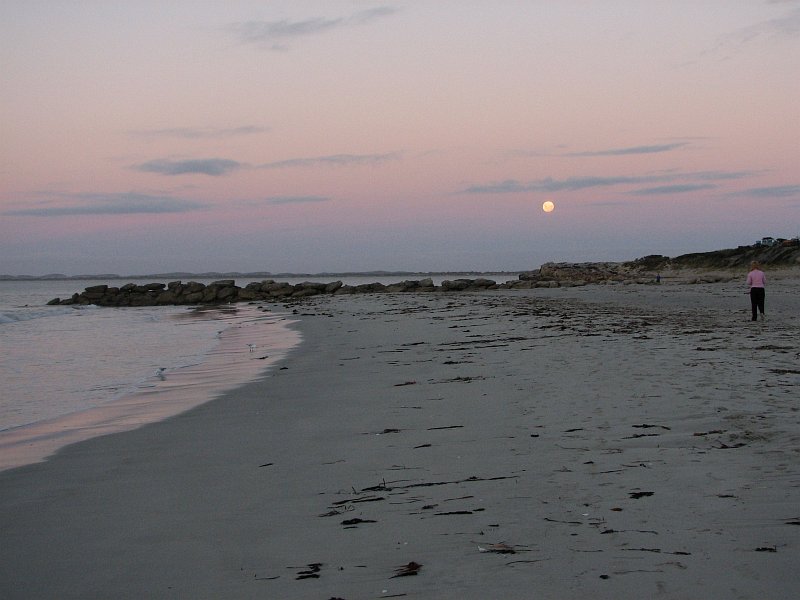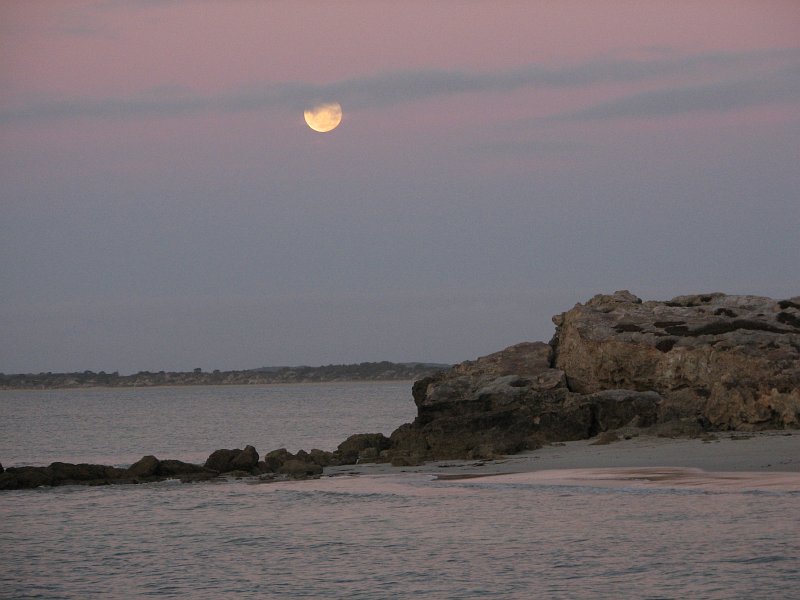 And so to bed...and so far on this trip we hadn't set foot inside a winery! But that was to be rectified the next day...






Written 14 March 2007.
Last updated 14 March 2007.