THE LAST FRONTIER
---


It may come as a surprise to non-Australians to know that until now (January 2004), there was no railway line connecting the northern port of Darwin (in the 'top end' as we say), with the rest of Australia (see map—the red lines represent roads, not railways).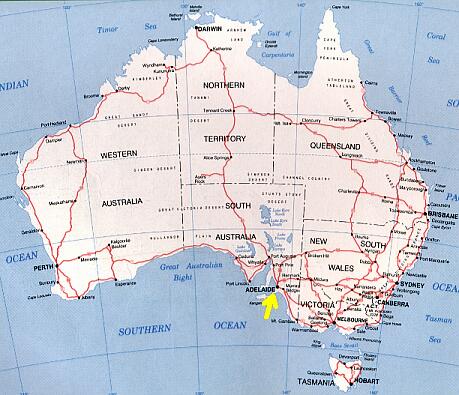 Oh, there's been a line connecting Adelaide (arrowed) in the south with Alice Springs (in the centre) for years, and the famous Ghan passenger train runs on it. (The Ghan got its name from the Afghan camel drivers that in the old days, before good roads and reliable cars were around, used to drive their beasts of burden through the red-hot sands of the interior.) But if you wanted to rail it all the way to Darwin, you couldn't.

It's not that people didn't think it was a good idea. They did. It's just that the Federal Government in Canberra kept saying they couldn't afford to build it, even though they had promised to—in 1910, when they took over administration of the Northern Territory from South Australia. As a consolation prize for losing the NT, SA wanted a rail connection from Adelaide to Darwin—and the Feds agreed. But for 90 years they reneged on that promise, until SA, NT and private industry agreed to share with the Feds the $2 billion cost of the 1420km line from the Alice to Darwin. (The total length from Adelaide to Darwin is 3000km, about the same as New York to Salt Lake City, or London to Stalingrad.)

There are detractors, of course. Transport mogul Chris Corrigan, who controls many of Australia's port terminals, said (with typical Australian bluntness) on the eve of the first train's departure that the financial returns from the project "would be smaller than a tick's testicles." * Not to be outdone, SA Premier Mike Rann retorted that "This is a train called confidence. It is time for everyone to get on board and to kiss the knockers and whingers goodbye." He didn't say whose knockers should be kissed. But perhaps the last word should belong to former deputy prime minister Tim Fischer, who, as one of the guiding lights behind the project, rode the first 1.3km long train all the way from south to north. To the madly cheering crowd at Alice Springs he waved his hat and yelled, "Ninety years late, and five minutes early." Now there's a quote if ever I heard one.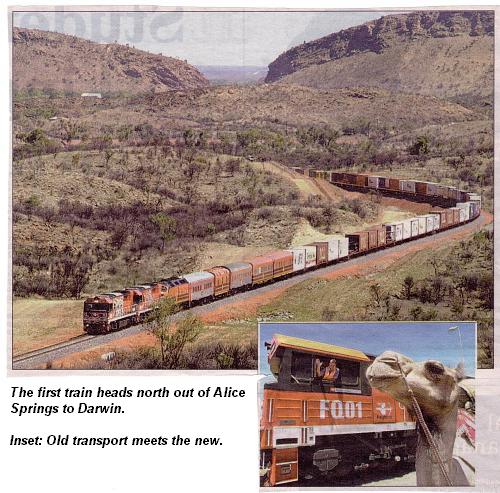 *Update - 20 December, 2005: I see from today's paper that the Adelaide-Darwin freight link has just posted a loss of $53 million, following a $17 million loss the previous year. However the link's operator, FreightLink, says the business remains viable and the latest financial figures don't adequately represent current operating performance. Hmmmm.

Further update - In November 2008 FreightLink was placed in receivership, and on 9 June 2010 Genesee & Wyoming Inc signed an agreement with the receivers to buy the assets of FreightLink for $334 million. It is now operated as part of Genesee and Wyoming Australia.



Last updated 26.June.2011