A Walk in the Park
---


My wife Teresa and I are in the fortunate position of living within walking distance of an urban National Park. Not a very large National Park as National Parks go, but still large enough an area to give the cardio-vascular system a good workout, or get lost in if you feel so inclined. Covering an area of 835ha (2000 acres), Belair National Park was opened in 1891 and was the first National Park in South Australia, and just the second in the whole of Australia. You can find out more about it here. During Easter 2005 we had a couple of friends staying with us on a reciprocal visit, and as they had never visited the Park before we decided to get a bit of exercise. This is a photo record of the trip.


The tour starts here, at the railway station entrance to the park. They look pretty fresh and keen, don't they? The sign could do with a lick of paint though.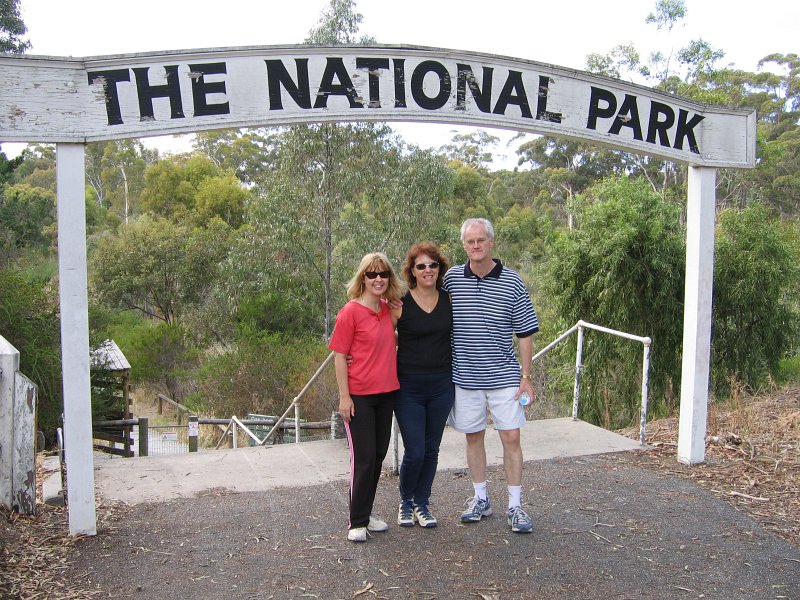 Very soon the sounds and sights of suburbia are left behind, and a tranquil forest atmosphere takes over.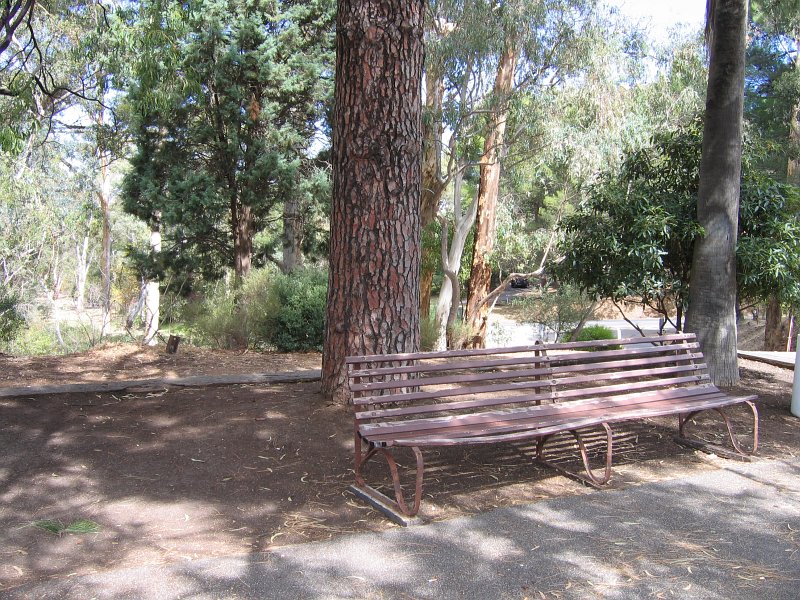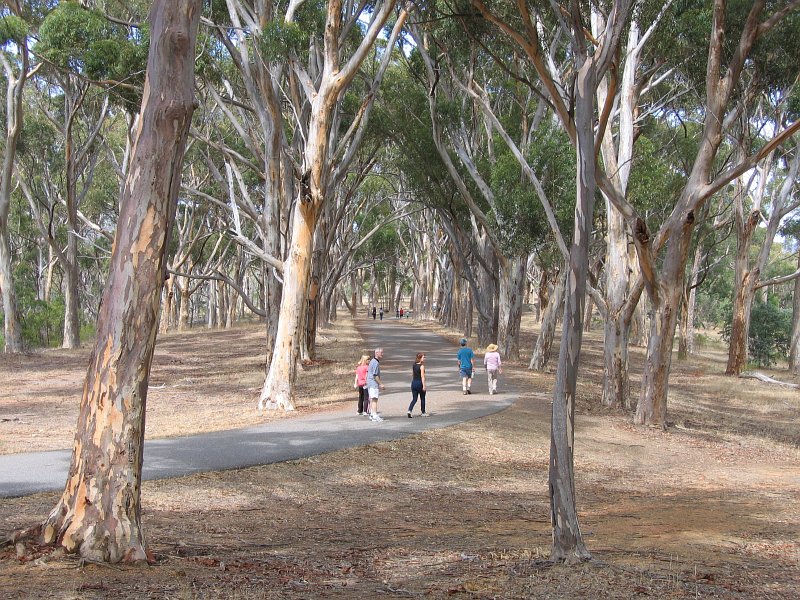 Dogs are allowed on a leash, which is good because you meet the nicest people...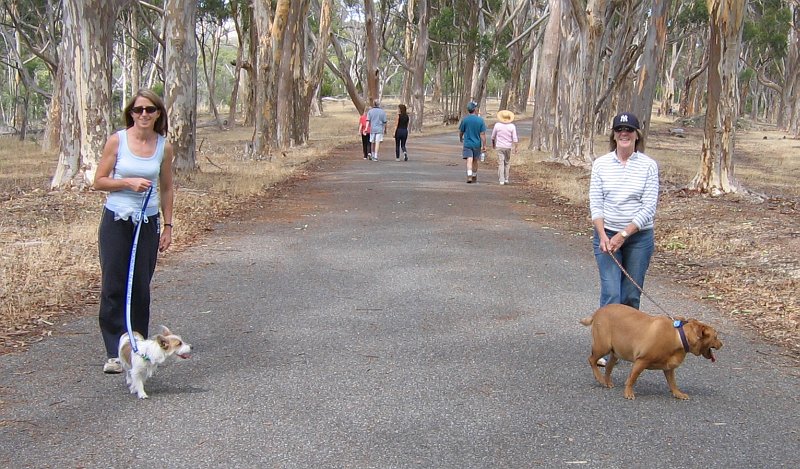 Soon we came to a lake, complete with an island in the middle...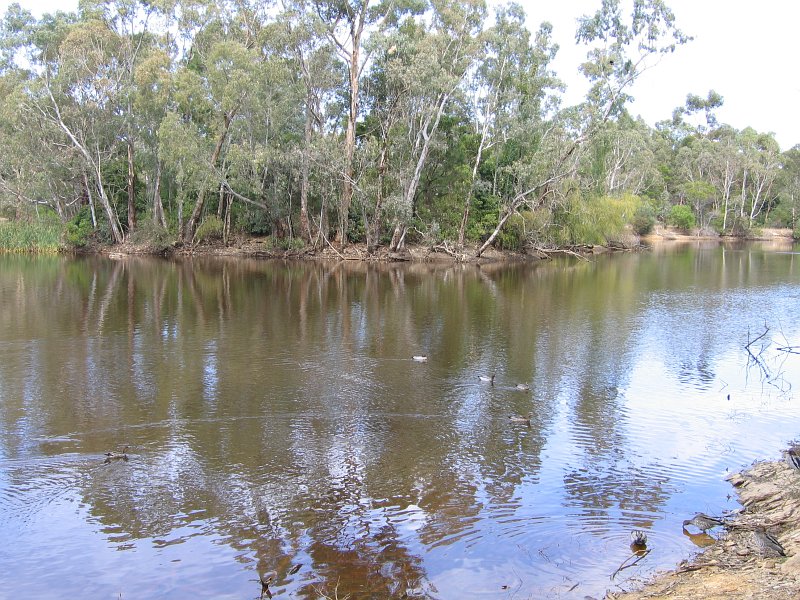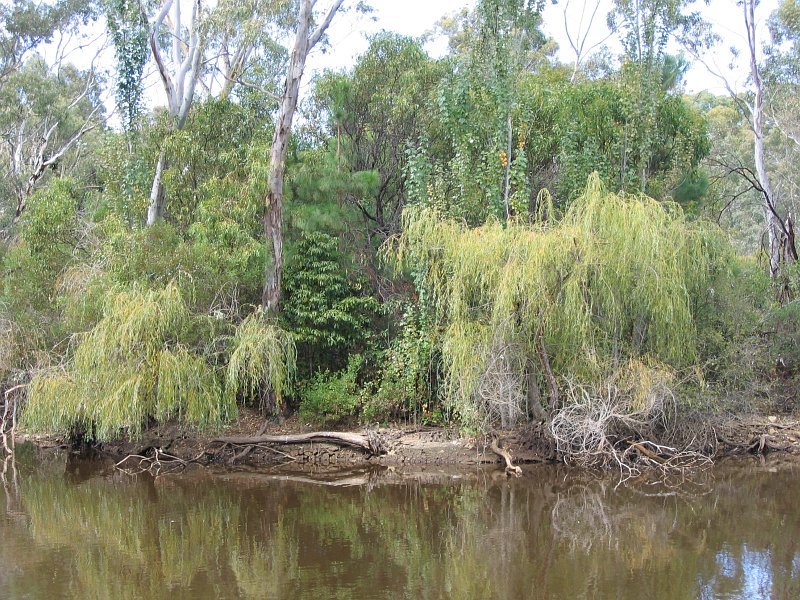 There could be all sorts of wild ferocious animals in there, like wombats and koalas and... ducks, so I think we'll leave well alone and move on...

Talking of wild animals, Teresa decided it was time she took a picture. For the watchnuts among you, Andy (in striped shirt) is wearing a very nice and unusual gold Seiko 5 Superior, and I'm wearing an Omega Flightmaster from 1975.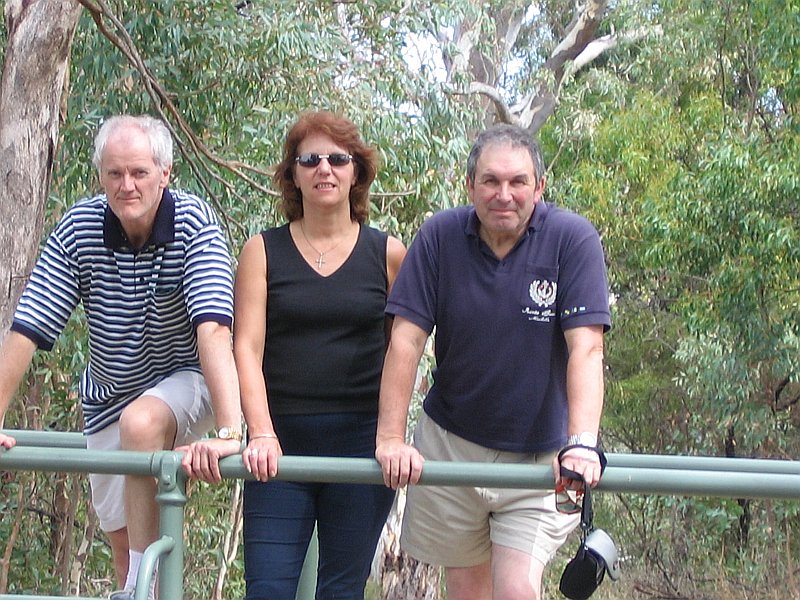 This young lady and her two gorgeous well-behaved dogs certainly weren't camera shy...




...and of course, we couldn't resist making a fuss of them.




After a couple of hours it was time to return, so we thought we'd hop on a train just for the hell of it. Historically, most Australian States used different railway gauges, which of course was inefficient and caused headaches for railway operators at State borders. South Australia actually used two gauges, broad gauge and narrow gauge, in different parts of the State. Over many years all States agreed to implement a standard gauge line, with that between Adelaide and Melbourne being completed as recently as 1995. (Click here for further information. It needs a little updating though, as the Alice Springs to Darwin link has now been completed—see this page.)
In the photo below, the standard gauge line which carries interstate freight and passenger trains is in the foreground, whilst the original broad gauge tracks which carry the local suburban passenger trains are either side of the island platform on the right.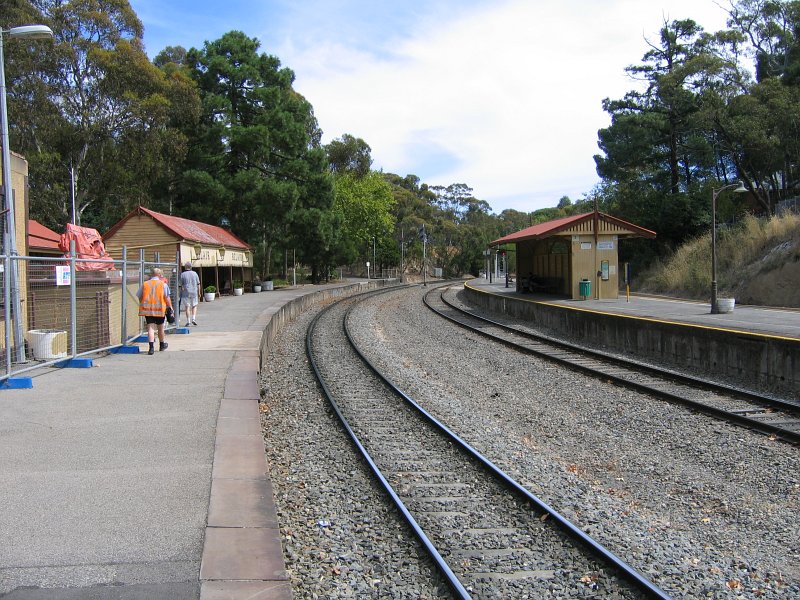 The standard gauge line carries goods trains up to 1.5km long, some requiring four locos to pull them. In November 2004, just a few hundred metres from Belair station, something happened to a bogie which made it part with its wagon and jump the tracks. The wagon was dragged along at an angle to the rest of the train, damaging every concrete sleeper for the next 3km, with the driver blissfully unaware of what was happening 1km behind him. It was only when he braked when approaching a level crossing that several wagons jacknifed, toppling over and spilling their containers onto the road and also into adjacent residents' gardens. Thankfully, and perhaps miraculously, no-one was injured. The crossing however was closed for 3 days whilst the mess was cleared up.

A couple of locals ponder the errant bogie and discuss what happened...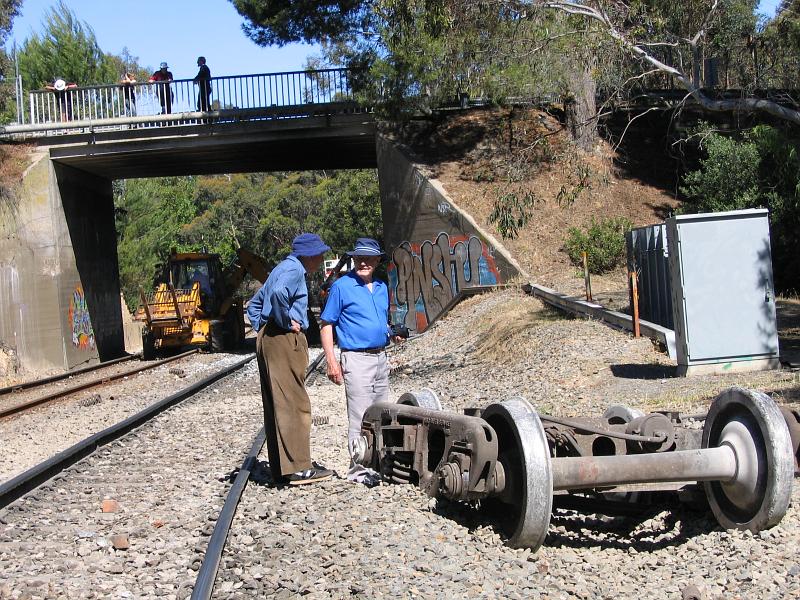 ...while further along a fallen container blocks the level crossing...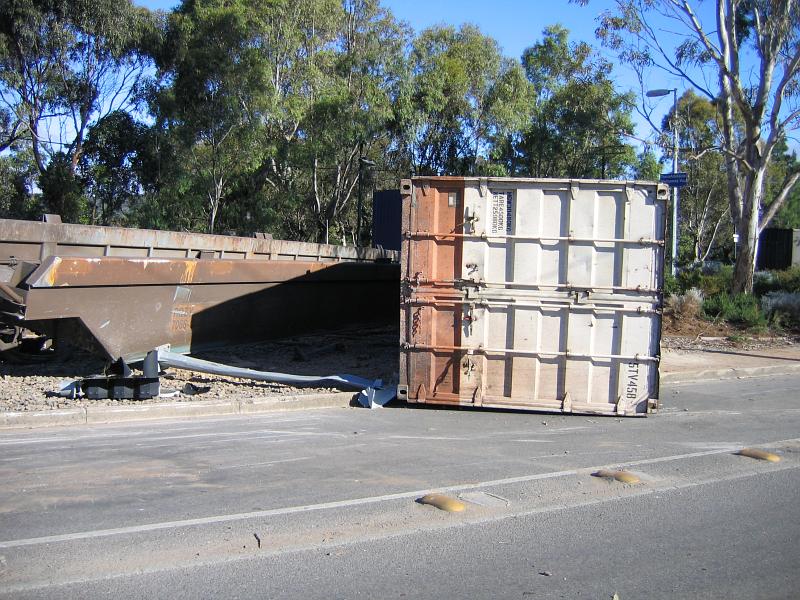 ...and several more just avoid flattening some houses...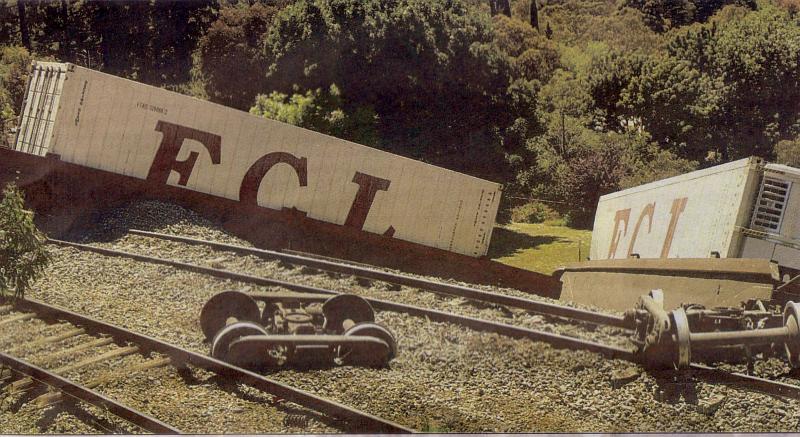 ...and the queue (including refrigerated containers) stretches back for kilometres...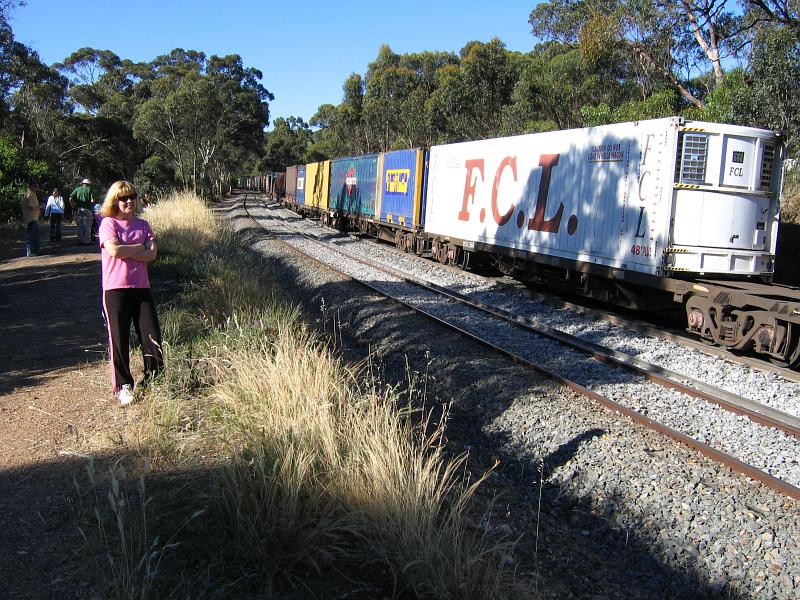 But I digress. Our train awaits us...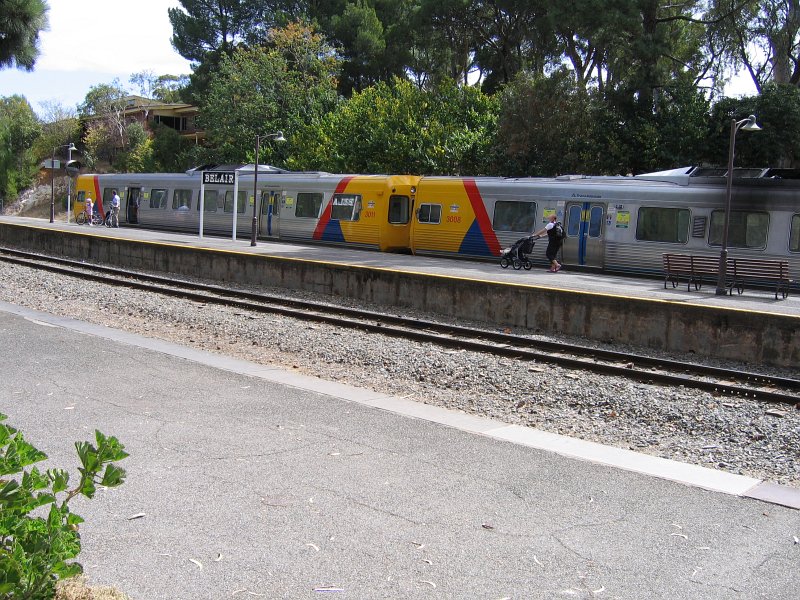 Note the blue sign—"TransAdelaide Welcomes You"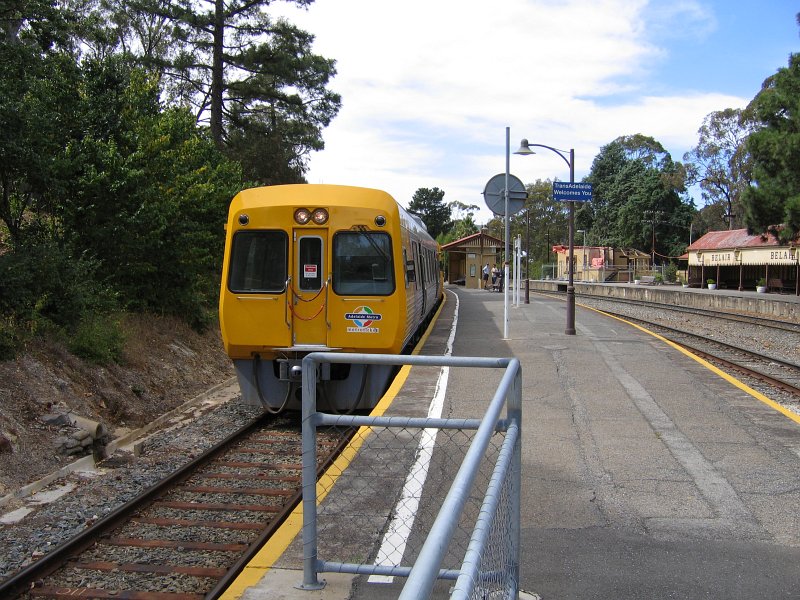 We're supposed to buy a ticket from the white machine on the right and then validate it immediately in the blue machine on the left...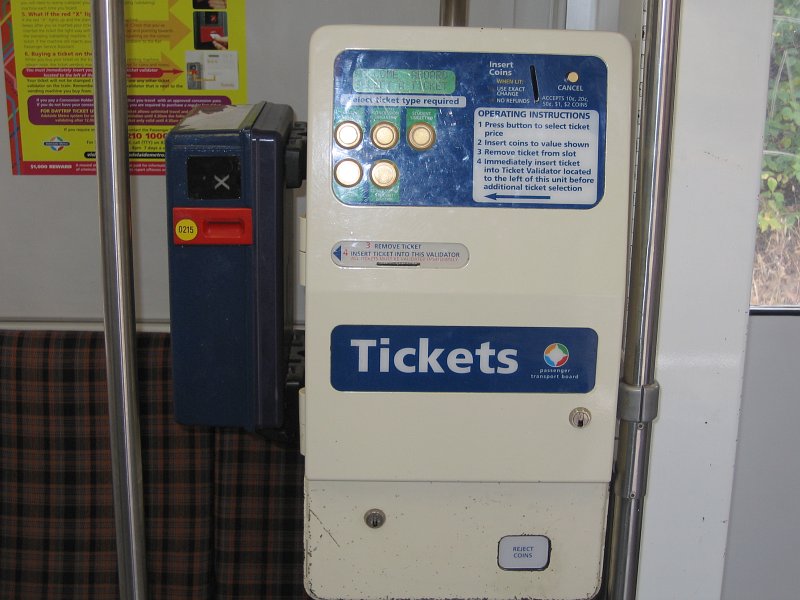 But as we're only going one stop and the train is practically empty we don't...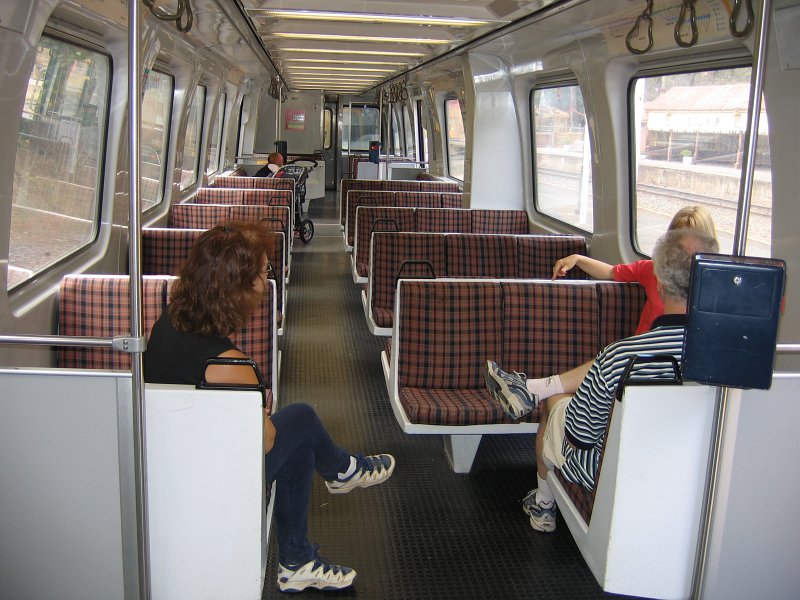 Well if that's what TransAdelaide really thinks they can whistle for their fare...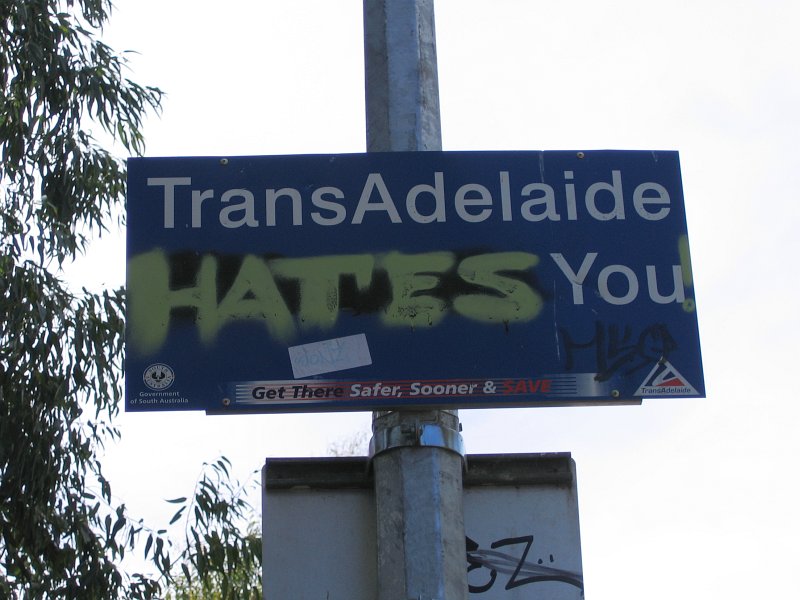 Hope you enjoyed the trip.

Written 10 April 2005.
Last updated 10 April 2005.