The Canon PowerShot S2 IS digicam — a user's impressions
---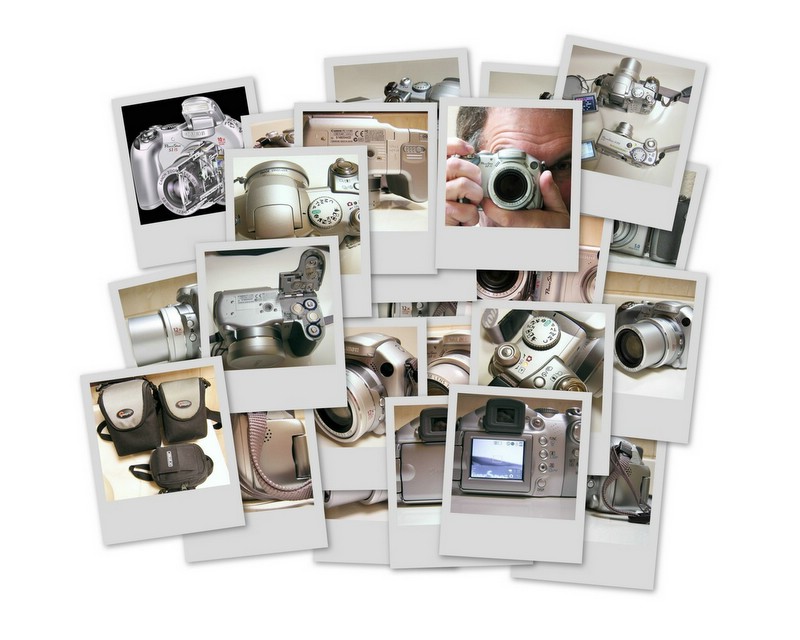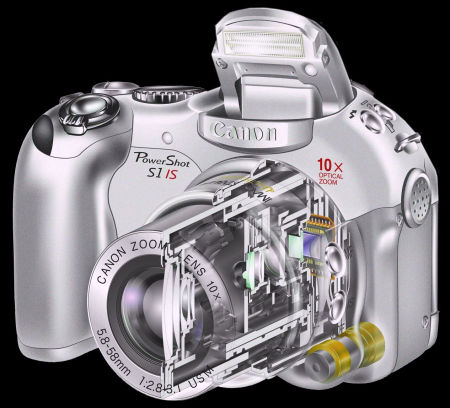 Introduction
Canon's PowerShot S1 caused quite a stir in photographic circles when it debuted in early 2004. Although it wasn't Canon's first 10x zoom digicam with optical image stabilisation (that honour goes to the PowerShot Pro90 IS), there was nothing quite like it on the market at its price point, which was considerably less than the Pro90. The 10x optical zoom also boasted a USM (ultra sonic motor), which because of its quietness meant that you could use the optical zoom when shooting movies (a rarity for a digicam). However, its 3.2 megapixel sensor—although producing good quality images—didn't exactly take the world by storm, and neither did its lack of an autofocus assist light and its somewhat small 1.5" LCD screen (even though it did flip-out and twist through 270°).

By the time the upgraded S2 model made its appearance in mid-2005 there were several direct competitors on or about to hit the market, in particular the Panasonic FZ5 and the Sony H1. Each of these three cameras has a stabilised 12x zoom lens, but there the similarity ends regarding features. Each has its good and not-so-good points. Having read all the reviews, and trying out all three cameras in photo shops, I decided to go with the S2 as it seemed to me to be the best all-round performer.

I must admit I had been spoiled somewhat by my previous purchase—a Canon PowerShot A95. This compact 5mp camera took great pictures, had full manual as well as auto controls and had a very good macro mode for watch photos, but I felt limited by its 3x optical zoom. I wanted to be able to get closer to the action. 12x zoom seemed like a good start...


My criteria
I had certain criteria in mind when selecting my purchase. I was looking for a digicam that would be suitable for general travel photography as well as macro photography; it had to have sufficient resolution (megapixels) to produce good quality prints at A4 size and yet not so much as to produce large file sizes; full manual as well as auto controls; video clips with sound; optically-stabilised 10x or 12x zoom lens; easy to see viewing screen; and above all, it had to be compact and lightweight so that carrying it around all day would be a pleasure and not a pain in the ...neck.
The Panasonic FZ5 certainly fitted the compact and lightweight criterion, but to me it seemed almost too small and fiddly to use. On the other hand, the Sony H1 had a superb LCD screen but was much bigger and heavier than the other two. The Canon seemed to fit nicely in-between. It was also the only one with a flip-out and twist screen, which I had found extremely useful on the A95.


Why not a DSLR?
I must admit I did initially toy with the idea of a dSLR (digital single lens reflex), because of the superb picture quality they produce from their much larger CCD sensors, and the fact that ISO speeds as high as 1600 or 3200 are available. However, DSLRs are more expensive, especially when you factor in the cost of additional lenses; they are considerably bulkier and heavier than compact digicams; you can't use the LCD screen to preview your next shot; and they don't have a video mode.

[Update: most new dSLRs now have "live view" for previewing shots, and a couple of the very latest have HD video capabilities (albeit with manual focus only.]

Also, you need to carry around two or three lenses to cover all situations, and that means having to carry a big (and heavy) bag to accommodate everything. Been there, done that with my old film SLR, a Minolta XG-2, which in its day (25 years ago!) was considered one of the smallest and lightest SLRs available. Here you can see the Canon side by side with the XG-2 and a 'compact' 70-300mm lens, which is not auto-focus and definitely not stabilised! Which would you rather carry around all day? (To be fair, today's dSLR zoom lenses are much smaller than their predecessors, and they can also be auto-focus and stabilised. But you still need to carry two or three lenses with you to cover all situations—and no movies!)
First impressions
The overwhelming impression on first picking up the S2 is that it looks and feels 'right'. This is a camera for Goldilocks—not too big, not too small, just right! It feels like a 'real' camera with a good heft and solidity, but it's still much lighter than an SLR. Most of the weight comes from the four AA batteries that power the camera.
You hold it as you would an SLR, with the last three fingers of your left hand curled underneath and supporting the camera, thumb and forefinger either side of the external lens ring; your right hand fits nicely around the large grip, and your index finger naturally rests on the shutter release button, around which is the zoom control. There is pad consisting of 12 raised dots on the back of the camera on which to rest your right thumb. In this position it is natural to use the electronic view finder (evf) rather than the swing out LCD screen to compose your shot. The finder is a little grainy but perfectly adequate to see what's going on, even in low light conditions; this is because it 'gains up' (gets brighter) automatically when necessary. It shows exactly the same picture and information as the LCD screen (but you can't use both evf and screen at the same time). It also has a dioptre adjustment to cater for differing eyesights. By the way, can you figure out which camera took the picture opposite and how it was done?
When the camera is powered on it comes to life quickly—the lens extends 3cm (at full zoom it only extends a further 0.3cm) and you're ready to shoot in about 1 second. In fact, almost everything is accomplished quickly with this camera, thanks to the DiG!C II processor on board. Auto-focussing takes about 0.5 sec and once done, there's only about 0.1 sec shutter lag. File storage and moving between shots on playback is virtually instantaneous. These times are very good and quite a bit faster than the A95, which has the original DiG!C I processor. Depending on the subject and lighting conditions the autofocus can 'hunt' sometimes at the far end of the zoom range, but this is common with maxi-zoom cameras. Most of the time it's fine and 'locks-on' quickly. In low-light (or even no-light!) conditions, the large bright green focus-assist lamp just above and to the right of the lens (viewed from the front) ensures sharp focussing.
Should you forget to remove the push-on lens cap when powering up, the emerging lens simply pushes it off, thereby preventing damage to the lens mechanism. Some reviewers have cited the loose fit of the cap as a negative: I see it as a clever piece of design, and anyway, it's tight enough to stay on by itself.
Another so-called 'negative' is the fact that the built-in flash doesn't pop-up automatically when required: you have to manually raise it and lower it. If the flash is closed the camera will warn you that you need the extra light but it will still take the picture. I regard this system as far preferable to the auto pop-up (and I've used both); sometimes you just don't want the harsh light of the flash e.g. when composing 'artistic' shots or in museums and art galleries, and just keeping it closed is a lot easier than delving through menus to turn the bloody thing off. The flash range is quite good for this sort of camera—about 5.2m at the wide end and 4.0m at the tele end of the zoom. Red-eye reduction is available via an orange beam which lights up once focus has been achieved but it's not 100% effective, and the old 'demon-eyes' still makes an appearance every now and then. It's easily removed by post-processing software though (i.e. there's no in-camera facility for removing red-eye.)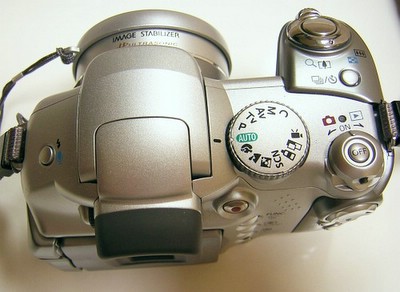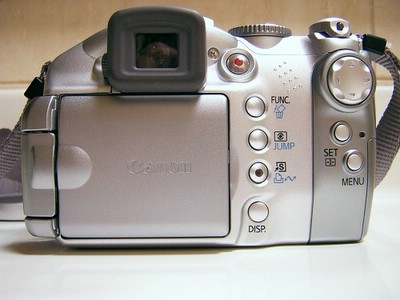 The layout of controls on the S2 will be largely familiar to users of other PowerShot cameras. The mode dial on the top of the camera enables the use of full auto or many manual and scene modes, including Program, Shutter priority, Aperture priority, full Manual, Landscape, Portrait, Night scene, Beach, Fireworks, Indoors, etc., etc. — all the usual things one expects nowdays. There's also the excellent Stitch Assist for panoramas (horizontal or vertical), My Colours (which enables you to be creative and accent one colour only or swap colours), and of course Movie mode. There are actually two ways of entering Movie mode—one is via the mode dial as just noted, and the other is by pressing the large silver button with a red dot on it just to the right of the evf. This button instantly starts movie-shooting no matter what mode you were in previously, and so is ideal for capturing that once-in-a-lifetime moment. Another press of the button stops the movie shoot. The movies produced by the camera are truly excellent, with up to VGA resolution (640x480 @ 30 fps) and full stereo sound. It's almost mini-DV quality to look at and listen to. The length of a movie clip is only limited by your SD card's memory, up to a maximum of 1GB per clip. However, having provided such an excellent movie mode it's doubly unfortunate that Canon decided to use the inefficient M-JPEG codec instead of say MPEG-4 to compress the resulting video files (in .AVI format). Even with a 1GB card, you'll only be able to shoot about 9 minutes of full resolution video! You can of course shoot longer lengths at lower resolution or frame rate. In practice I tend to shoot smaller clips of say 1 to 1.5 minutes' duration, and then use software (AVS Video Converter, which unfortunately is not free!) to shrink them for distribution. As an example, with some editing I managed to shrink a 48-second 51MB AVI file (at 640x480) down to a 42-second 1.39MB WMF file (at 320x240), with perfectly acceptable results. That's a reduction in file size of 97%!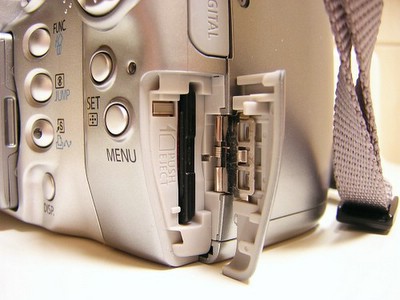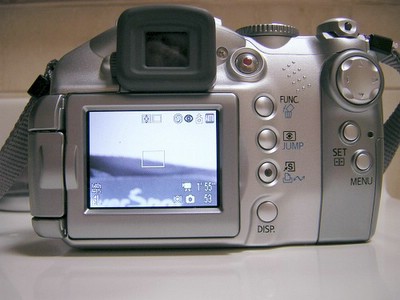 Whereas the S1 (and A95) uses CompactFlash memory cards, the S2 uses the smaller SD format. This has enabled the use of a smaller hinged cover for the card slot which is not only easier to use but also feels sturdier. Like most other manufacturers Canon only provides a minimal (16MB) 'starter' card with the camera, so the first thing you'll have to purchase is a larger card. Working on the theory (borne out by practice) that you can never have enough memory, I bought a 1GB Sandisk Ultra II high-speed card to begin with, and later took advantage of a stay in New York to purchase a similar 2GB card (which to my mind was a bargain at US$100—they're at least twice that price in Australia). I've had absolutely no trouble with either card and can thoroughly recommend them. [Update: memory cards are much cheaper now, so there's no excuse for running out of memory!] You'll also need to buy a set (4) of rechargeable NiMH AAs, plus a charger. Although battery life is extremely good (you should be able to bang off ~500 shots), I'd recommend you also buy a spare set of rechargeables as insurance, just in case. Your kids will never forgive you if your one-and-only set of batteries dies in the middle of the school play, in which they have the starring role. (Believe me, it happens.) I have a set of 2500mAh and a set of 2600mAh batteries, and they last a long time between charges. You might want to buy a memory card reader too. I find it easier to remove the card and bung it into the reader to transfer files, rather than connecting the camera to the computer. But that's just me. The camera has a fast USB 2.0 High Speed connector if you want to do it the other way or connect it directly to a PictBridge compliant printer.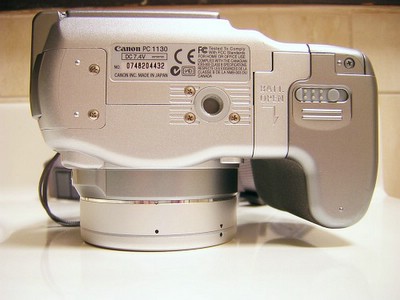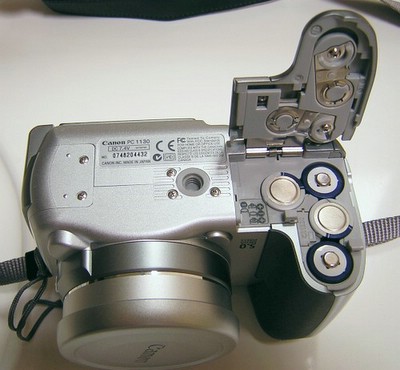 The S2's flip-out screen is larger than the S1's (1.8" v. 1.5"), and is the same as that on the A95. The screen can be placed facing outward in the standard digicam position (i.e. flush with the back of the camera), turned in with the screen facing the camera so it is protected from dust and scratches, or adjusted to almost any position to suit the angle of shooting (e.g. over the heads of a crowd, shooting from ground level, etc.). Whilst the LCD screen itself is only average these days (there are much larger and clearer ones around), it is by far the best and most flexible system of mounting the screen that I have encountered. Once you try one, you won't want to go back to a fixed screen.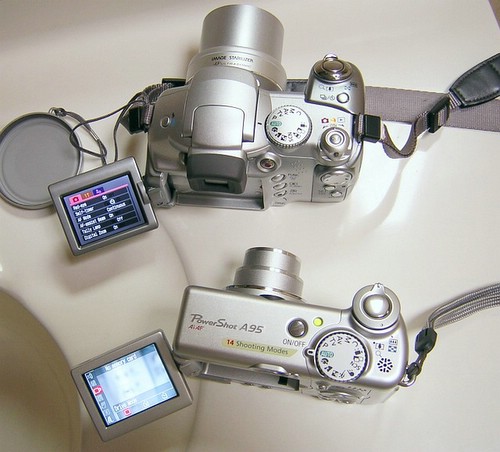 At first sight the S2 seems a bit daunting, with a myriad of buttons, dials and rocker switches scattered across its surface controlling all the various functions. However, after a few hours of use you realise that there's a logic to most of it, and the buttons fall easily to hand. Make no mistake, this camera is really loaded with features, and it's worth taking the time to learn how to use them. That's what the 185-page printed manual is for! In the meantime, you can leave the camera in full Auto mode and just snap away. However, if you do that, you'll find there are certain functions that you can't access in Auto mode, such as super macro and manual focus, both of which can be very useful.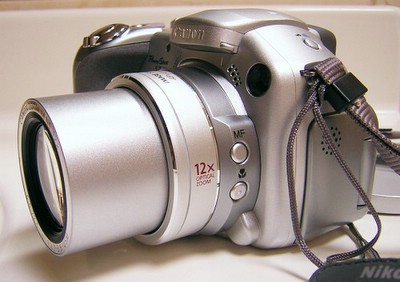 On the left hand side of the lens barrel are two buttons. The top one puts the camera into manual focus mode, whereby the focussing is done by using the 4-way rocker switch. The centre part of the displayed view is enlarged to assist focussing, and a distance scale appears. Manual focus is useful in very low-light conditions when the auto-focus may hunt, such as shooting movies of fireworks at night.
For macro work the S2 has two modes: macro and super macro. Pressing the lower button puts the camera into macro mode, in which it will focus down to 10cm. This works in all modes except Landscape and Movie.
Holding the button down for a couple of seconds (not "repeatedly press" as it says in the manual) enagages super macro mode, in which the camera will focus from 10cm down to 0cm. That is not a typo—it really can focus on an object touching the lens. This works in all the manual modes including Movie, strangely enough. In practice such close focussing is a bit of a gimmick, as unless there's plenty of daylight or the object is translucent and can be backlit (such as a postage stamp or banknote), not enough light can get in between lens and object. And you have to be careful not to damage the lens. Also the image at such short range shows softening and strong barrel distortion at the edges, and some chromatic aberration. Still, you have to hand it to Canon for designing a lens that covers 36-432mm in 35mm terms (or 1728mm if you include the 4x digital zoom), AND focusses down to 0cm. Not many (if any) cameras can do that!


So how are the pictures?
OK, enough with the preamble—does the S2 take good pictures? In a word—yes (I'm pleased to say). The images are sharp, and the colours are accurate and well-saturated (the auto white balance does an excellent job under most sorts of lighting). However, it suffers from the same problems that many other cameras with a 5 megapixel sensor have (and never mind the brand name on the camera, most of them use the SAME sensor)—namely some chromatic aberration (purple fringing) and blown highlights (loss of detail) in high contrast lighting conditions, and increasing image noise above ISO 200. These problems (apart from the noise issue) are really only evident when looking at the image full-size on a computer screen. When the images are resized for posting on the web or are printed out at up to A4 size, they look great. Part of the noise problem is that the image stabilisation system, which can operate in not one but three modes (always on, stabilises just before image capture and horizontal panning), is almost too good in that it encourages you to shoot hand-held in light that you would never normally consider suitable for non-flash photography. The 'golden rule' used to be that to avoid camera shake, the shutter speed should be the inverse of the focal length. As an example, if you were using a focal length of 80mm, then the minimum shutter speed should be 1/80 of a second. With the Canon IS system you can throw all that out the window. I find I can get sharp hand-held pictures using a shutter speed as slow as 0.5sec, no matter what the focal length is. However, in auto mode the camera will pick the highest available ISO value (400) to make up for the lack of light, and at that value the images are definitely noisy. Of course, you can always use a manual mode to force the camera to use a lower ISO value, or use software such as Neat Image to clean up the noise.

The 12x optical zoom allows you to get in 'nice and tight', and surprisingly even the 4x digital zoom is quite usable in terms of picture quality. The quiet and stepless zooming mechanism is excellent, and unusual in that like a camcorder, it has two zooming speeds, fast and slow, depending on how hard you press on the zoom lever. This is very convenient.

Below is a sample of shots taken with the S2. All were taken hand-held, with image stabilisation (mode 2) turned on. Other than resizing and minor compression to reduce the file size, they are straight out of the camera with no post-processing. Click on a thumbnail to see the 1024 x 768 version.

In the city - all shots taken from the same point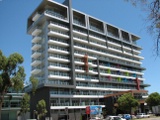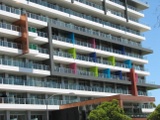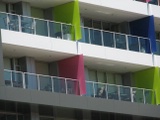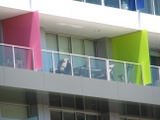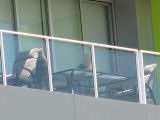 In the paddock - note super macro shot (100% crop) with bottom shell touching the lens!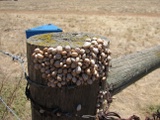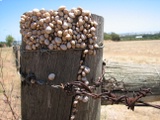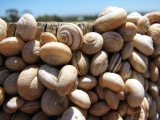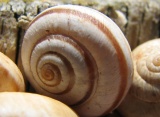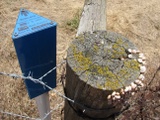 At the market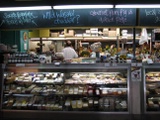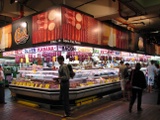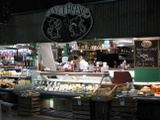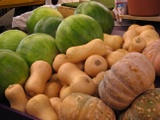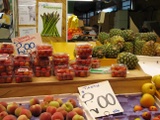 Miscellaneous. Pic of moon taken at 48x zoom from rolling deck of English Channel ferry!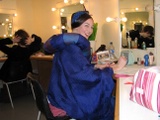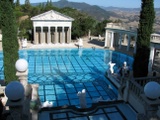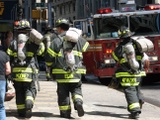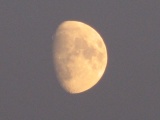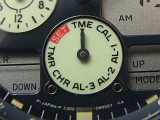 Conclusion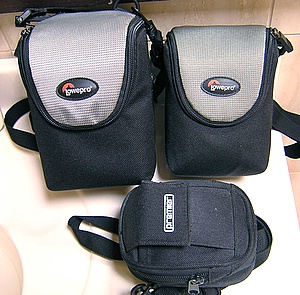 The PowerShot S2 IS is a very competent, full-featured camera that offers a lot for your money. You can put it into auto mode and use it like a point-and-shoot, but to get the best out of it it's worth spending some time reading the manual and mastering the manual modes and scene modes. It's tempting to call it a jack-of-all-trades but that implies it's a master of none, which is not true. It's more like a Swiss army knife, ready for any contingency. However, like most devices that attempt to do everything, it does some things better than others.
Although it's too big to slip into your pocket, it's an ideal travel camera. I managed to find a good-fitting Lowepro case with a zipped back pocket to hold spare batteries, card and AV cables, so everything is contained within one neat package. It even has a waterproof cover for those rainy hiking trips. And it matches the smaller case I keep the A95 in.
One thing most reviewers agree on (as I do) is that using the S2 is fun. It looks the business with its SLR shape and huge lens, but a first time novice can get great pictures from it, it's that easy to use. You just have to remember to lift up the flash when you want it to fire!
I do have some minor niggles though. I wish Canon would show in the EXIF information the ISO rating the camera uses in Auto mode (it just says 'Auto'). The plastic retaining buckles that clamp the neck strap to the case lugs are very loose and just slide around—I've stuffed mine with thick paper to anchor them. And as someone pointed out to me the other day, the printing is wearing off the neck strap. I am now the proud owner of a 'PowerSnot'.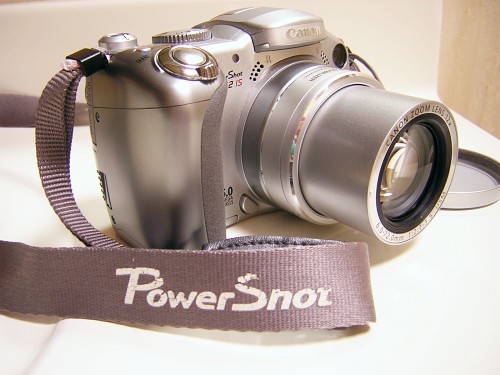 I mentioned above the superb image quality available from dSLRs. Whilst not claiming for a moment that the image quality from the S2 is equal to that of a dSLR, it can on occasions come pretty close. As an illustration, consider these two photos (taken at a different time of year and under different lighting conditions) of a misty bridge along California Highway 1. One was taken (not by me) with a Canon Digital Rebel SLR, and the other was taken with the S2 and has been 'enhanced' with normal processing software. Can you pick which is which just by looking at them? Click on a picture to see it at 1024 x 768.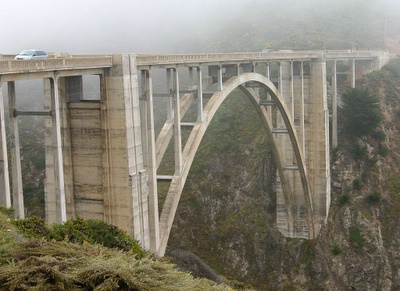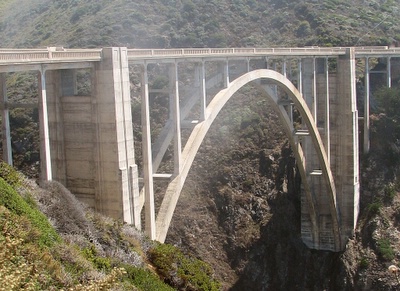 To sum up, I'm very happy with the results I'm getting from the S2, and I love its versatility. There are some downsides but as far as I'm concerned they're pretty minor. The S2 does everything I want and then some, like being able to 'annotate' shots with a 60-sec sound clip. People who have seen the results are amazed at the video and sound quality. All in all it's a very complete package that gives a lot of bang for the buck. Happy snapping!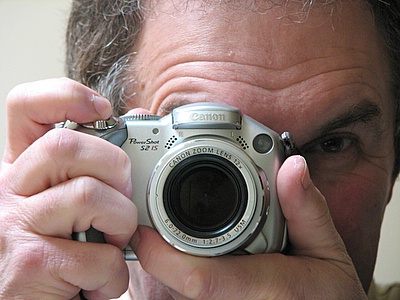 Footnotes
1. Interestingly, it seems that Canon have now got on top of (or at least minimised) the purple fringing and ISO 400 noise problems inherent in their 5 megapixel chip. According to reviews I have read, the new 5 MP Canon PowerShot A610 has both problems well under control. This augurs well for the next evolution of the S2 (which must surely be the S3). If it improves on the S2 the way the S2 did on the S1, and has a more efficient movie codec, there'll only be one word for it—totally awesome!
Oh, and did you guess correctly which camera photographed the bridge? DSLR on the left, S2 on the right.

2. Since this review was first written, Canon have brought out the S3 and S5 (there was no S4), and even the S5 has now been superseded by the 10MP, 20x optical zoom Powershot SX1 IS, which looks absolutely mindblowing. What will they think of next?!

3. If you want to add functionality to your Canon Powershot camera (such as shooting RAW images and more on-screen displays e.g. remaining battery life and actual focal length being used), I suggest you investigate the Canon Hacker's Development Kit (CHDK). Check out this link. The kit is totally safe (won't damage your camera's firmware) and it works. I use it myself, so that should be proof enough for you!

Written 20 January 2006.
Last updated 25 September 2008.